Christmas is one of the biggest festivals in India, especially for Christians. Christmas celebrations happen with the same warmth and excitement as Diwali, Eid or any other festival. This is one of the things that ascertain our unity in diversity. Chandigarh, being one of the most happening cities of India, tries its best to celebrate every festival with the same enthusiasm and love. Be it through Christmas special cakes, bakes, desserts or delicious savoury food; or fancy and upbeat Christmas carnivals, markets and fests at various hotels and shopping malls, Chandigarh offers it ALL!
Winter heralds the arrival of the festive season and 25th December is celebrated as Christmas day world over and Chandigarh is no exception. The birth of Jesus is celebrated at the midnight mass as people sing carols and attend the church. At home they celebrate by decorating a Christmas tree and exchanging presents with near and dear ones.
Christmas Celebrations in Chandigarh
Here are some of the places to go in Chandigarh, during Christmas; especially in terms of worship, food, shopping and activities:
1. Christ The King Cathedral, Sector 19
2. Elante Mall
3. Sector 17
4. Sector 34 Christmas Carnival
5. VR Punjab Mall
6. CityLight Church, Sector 7, Chandigarh
7. White Street, The Back Room Gardens, Sector 34
8. Secret Sessions, Social, Sector 7
9. Little Play Book, Epic Flea Market, Chandigarh Club
10. X-mas shopping Carnival, Hotel KC Cross Road, Sector 10, Panchkula
Let's read in detail about these places!
1. Christ The King Cathedral
To begin with, Christ The King Cathedral is one of the oldest and beautiful churches in the city. It is massive and has a significant place in the hearts of people; especially around Christmas. Fairy lights, colourful items, shiny stars, wreaths etc. are used to adorn the entire church. Huge crowds of people gather to celebrate Christmas eve.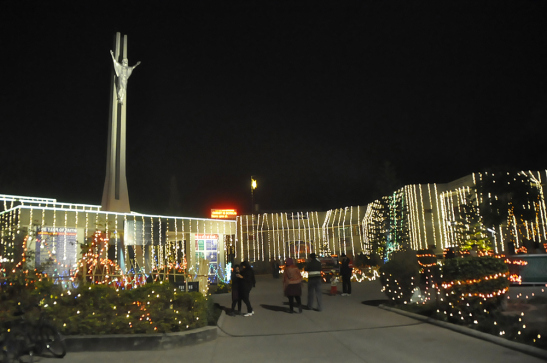 There is the midnight mass, Carol singing, prayer singing and more. A cake is cut post-midnight and distributed amongst everyone. There are fun stalls and activities set up beside the church's entrance. post-midnight and distributed amongst everyone. There are fun stalls and activities set up beside the church's entrance.
Location: PQHV+8FC, Sector 19-A, Chandigarh
2. Elante Mall

Second of all, Elante Mall in Chandigarh has an annual Christmas carnival. It is quite a happening event, owing to the grand scale at which it is organised and held. A massive Christmas tree is adorned with glistening lights and amazing decor. The entire space is adorned with adorable, fancy and beautiful decorations.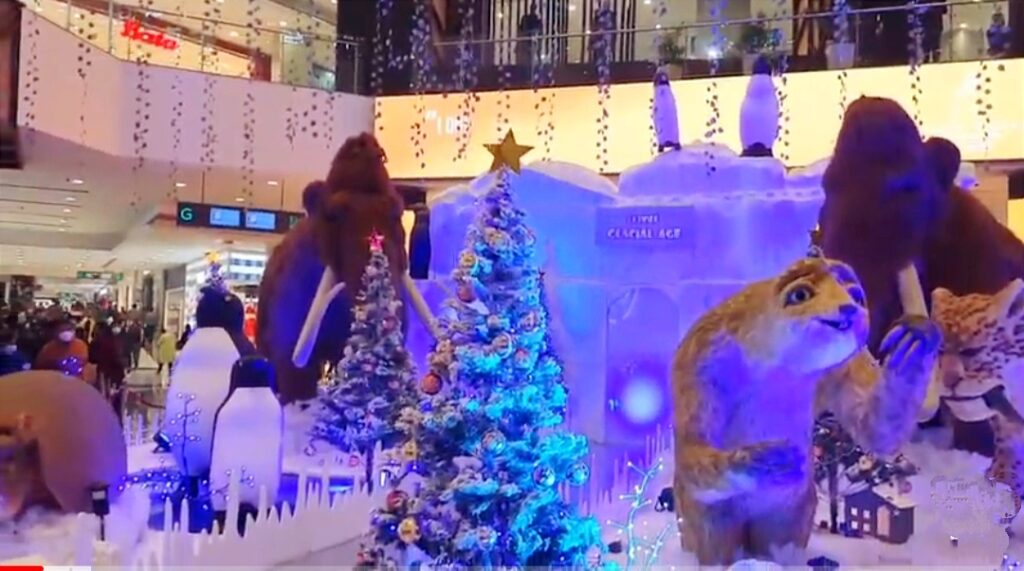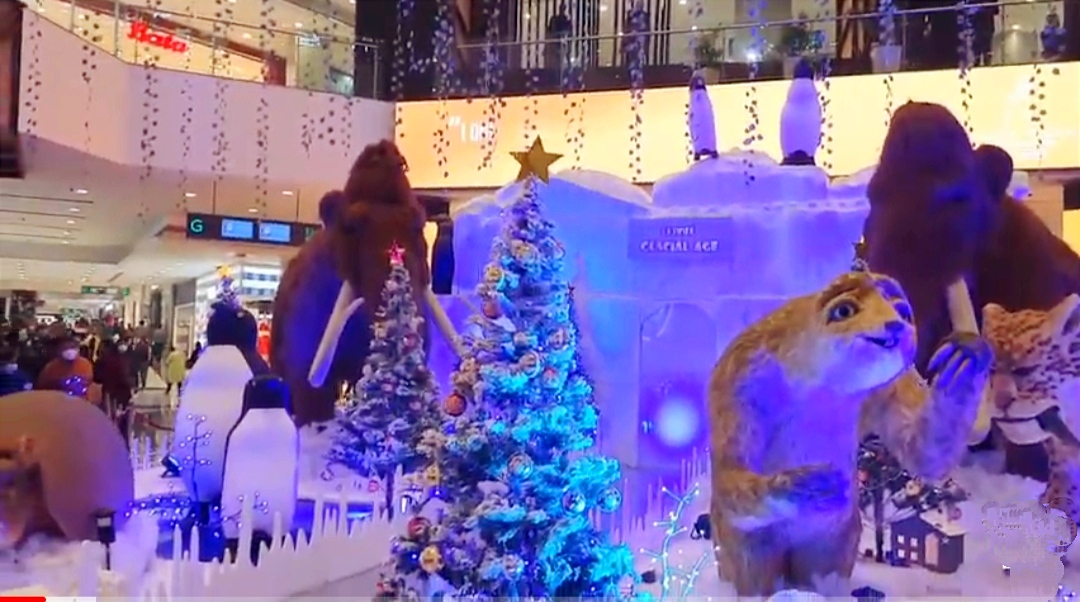 Every year, many events and fun activities are organised that attract huge crowds of people. You can shop for a wide range of products like clothing, watches, decor, fragrances etc. and get a chance to win goodies and gifts through offers. You can also attend live music shows and savour delicious Christmas desserts!
Location: 178-178A, Purv Marg, Industrial Area, Chandigarh
3. City Centre, Sector 17 Plaza
Even though we have grown up, the pomp and excitement of Christmas is still intact in all of us somewhere at the back of our minds. Especially, for the ones who are living in Chandigarh like the city where the crowd is in party mode around the year.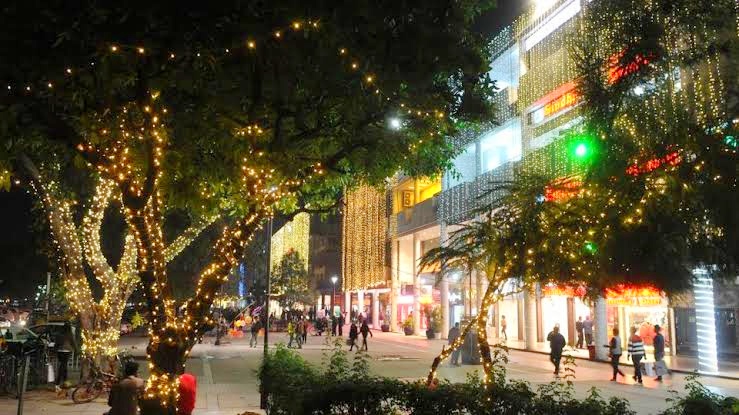 On the eve of Christmas in Chandigarh, the brightness and glow of the City Centre, Sector 17 increase many folds. You would easily find the entire complex decorated with lights, a huge christmas tree adorned and celebrations going on in almost every nook and corner of the city.
Location: Sector 17-E, Chandigarh
4. Christmas Carnival, Sector 34
Winter Shopping Festival, as the name suggests, is a shopping carnival set for the City Beautiful, Chandigarh. It is usually a 21 day market-fest that has a specific venue and timings. Every year, the venue remains the same. In food, one can have local foods from around the country, such as Masala Chai, Coffee, Yummylicious street food items, Pop-corn for kids etc. For shopping, you get to buy small little eco-friendly Christmas trees, Christmas decor, warm blankets, boots, mufflers etc. The kids can have a whole lot of fun with magic shows, drawing, painting contests, and especially playing around Santa Claus!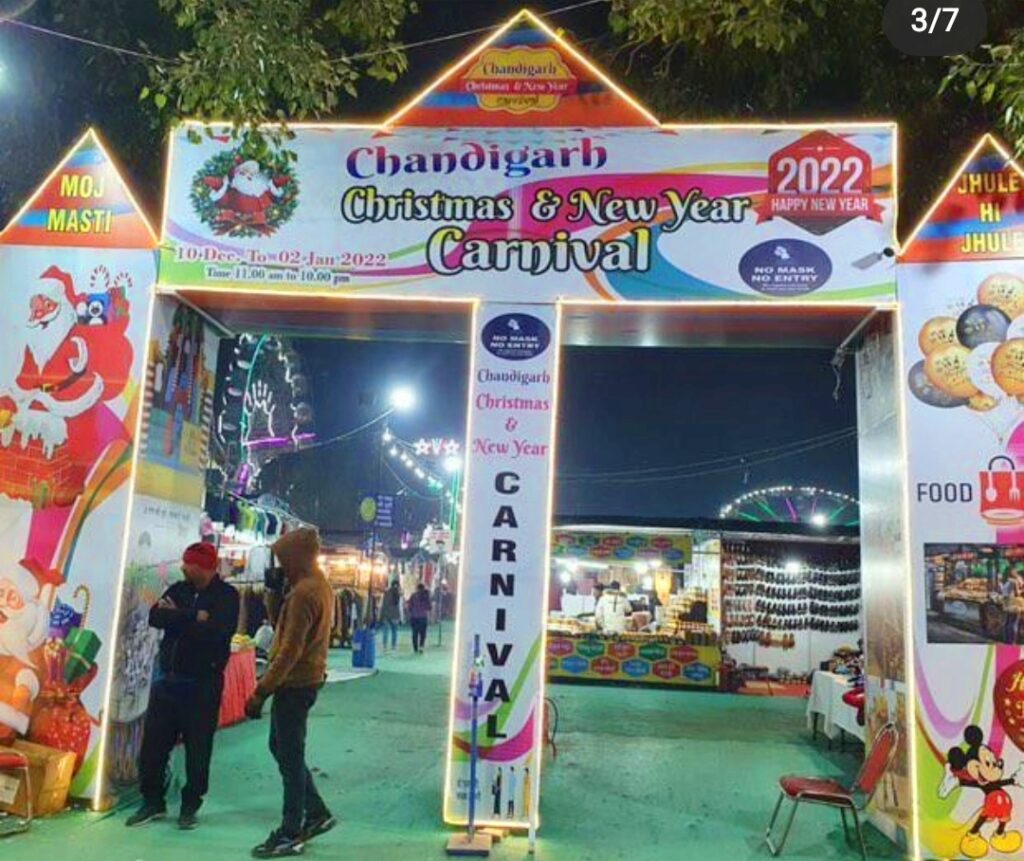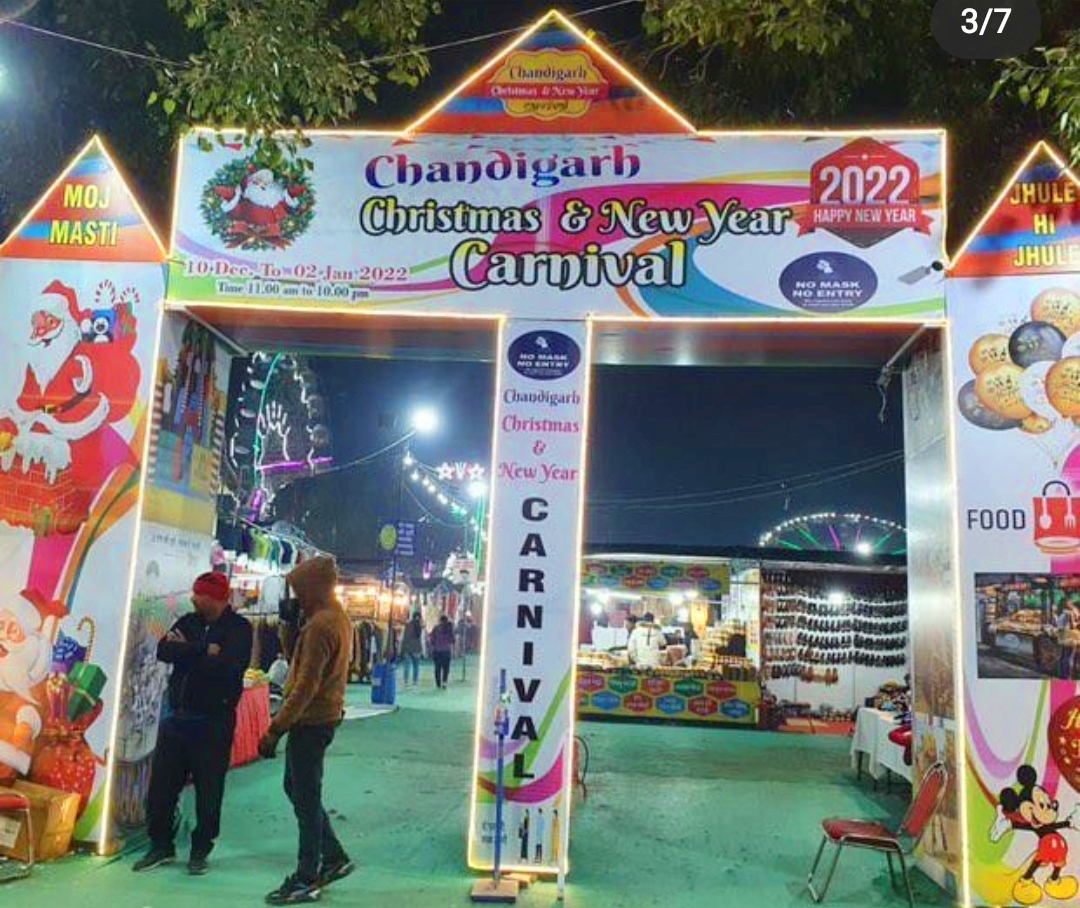 This Fest is a great opportunity for all shopping lovers to shop for their favorite winter dresses in the Winter Shopping Festival. From Kashmiri woolens to Himachal Handicraft, the Winter Shopping Festival offers everything under one roof.
Location: Exhibition Ground (Opposite Furniture Market), Sector- 34, Chandigarh
5. VR Punjab Mall
It's that time of the year again when a Christmassy spirit envelops the entire city. Come make the most of the season with Winter Wonderland at VR Punjab – a celebration of all things Christmas. From kids' workshops and carol singing to Christmas shopping and fashion, there's much to look forward to. Mark your calendars and come experience the magic called Christmas at Tricity's Largest Shopping Destination.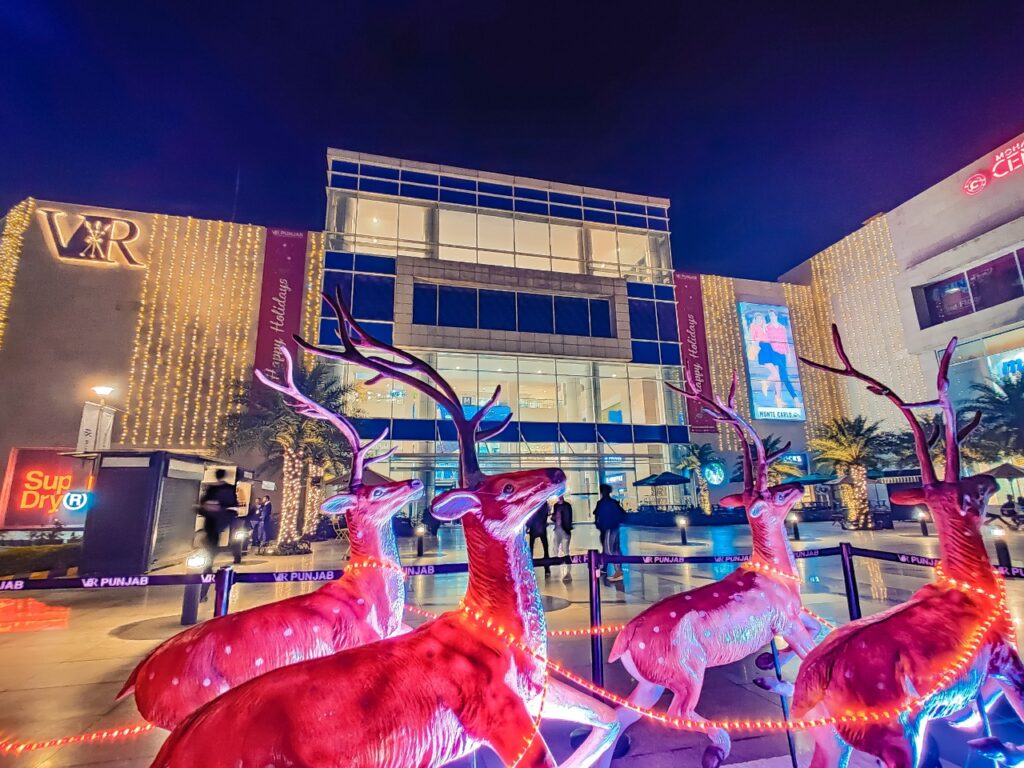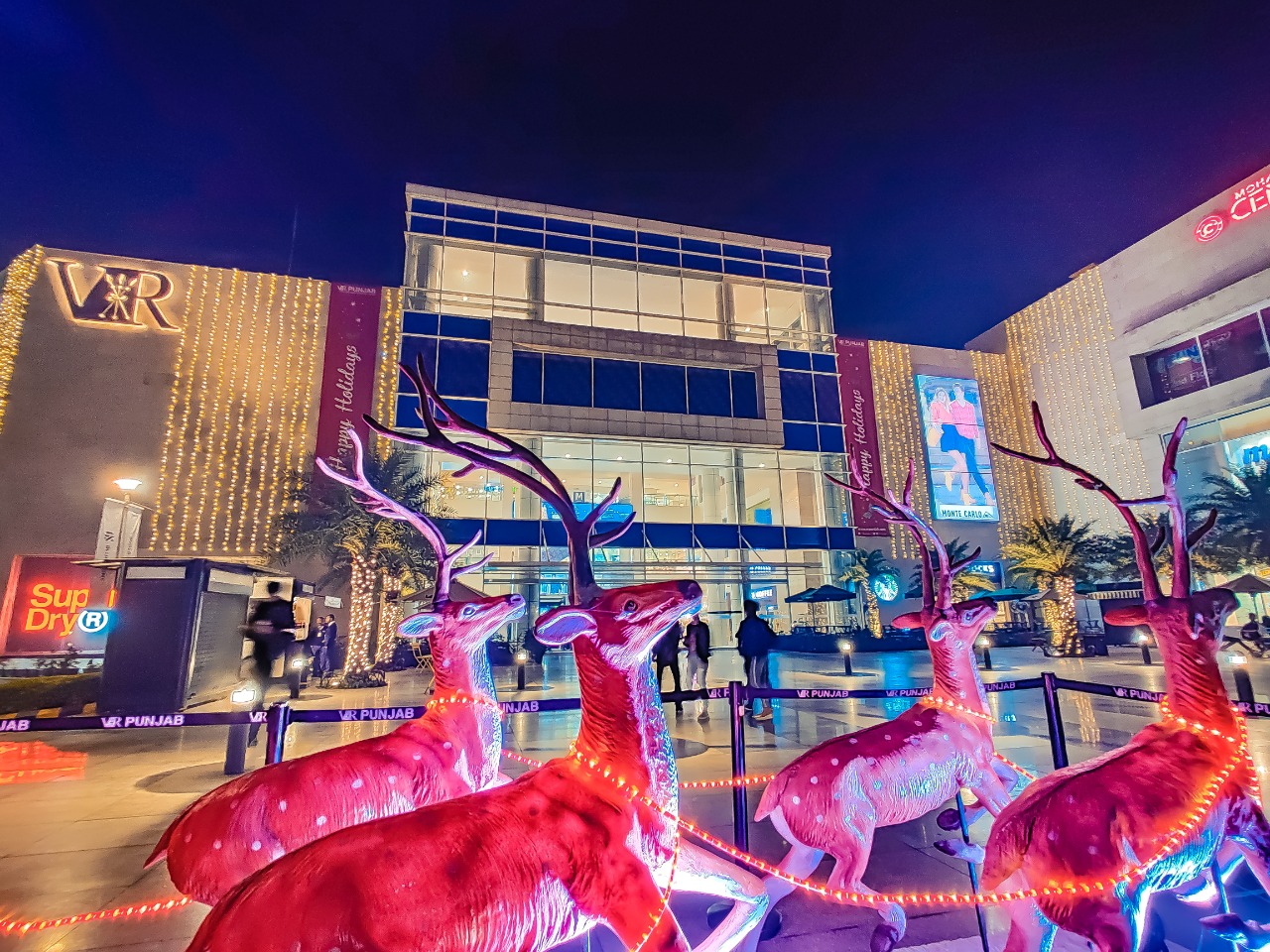 The festive spirit is always high at VR Punjab and our patrons from all across the Tricity come together to celebrate Christmas. A Live band, carol singing & meet & greet with Santa are a part of the event to entertain children and adults alike.
Location: NH-21, Chandigarh Kharar, Chandigarh Rd, Sector-118, Sahibzada Ajit Singh Nagar, Punjab
6. CNI Church
The CNI Church is also one of the most renowned churches in Chandigarh. This bright golden-yellow structure stands tall as a beautiful place to be in. A great church with people from different regions of our country. This church is as old as Chandigarh and has a very modernistic approach to its interiors and buildings. The ambiance of this place is soothing enough to give you good vibes. The sermons, worship, kids church and fellow-shipping with some really wonderful people. Moreover, it's centrally located and easy to commute.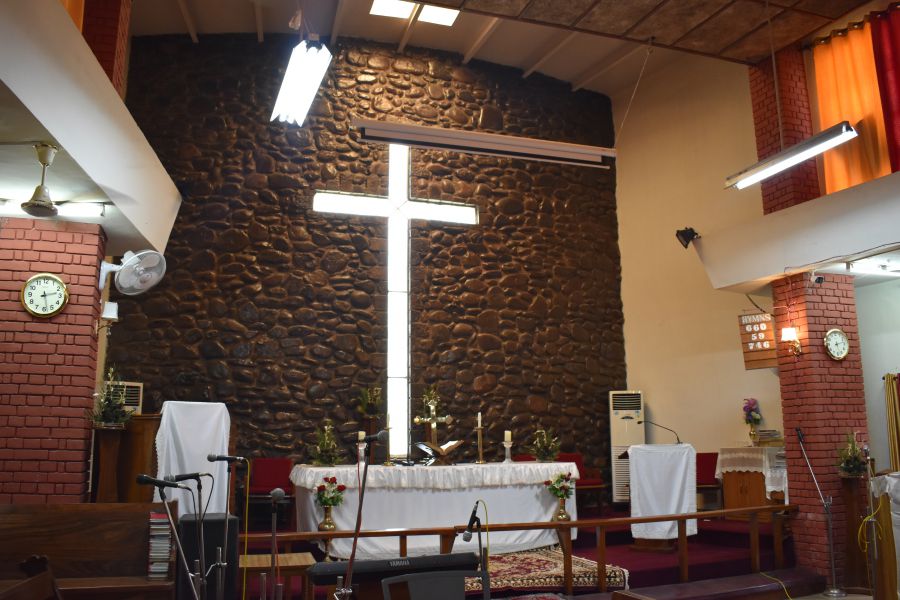 Many people gather in order to attend masses and be a part of this amazingly decorated and lit space that exudes beauty and tranquillity. Services are bilingual and hence caters to the international community as well. So friends, anyone looking for a church for upcoming Xmas celebrations, this is a church you can look at. Come and be blessed!
Location: Himalaya Marg, 18A, Sector 18 A, Chandigarh
7. White Street, The Back Room Gardens
This two-day festival has shopping, food & music galore. From a live concert with Anuv Jain to a Christmas drink, this is going to be one for the books! Oh and don't worry, we didn't forget Mr. Santa!!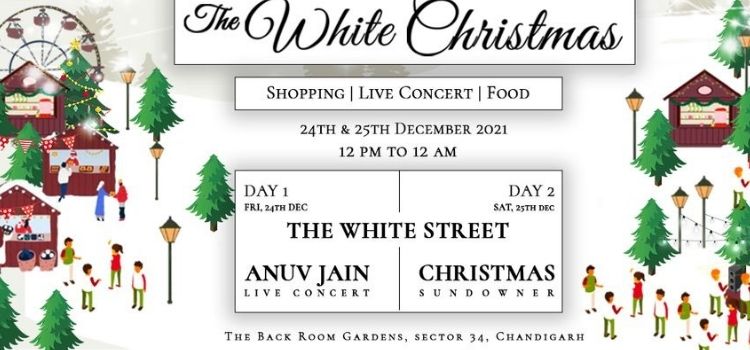 So bring your boo and your babies because there's something for everyone! They are making it a December to remember this festive season as we take you through 'The White Christmas', a Christmas made of all things merry and dreamy.
They have an entry fee with which you can avail all the Christmas feels. You can avail the tickets by clicking here.
Location: The Back Room Gardens, Sector-34, Chandigarh
8. Secret Sessions, Social
Secret Sessions is an event where they invite some of the most alternative acts to perform on the Sector 7 Social roof. This year, they have again come up as an exclusive invite-only property. They are showcasing interesting talents in the space of music, comedy, and performance arts from around the country.
Buy Tickets by clicking here!
Location: SCO 37, Madhya Marg, Sector 7-C, Sector-7, Chandigarh
9. Little Play Book, Epic Flea Market
The Epic Flea Market is back it's Christmas edition and this time we are taking it to the next level! For the first time ever this mega shopping carnival is making its way to the iconic Chandigarh Club.
You will find everything from stationery to fashion accessories home decor to quirky merchandise from over 70 curated popups from all across India expect massive discounts and clearance sales across all categories an exclusive foods and drinks zone with Chandigarhi's favourite restaurants and activities to keep you entertained workshops for those who want to hone their skills and tons more !
Location: Chandigarh Club, Near CM House, Sector-1, Chandigarh
10. X-mas shopping Carnival, Hotel KC Cross Road
Last but not the least, XMas Carnival Fashion & Lifestyle Exhibition is happening in Panchkula on December 23rd, 2021. It has various stalls offering an array of handmade and other goods. Jewellery, clothing, accessories, homeware, artefacts, decor and many other products are found in various stalls.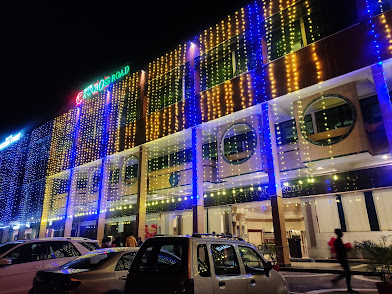 In terms of food, there are a lot of Gourmet, BBQ snacks, local foods etc. The vibe is pretty appealing with colourful draped stalls spread on a lawn. There is live dance, music shows as well. Children can indulge in storytelling, magic shows etc.
Location: Hotel KC, Cross Road, Sector-10, Panchkula
In a nutshell, to feel the delightful vibe of Winters and Christmas in Chandigarh; you can surely visit these eateries, markets, churches etc. But you can also visit animal shelters, the Christmas eve marathon, other trade fairs, night clubs, and a plethora of lounges. The list is endless; all you need to do is step out and follow your heart!
What are you waiting for? Gear up in your winter layers and enjoy these places to celebrate Christmas in full spirits.
ChandigarhBytes Wishes you a Merry Christmas and a very Happy New year!
An additional, you might love reading our more interesting reads.
10 Best Bridal Shops In Chandigarh – Ultimate Guide to "Shaadi" Shopping
Top 10 Places For Groom Shopping In Chandigarh – Ultimate Stores
Chandigarh Bird Park – A Perfect Escape for Nature & Birds Admirers
10 Best Bridal Shops In Chandigarh – Ultimate Guide to "Shaadi" Shopping
10 Best Lesser Visited Places In and Around Chandigarh (City Beautiful)
Chandigarh Festivities : 10 Best Places To Enjoy Festive Vibes in The City
Elante Mall Chandigarh – Perfect Outing For Shop & Dine
Hey peeps, do follow us on ChandigarhBytes.