Chandigarh, the 'City Beautiful' is a picturesque city with a lot of vibrancy and liveliness in its social structure. This year, your festive celebrations are going to be all grand and over the top. Decked up with glimmering fairy lights that give a totally magical vibe. Chandigarh, hosted as one of the best & most festively charged places is sure to hit the right notes of fun and merriest of times for you. Good food, coupled with equally amazing decor and music, your celebrations are going to be a memorable affair for you and your loved ones.
Chandigarh During Festivals
Chandigarh has always been up for festivals, celebrations, and parties. We know you all have been craving for celebration vibes and for that we have something wonderful for you. Those looking for the places to experience fun and frolic, you are at the right platform. So, here are some totally magical looking sites that you must hit up for 'em festive feels.
1. Shopping Plaza : Heart of the City
Firstly, on the list of places adorned for celebrations in the city, Sector- 17 has a festive vibe like no other. Every Chandigarhian looks forward to be a part of the warmth this place. The people are jolly and celebrate every festival with great enthusiasm. People dress up in traditional dresses and celebrate occasions with good food, music and great photography.
Showrooms decorated with lights will surely make you whip out your phone and capture every corner. Head out there if you haven't yet and spend an evening you would remember forever!
Location : Sector – 17, Chandigarh
2. Shastri Market : Vibrant and Full of Life
Who is not a fan of Sector 22? Literally, no one! For a truly gala occasion, the festive celebrations here is surely one of those unforgettable moments that make you a fan of such times. From amazing decorations, delicious Indian street food, traditional shopping to unlimited happiness, this place has it all.
Additionally, games and attractive jackpots are being set up by famous e-commerce brands to raise the entertainment factor. Sector 22 has always brought people closer that allow them to share good things. So, what are you waiting for? For the festivities to end? No, right? So, dress up and hop on there.
Location : Sector- 22, Chandigarh
3. Sector – 34 Mela : Swings and Giggles
Thirdly, we have the exhibition cum carnival at a very popular landmark, sector 34, Fair Ground. It usually begins around Dusshera and goes up till Diwali. Chandigarh administration hosts this carnival to promote traditional vibe of the city. Apart from this, it also encourages the craftsmen to showcase their creativity and national street foods to come under one roof.
Loaded with dance events taking place, thrilling rides and shopping stalls from different parts of the country. You name it, they have it!
Location : Sector 34, Fair Ground
4. Elante Mall : Ideal Blend of Radiance & Luxury
The people of Chandigarh are always found in the festive mood celebrating all the festivals with whole heartedly together. Elante Mall is your one go-to-spot which offers everything. The mall always come up with a theme on every occasion. This year, it has a stunning and grand decoration having perfect blend of traditional and sparkly vibe.
Pop over for a stunning night of festive fun and good food!
Location : Elante Mall, Phase- 1, Industrial Area
5. Panchkula Trade Fair : For the Love of Rides
Tri-city celebrates all the festivals with the pure feeling f love & happiness . Carnival events during festivals play an important role in to add structure to our social lives & connect us with our families & friend.
This year, it earlier had a theme of London Bridge which looked absolutely spectacular. Presently, it has a theme of.
So, all you tri-city peeps, head over to this Mega-Carnival and don't miss on the festive vibes.
Location : Huda Ground, Sector 5, near Shalimar Mega Mall
6. Gurdwara Sahib Patshahi Dasvin : Let the Spirituality Sink In
During festivities, there are people who prefer to go to a Gududwara to seek blessing from Waheguru Ji. A very-well managed place during occasions. Visit there for an emotional, clean and calm experience. Yummy Guru Ka Langar and Prasad will make you feel out of the world. The evening "Ardas" and Bhajans will relax your mind and soul.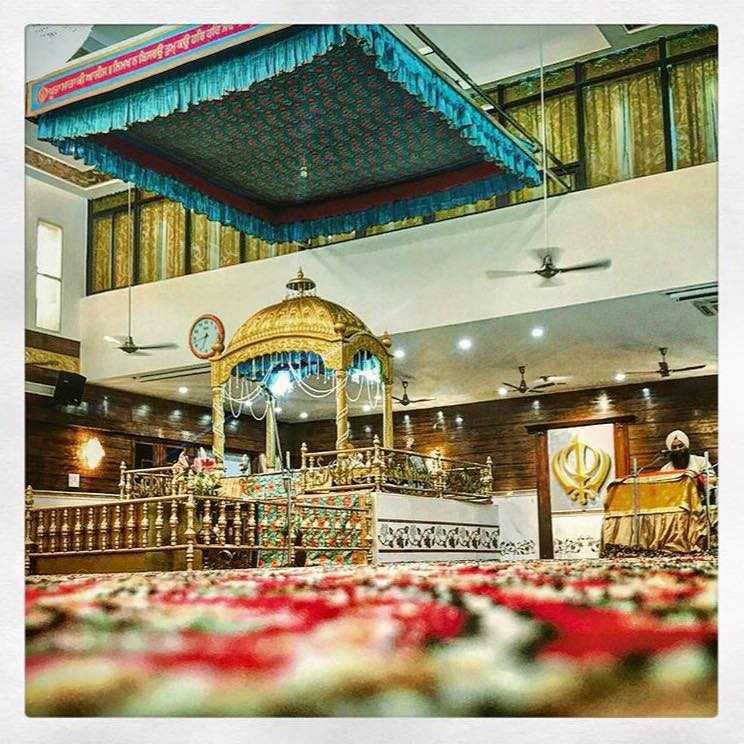 For those in need and can't manage any type of grand festive celebrations, Gurudwaras are a lace they look forward to. The reason being Sikh community in a Gurudwara come forward and provide food and shelter to those in need.
Location : Sector 8, Chandigarh
7. VR Punjab Mall : Lights, Glitter and Glamour
VR Punjab Mall rolls in festive fervor , meant to rejoice the special moments & emotions. The mall is geared up to double down on the celebrations. Embellished with huge hanging lights at the entrance makes you feel as if you entered a palace. Apart from lining-up exciting events and activities for its patrons, it had roped in all tenants at the malls as gifting partners for exciting giveaways and prizes for the lucky winners.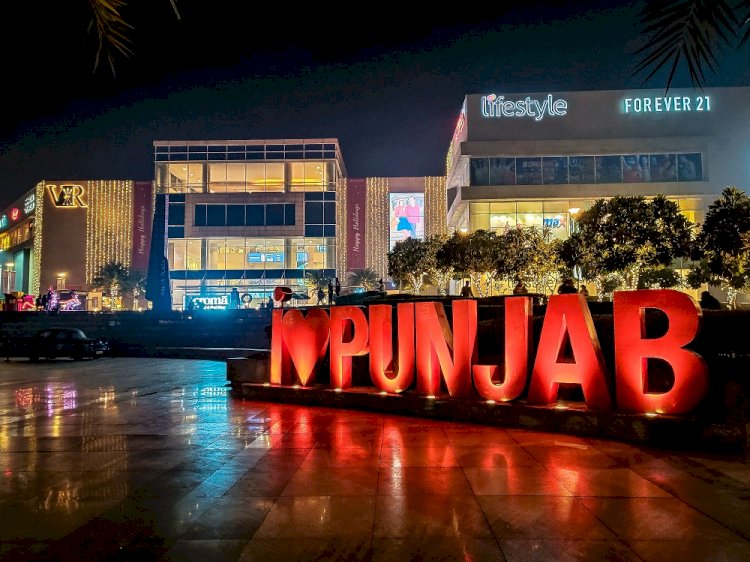 Multiple End of Season Sales are carried with great participation from shoppers. Besides this, you will find exciting rewards galore with great sale and offers from prominent brands.
Location : Chandigarh-Kharar Rd, Sector 118, Mohali
8. Mohali Utsav : Dance, Rides, Foods
This grand carnival has attracted lot of residents from the Tri-city. For the festive celebrations, Mohali has done a great job by organizing this Utsav. There are many stalls which serve great food. One of the prime attractions is the ride section which has some adventurous rides increasing the adrenaline rush of the people. Great music playing around and kids dancing on the beats along with various forms of folk theatres.
Bringing out true flavors of Tri-city in their delicious food and they have come up with an excellent concept in the form of Mohali Utsav. Pure Punjabi style grandeur and fun is there. Visit there with your friends and family and create unforgettable times.
Location : Phase 8, Mohali
9. Mansa Devi Temple : For Divine Experience
They say "Mata ne Bulaya hai" when visiting Mansa Devi Mandir. The entire place is decorated with beautiful lights which will instantly uplift your spirits. A huge area and well built very old temple in the heart of this city. A perfect place to visit with family during occasions. Therefore, for an amazing celebration experience, do visit the temple.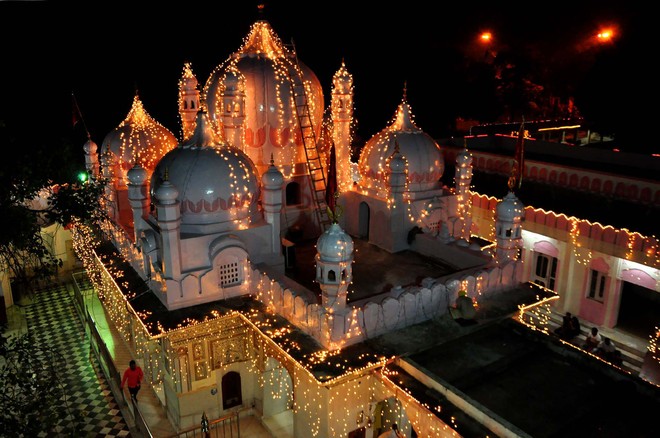 You can go for a nice walk throughout the ambience, be at peace, lit a Diya, do your prayers, and have the Prasad. A temple where all people of all religions come during festivals and seek blessings for their well being.
Location : Mansa Devi Complex, MDC Sector 4, Panchkula
10. Electronics Market : A place for Pure Festive Feels
Last but the not the least, this market is a sure-short place which will give you a whole lot of festive feel. The market look so much lightened and brighten up with decorative items, lights, diyas, Rangoli colors, sweets, gift hampers, sales to attract customers. It has a variety of home-grown brands of different types of lights, lamp hangings, etc, n case you want to shop.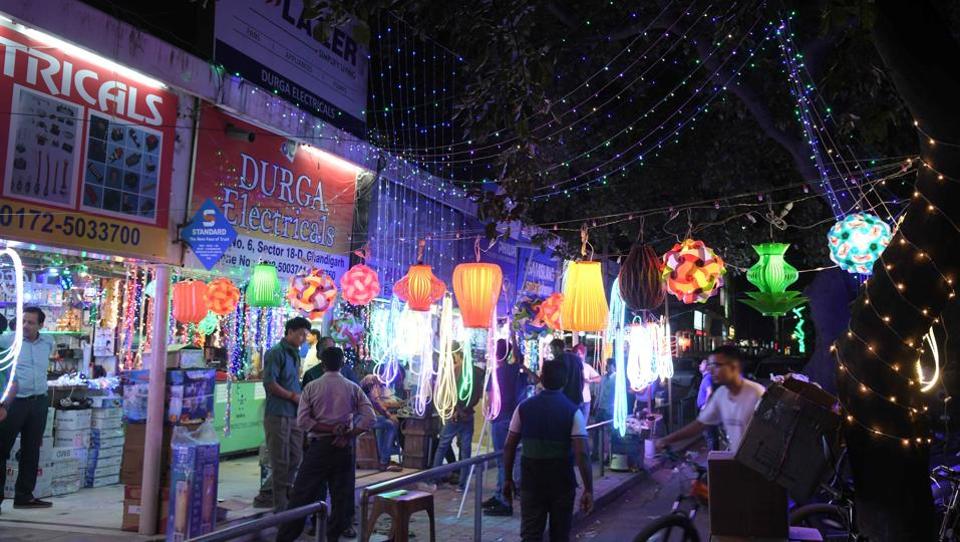 Lot of residents visit here in search of good quality and durable festive decorative items. Earlier, it had Chinese products which was a hindrance in bringing out the Indian manufactures to come up. However, now, Indian counterparts has replaced and outscored the Chinese market. As a result, the prices are higher as compared to but they add to the India's economic growth.
Location : Sector 18-D, Chandigarh
To summarize, festive celebrations is the time we all look forward to and plan for months in advance. The lights, colours, diyas, sweets, firecrackers, new clothes, teen patti parties, festivities and what not. For some, it's a time that is spent in their homes with family and others like to step outside. The more celebrations, the more the merrier!
Chandigarhbytes hopes that all you lovely people have the best time of this year. 🙂
Furthermore, do follow us on ChandigarhBytes.