Hunting for the best bridal shops in Chandigarh for your "Shaadi ki Kharidaari"? Look no further than our well-curated selection of the top wedding shops. Bridal shopping is the most difficult and time-consuming task and we aim to lessen your burden in any way possible. And no matter what your budget may be, we've got something for everyone. So without wasting any time, let's just get you started.
Shopping therapy is a real thing, and when it is your own bridal shopping, you just can't not enjoy every single moment and make the most out of it. It is undeniably the most fun and endearing tasks amidst the entire pre-wedding frenzy. Right from buying your wedding outfits and jewellery to other tiny yet significant elements like Kaleeras, Chura, gifting favours, trousseau, an endless shopping sprees await as soon as you tie the knot!
Must visit Best Bridal Shops in Chandigarh
To ensure that you do not go nuts wondering where to go, here are 10 best local markets in Delhi for a complete Shaadi Shopping experience.
Sham Fashion Mall
First and foremost, to get your wedding shopping sorted, head nowhere else but straight to the Sham Fashion Mall. The place being almost 30 years old, comes with unbelievable collection of bridal wear, exclusive designer sarees. Besides this, suits in fusion wear also also available. You name it and they have it!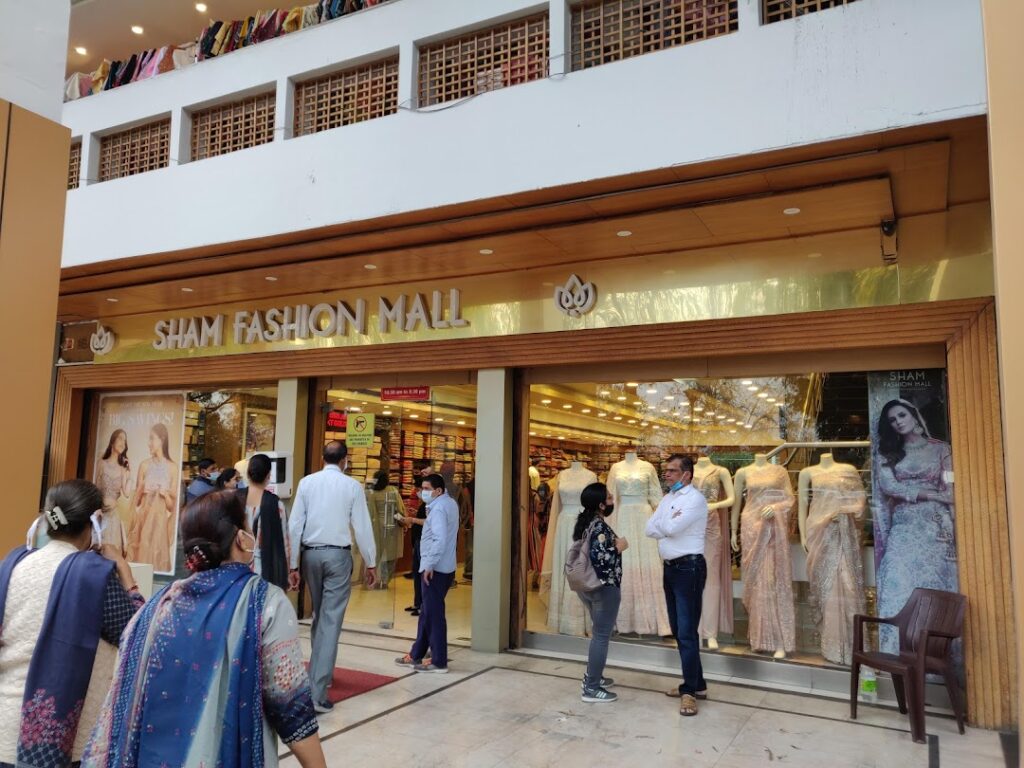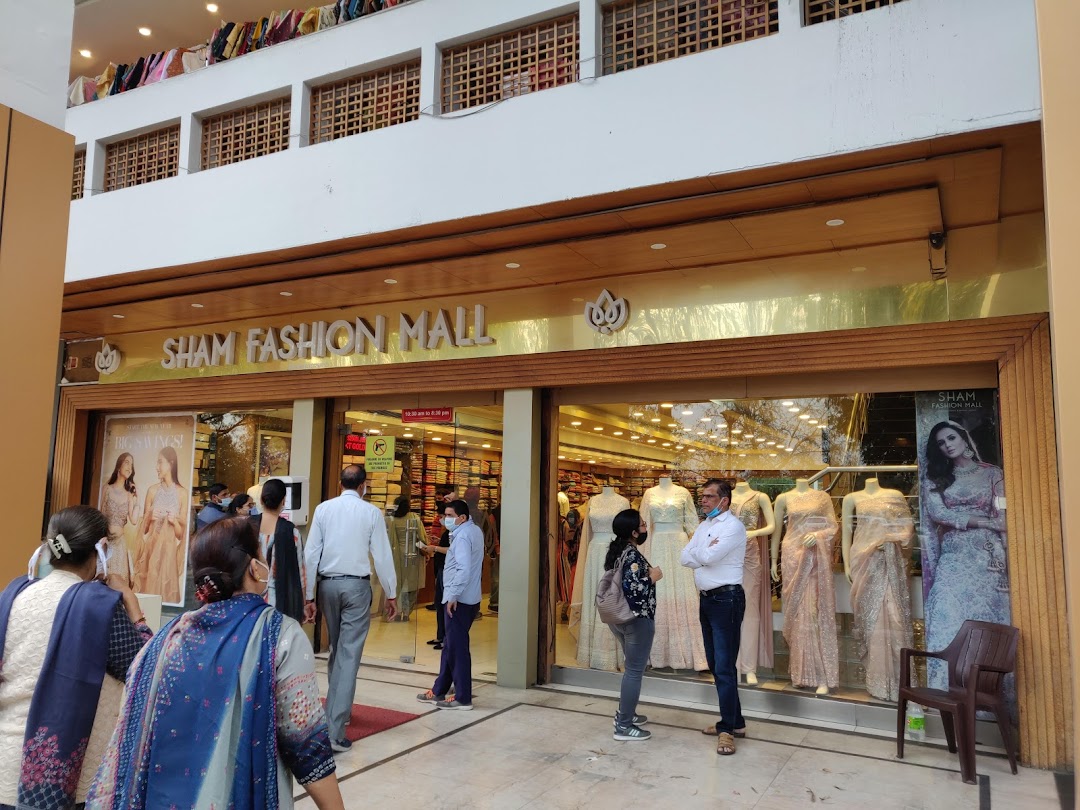 With absolutely no dearth of variety, the mall is one of the treasures in best bridal shops Moreover, you can find everything here according to your budget. The place offers a wide range of almost everything they have. Equally important, the intricately embroidered and handwoven fabrics add an elegant touch to their bridal couture. Whether you're a bride or a bridesmaid, they've got you covered with their stylish wedding selection.
Location : SCO 168-169, Sector 34-A
2. Meena Bazaar
Meena Bazaar is a well-known place for bridal shopping in Mani Majra, Chandigarh. Very much popular for Lehengas, Anarkalis Sharara suits , party wear gowns, Indo Western Outfits and much more.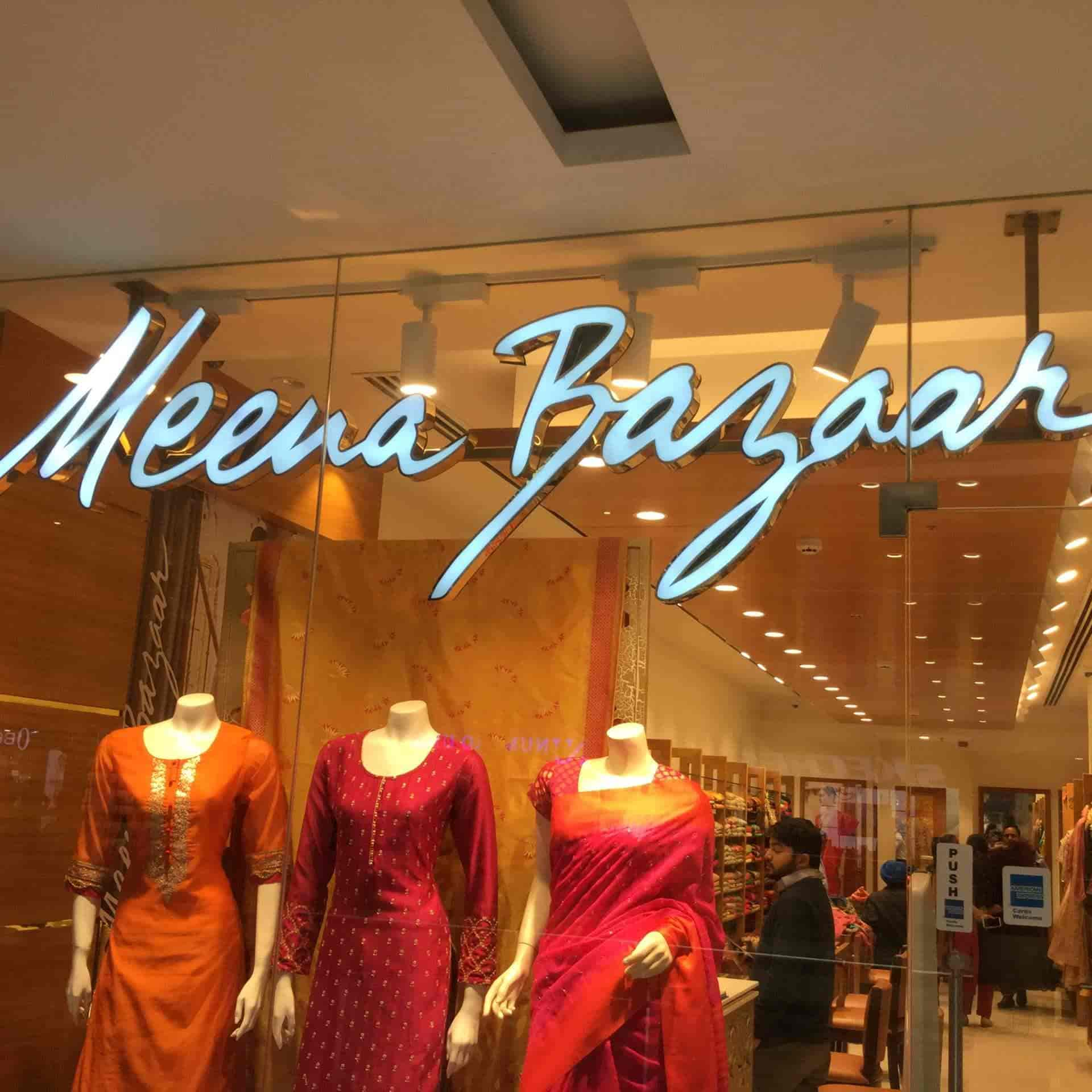 The showroom has managed to maintain the same integrity and authenticity to date. The artisans are dedicated to curate masterpieces with their craftsmanship and years of experience. Certainly, their bridal trousseau collection has it all from lehengas, Anarkali Suits, gowns, to sarees.
Location : SCO-853-854 NAC, Mani Majra
3. Ashoka Textiles
You've got to bookmark this amazing bridal studio tucked away in Mohali. The studio comprises striking lehengas in lovely pastel hues. Their range of lehengas is lightweight and stunning which makes it perfect for brides and bridesmaids who love fuss-free ensembles.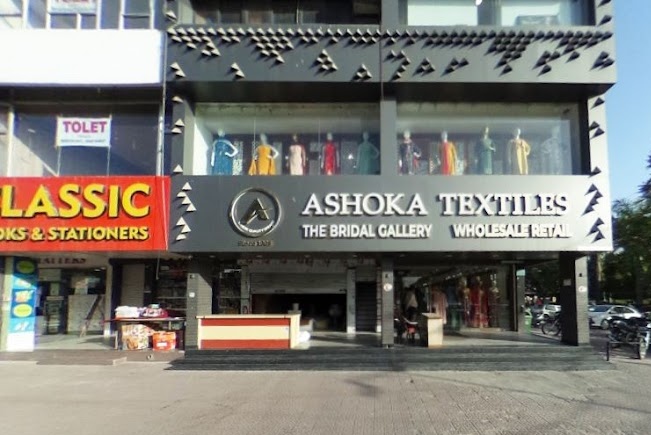 To add to it, a big name in the city, Ashoka Textiles is a famous bridal flagship store, that believes in draping modern women who are proud of their true selves, yet remain rooted in their culture, rich heritage and traditions. This bridal wear store has alluring outfits with Indian prints & patterns that will make you swoon over for sure. Be it the unique fabrics, detailed finishing or the finest luxurious handcrafted intricacy. Plus, Indian karigari like dabka work, gold/silver thread work, zardozi, and so on.
Location : SCF – 87, Mohali Stadium Rd, Phase 3B-2, Mohali
4. Bittu Fashioners Wedding Mall
Bittu Fashioners is your one-stop destination when it comes to stunning pieces of bridal clothing. Range of gorgeous lehengas and suits designs readily available, they will leave you spoilt for choice. Certainly, each of them comes with a ethnic specialty and is inspired by the rich Indian heritage. They've got the most beautiful array of graceful pieces with the finest fabrics and vibrance.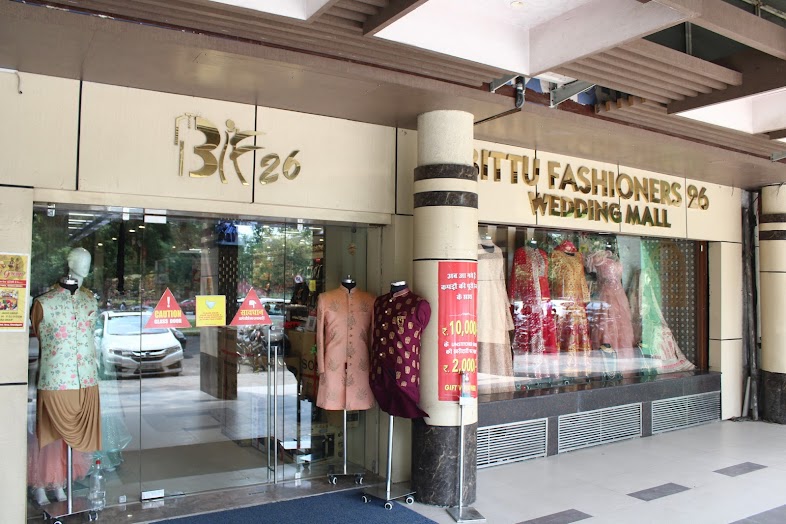 Additionally, they offer exquisite pieces of magnificent collection of blouses, including readymade blouses. What's more, they've also got bridal jewellery collection. Therefore, this buzzing place is home to some of the most popular wedding clothing. So, what are you waiting for? Just hop in there and we assure you your shopping experience will not be a disappointed one.
Location : SC0-9, Madhya Marg, Sector-26, Chandigarh
5. The Gulatis
In addition, The Gulati is one of the multiple wedding shopping places across the city. It is the beloved destination for wedding shopping for females. Many local residents and people from outside the tricity have also preferred visiting this place for their their stylish range of ethnic Indian wear. Head over to shop their stunning collection of wedding lehengas, kurtis, and gowns.
Right from an extravagant range of sarees and lehengas for your wedding to subtle suits for your trousseau, the shop is bundled with the most elegant variety.
Location : SCO 94-95, Bridge Market, Sector-17-C, Chandigarh
6. Ellmera
Nex, on the list of best bridal shops, Ellmera offers you a variety of Indian ethnic wear that is a perfect blend of style and comfort. The traditional and fine fabrics are carefully weaved to produce gorgeous results. They've got classy and modern outfits for women.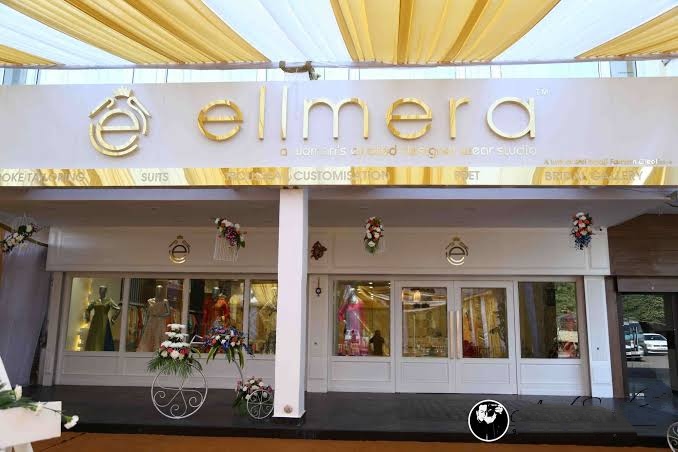 Ellmera creations is well-known for its wonderful collections of sarees and lehengas. Dazzle at your wedding with their remarkable and stunning designs. If you choose this store as your wedding shopping destination, we're happy to announce you've made the right choice.
Here you can find the best of wedding appropriate clothes that'll fit every budget! It incorporates many designer and high-end stores, thus making your wedding shopping even more fruitful. Therefore, it is some of the shops that you must have a look at when doing your wedding shopping.
Location : SCO 7, Sector-16, Panchkula
7. Sundar Emporium
Sundar Emporium holds within itself a vast reservoir of all things shopping! It's got all types of shops bridal wear where you can indulge in wedding shopping. You can shop for lehengas, saris, jewellery, accessories, and lots more. It's amazing to find that this shop holds so many exquisite products.
This bridal boutique has a collection that will steal your heart. They have exquisite lehengas with intricate work and gorgeous embellishments. Apart from readymade, you can also get one stitched here. This showroom is pretty famous for its range of affordable ethnic attires. So, you will even find a range of gorgeous and vibrant traditional dresses to complete your wedding-day look for bargain-able prices. So, go and check it out for yourself to see what the buzz is all about!
Location : SCO- 94, Sector 35-C, Chandigarh
8. AmarSons
Founded in 1945, AmarSons at Sector 22 is again one of the famous bridal stores that have ethnic & bridal wear outfits in Chandigarh. From red classic lehengas for the summer wedding to velvety bridal lehenga for a winter wedding, this budget-friendly store is where you can find a masterpiece for your wedding day.
In addition to this, having fine weavers from Kanchipuram, Bangalore & Banaras Amar Sons has a wide range of bespoke outfits. For instance, bridal lehengas, designer suits, cocktail sarees, jamawar, cocktail gowns, long achkans, and many more for their customers where quality & elegance is the utmost priority.
Location : SCO-847-48, Sector 22-A, Chandigarh
9. Uphaar
An additional, Uphaar is pretty famous and one can find everything from kurtis, Anarkalis, suits, lehengas to everything ethnic dress suitable for a wedding. You will find a great variety of Bridal Wear that will make your wedding look absolutely gorgeous. Thus, its a bustling shop, it often provides some affordable picks.
It is located in the heart of the city, the hub of wedding shopping. You can shop from their beautiful selection of 'ready-to-ship lehengas or select one from their 'on-order lehenga collection. The lehengas are beautifully designed and handcrafted to celebrate modern bridal aesthetics.
Location : D, 92-93-94, Jan Marg, Sector 17, Chandigarh
10. Poshak
Last but not the least, most renowned and obvious entrant to this list, Poshak is undeniably the place where you must hop in for an ultimate wedding shopping experience. So many brides visit the showroom not only for the bridal lehengas but for all-things-weddings. All-in-all, Poshak showcases Bollywood-inspired wedding wear in all kinds of trending designs and styles.
As well as, Poshak is one of the most bustling shopping hub for bridal shopping in Chandigarh. Grab that trendiest lehenga for your wedding! Boasting gorgeous lehengas.
Location : SCO 92-93, Bridge Market, Sector -17, Chandigarh,
In a nutshell, finding the best bridal shops in Chandigarh is a day is a burdensome task as it requires doing a lot of research. More importantly, the bridal consultant should be patient enough so that bride stress is not increased because of a negative shopping experience. Have a happy, fruitful shopping session that doesn't gouge a hole in your pocket!
An additional, you might love reading our more interesting reads.
Top 10 Places For Groom Shopping In Chandigarh – Ultimate Stores
Chandigarh Bird Park – A Perfect Escape for Nature & Birds Admirers
10 Best Lesser Visited Places In and Around Chandigarh (City Beautiful)
Chandigarh Festivities : 10 Best Places To Enjoy Festive Vibes in The City
Elante Mall Chandigarh – Perfect Outing For Shop & Dine
Also, you valuable readers, follow us on ChandigarhBytes for more updates.