For long, wedding shopping has been confined to women: lehenga, suits, jewelleries, footwear and the list is just endless. Wedding shopping begins months ahead of the day as the list is never ending. Amidst the hustle for wedding shopping for the bride, the shopping for men's groom suits and men's wear, in general seems to be a lot ignored. However, groom's shopping is equally boring, even if it lasts for relatively shorter duration, seeing the recent trend of fascination of men with personal grooming.
Wedding trends reveal that young grooms are showing a growing interest in what's popular in the modern groom's wardrobe. Browsing fashion feeds and men's style gurus, they're developing their own takes on personal style and now have lists of their favorite bridal brands. These brands are for those with luxurious and affordable tastes who like understated accents and love the redefining of traditional Indian menswear.
Must Visit Places for Groom Shopping in Chandigarh
We now have a lot of options to choose from when it comes the groom at the Indian wedding! Checkout these top 10 stores for groom wear in Chandigarh and go ahead and share the list with the besties who are planning to tie knots. We are including both affordable and designer men's ethnic wear labels and boutiques for you to decide. If shopping for your man is always confusing then this list might help you a bit in your Indian wedding shopping list.
1. Bittu Fashioners Wedding Mall
First and foremost, Bittu Fashioners is your one-stop destination when it comes to stunning pieces of groom shopping. Range of gorgeous sherwanis, kurta payjama with Nehru Jackets and suits designs readily available, they will leave you spoilt for choice. Certainly, each of them comes with a ethnic specialty and is inspired by the rich Indian heritage. They've got the most beautiful array of graceful pieces with the finest fabrics and vibrancy.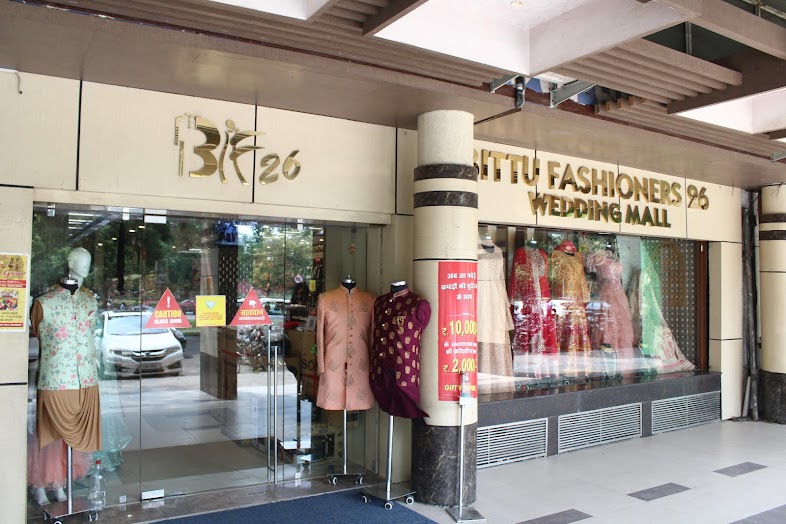 Additionally, they offer exquisite pieces of magnificent collection of Nehru Jackets, stylish kurtas including readymade Sherwanis. What's more, they've also got accessories for men's groom suits collection. Therefore, this buzzing place is home to some of the most popular wedding clothing. So, what are you waiting for? Just hop in there and we assure you your shopping experience will not be a disappointed one.
Location : SC0 9, Madhya Marg, Sector-26, Chandigarh
2. Manyawar & Mohey
Second of all, this store is a blessing for grooms, best men and friends. Manyawar does traditional and smart wedding wear for men, but the surprising showstopper is their understated semi-formal range of Indian menswear. Their kurta set, sherwanis, Indo-western and jackets come in all gradual shades of heaviness. Or, if you draw the line at a plain raw silk kurta with minimal gold piping, that's fine too. Their staff is super helpful, they'll help you combine the fabric from one piece, buttons from another, thread-work from a third, and will have it ready when they say they will.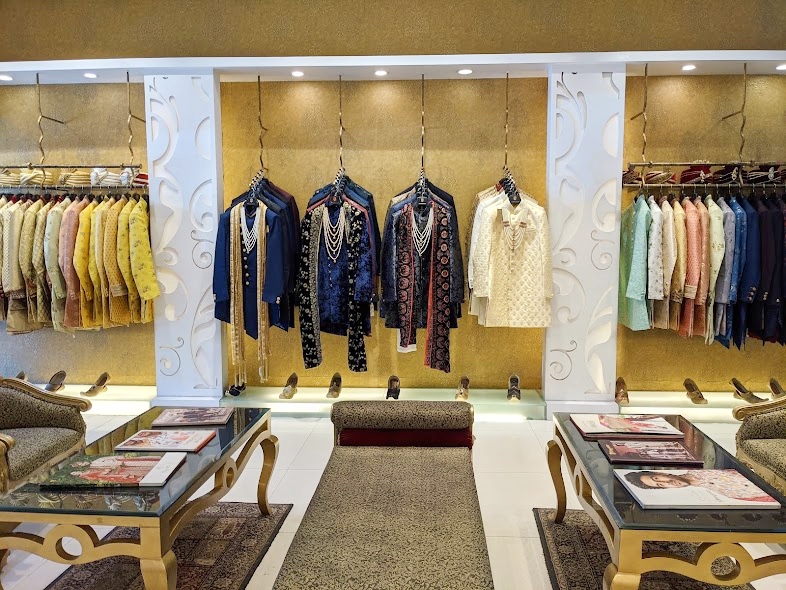 Manyavar's timeless celebration collection includes exquisite Sherwanis, fine Indo-Westerns, Royal Bandhgalas, classic Kurta-Jackets and matching accessories for life's special moments. Not leaving behind the juniors, Manyavar started with their Kid's Ethnic and Fusion wear line which was a delight to the little ones.
Location : SCO 129/130, Ground Floor, behind Sindhi Sweet, 17C, Chandigarh
3. Sham Fashion Mall
Next on the list of best places for groom shopping is Sham Fashion Mall. To get your wedding shopping sorted, head nowhere else but straight to this place. The place being almost 30 years old, comes with unbelievable collection of Dulha Dress 2021, exclusive designer sherwanis, stoles, pagadis. Besides this, suits in fusion wear also also available. You name it and they have it!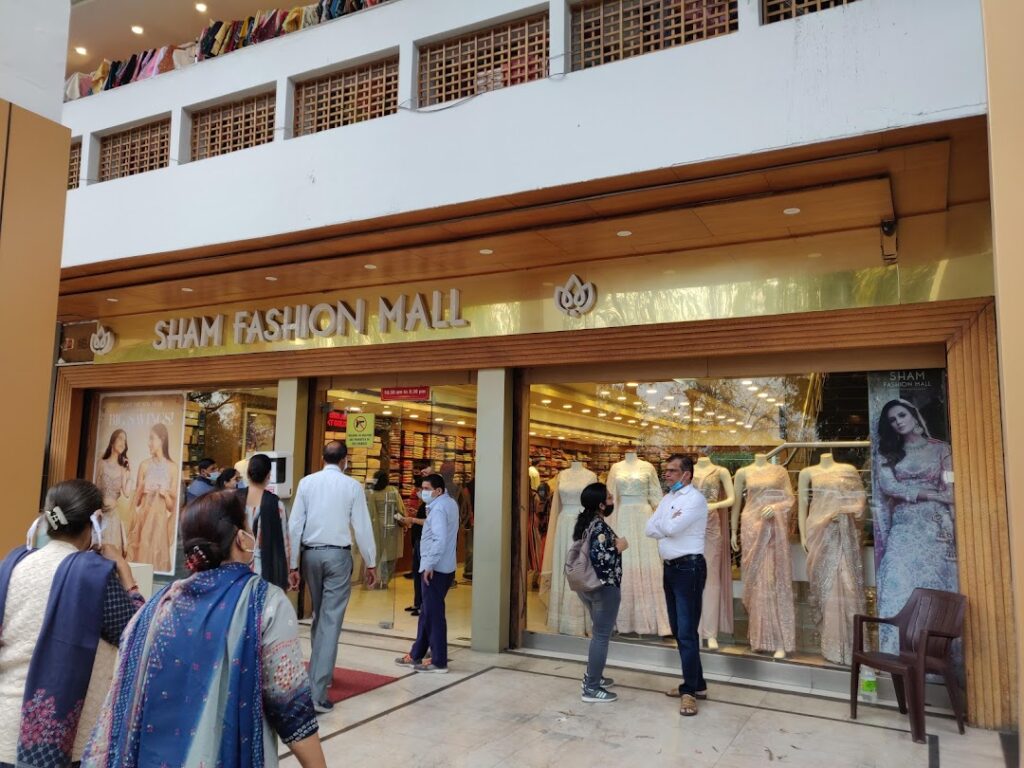 They have the most vibrant and unique collection for men's wear in Chandigarh. Being a branded and reputed outlet, you are sure to reach out to the best quality of clothes in terms of texture, color or design. They provide an option for customized tailoring too, which ensures you get the best fit for your most special day.
Location : SCO 168-169, Sector 34-A, Chandigarh
4. Mohanlal Sons
Mohanlal Sons has been a destination for excellence in Men's Custom Tailoring & Celebration Wear for over 137 years. They have had a lineage of customers including Prime Ministers, Presidents, Chief Justices, Cricketers, Olympic Medalists, Movie Stars have trusted them with their special apparel needs. From making you look dapper at your special day and your celebrations, Mohanlal Sons has been creating class in men's wardrobe since 1881.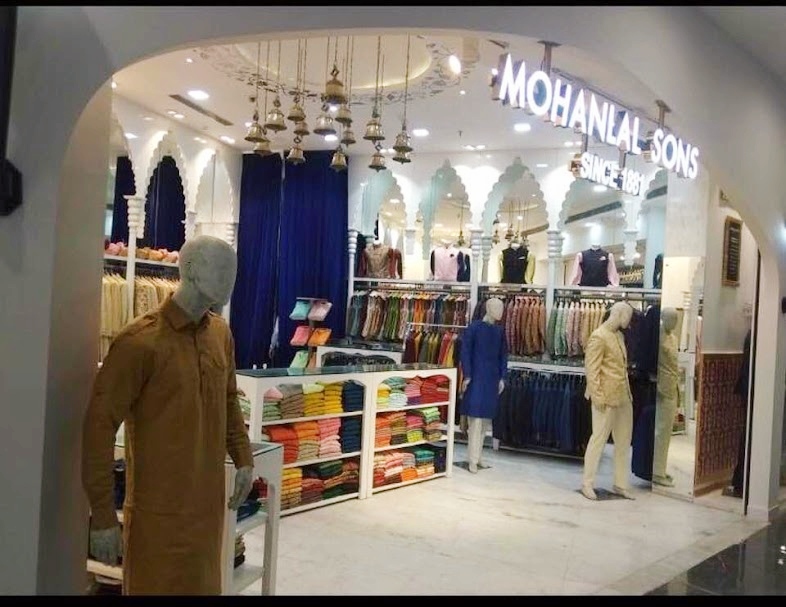 With both ready-mades and made-to-measure services, you can trust Mohanlal Sons to exceed your expectations. Therefore, when it comes to the best of tradition and a whip of contemporary styles one can trust Mohanlal Sons.
Location : 145, 1st Floor, Elante Mall, Industrial Area Phase I, Chandigarh
5. Dulha House
It is said that the man and his clothes are cut from the same cloth. At Dulha House, they bring that saying to life. Be elegance, be style, be sophistication, trust this brand to create an impeccable masterpiece for your big day. Another favorite amongst grooms, Dulha House strives to offer the best.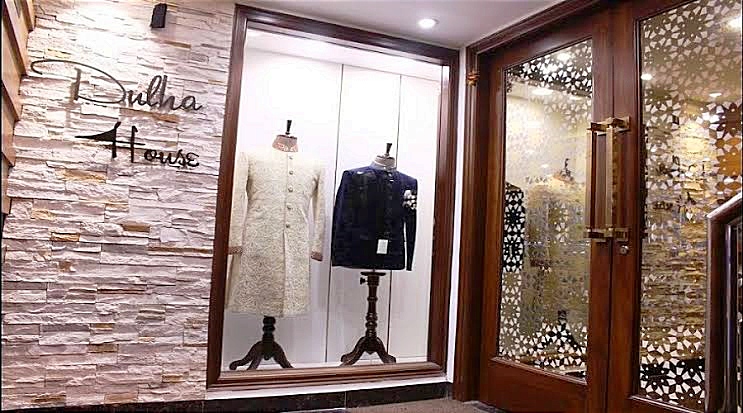 The team of designers takes the time to understand personal styles, blend in industry expertise as well as interesting trends, and turn out some beautifully crafted work. One of the best quality fabrics and a lot variety especially for marriage functions. Visit this place for very good experience for shopping for your, your friend's or for your cousin`s marriage shopping. Additionally, stitching here is also very nice and fitted.
Location : SCO 18, Sector 17-E, Chandigarh, Near Neelam Theatre, Main Market
6. Sasa Clothing
For all those searching for a god tailor shop for men's groom suits, Sasa Clothing is one of the ideal stores to be at. Their services includes bespoke jacket tailoring, custom coats and custom suits. It is a great place to go for a good tailoring experience. Starting from a coat, a jacket or a shirt in any fabric, they have a great stitching experience.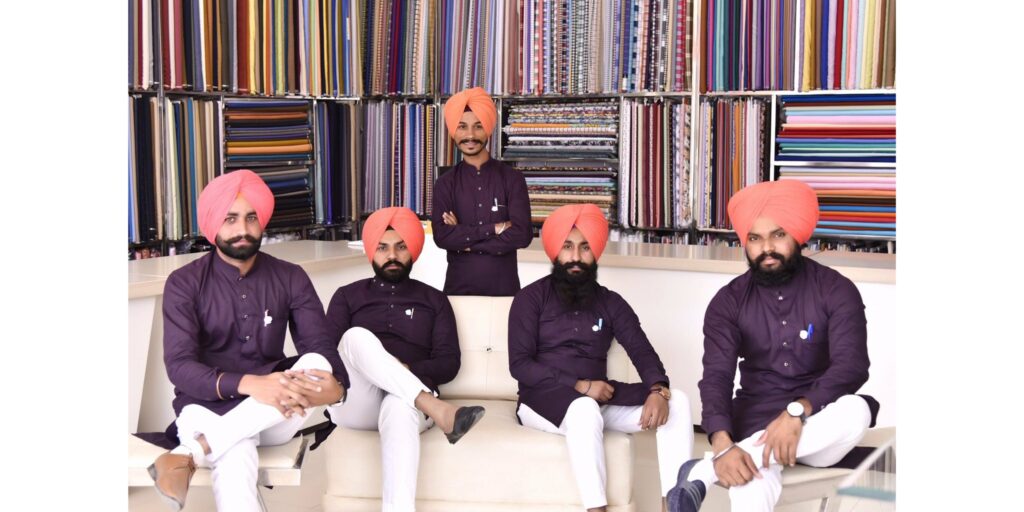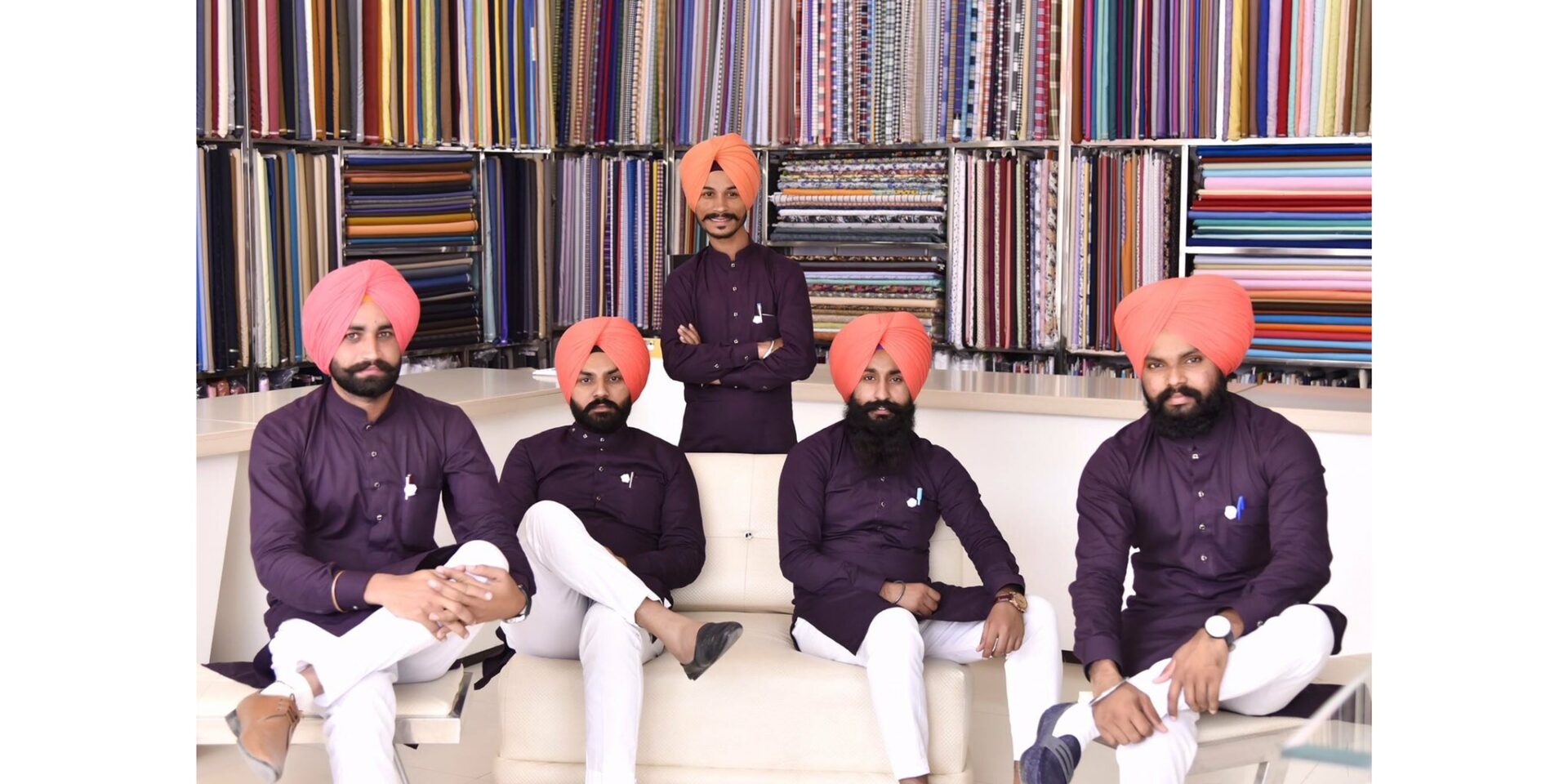 From subtle colours to classic prints, a groom in Sasa Clothing is going to exude royalty. It's a perfect fusion of vintage and modern taste with class. Head for Sasa Clothing for making the best of your wedding!
Location : SCO 65-66, Sector 125, Sunny Enclave, SAS Nagar Mohali, Backside KFC
7. Punit Arora
Punit Arora is a designer couture label that creates ingenious fashion that has a perfect balance between contemporary designs and Indian craftsmanship. His wide collection has a variety of unique designs perfect for the wedding season. Be it a fancy sherwani or the perfect bandhgala, they design it all with creativity and love. Every piece of clothing has something special that makes the groom feel and look his best on his special day.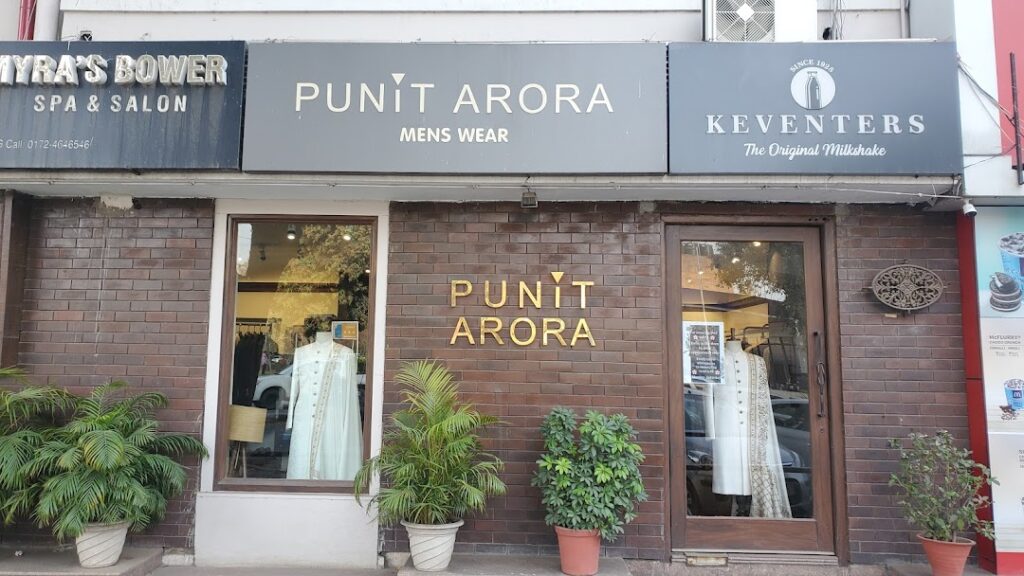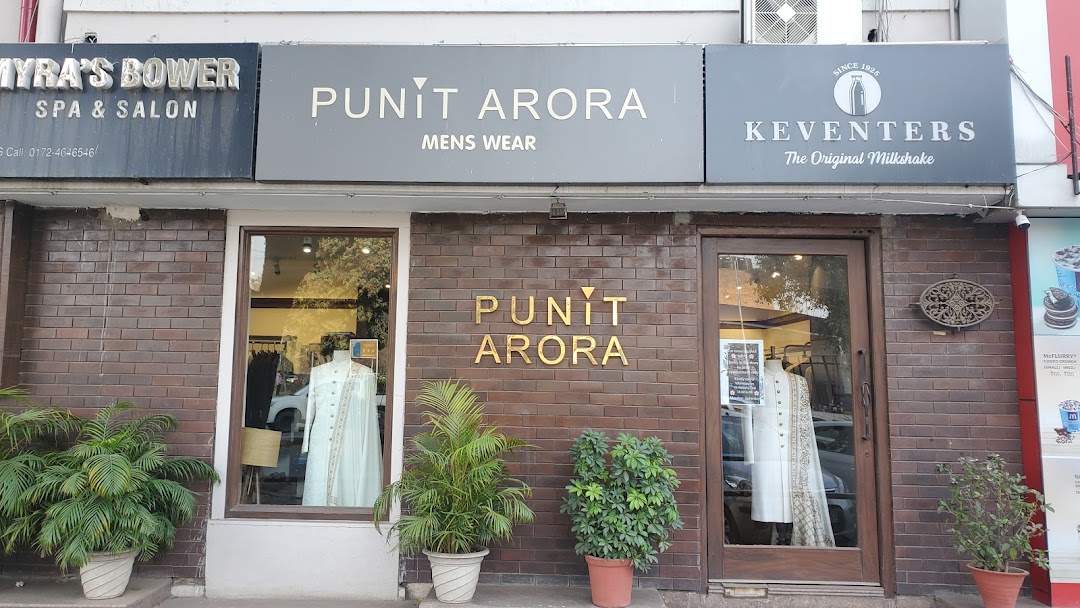 Made with excellent quality fabrics and keeping in mind the vision and requirements of the groom-to-be, Punit Arora is a reliable and talented designer ensuring customer satisfaction.
Looking for clothes that would turn heads, Punit Arora is the destination.
Location : Aroma Hotel Complex, Sector 22-C, Chandigarh, 160022
8. Meena Bazaar
Established in the year 1970, Meena Bazaar in Mani Majra, Chandigarh is a top player in the category Readymade Garment Retailers in the Chandigarh. This well-known establishment for groom shopping which acts as a one-stop destination servicing customers both local and from other parts of Chandigarh. Very much popular for Sherwanis, kurta pajamas, party wear men's jackets, Indo Western Outfits and much more.

Moreover, the showroom has managed to maintain the same integrity and authenticity to date. The artisans are dedicated to curate masterpieces with their craftsmanship and years of experience. Certainly, their groom trousseau collection has it all from sherwanis, Nehru Jackets, Kurtas, to matching stoles.
Location : SCO-853-854 NAC, Mani Majra , near Housing Board Light
9. Kohinoor Selection
Kohinoor Selection based in Chandigarh deals in Groom Wear. They provide unique and trendy collection to the clients so as to ensure maximum customer satisfaction. Plus, they work as per the requirements of the clients. They have a collection of ready made outfits to choose from and also provide the option to customize the outfits.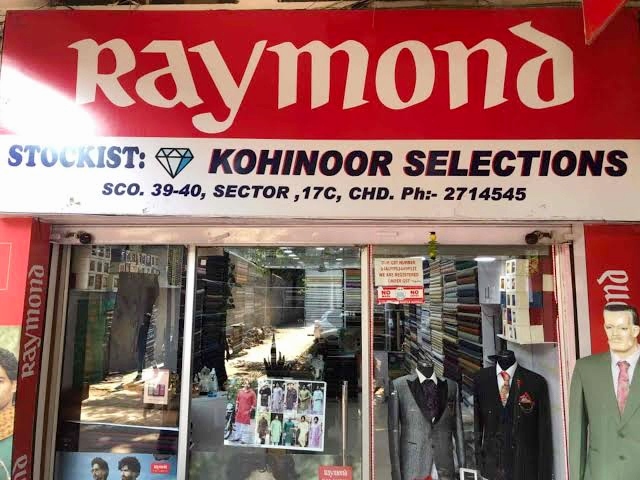 Besides this, they deal in Sherwanis, Kurta pyjama sets and custom made suits. To make your clothes as special as the day, contact them. Specialisation- Sherwanis Customised Suits & Tuxes.
Location : SCO 39-40, Sector 17-C, Chandigarh
10. Motif by Udhay Mahajan
Finally, Motif by Udhay Mahajan is one of the most renowned multi designer boutiques in Chandigarh. They have a wide range of groom wear outfits. In addition, they make sure that the clients get the best look for their special day and everyone just admires their look and outfit. From marriages, engagement or receptions, suits by Motif by Udhay Mahajan can be one of the finest pieces of clothing you will ever wear with remarkable workmanship.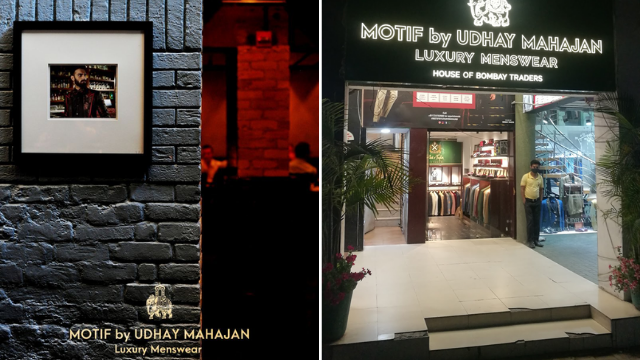 Their customization services allow you to designs and create the perfect outfit for your wedding that is in precision with your vision and spirit. Their designs reflect the handicraft of passion-driven professionals. So, style your wedding outfit with them and steal the show. Outfits Offered: Wedding Suits / Tuxes Sherwanis.
Location : SCO 21, First Floor, Sector-17-E, Chandigarh
I hope the list is useful for you and the next time you finally get your man ready for shopping then you know which Chandigarh stores to head to.
An additional, you might love reading our more interesting reads.
10 Best Bridal Shops In Chandigarh – Ultimate Guide to "Shaadi" Shopping
Chandigarh Bird Park – A Perfect Escape for Nature & Birds Admirers
10 Best Bridal Shops In Chandigarh – Ultimate Guide to "Shaadi" Shopping
10 Best Lesser Visited Places In and Around Chandigarh (City Beautiful)
Chandigarh Festivities : 10 Best Places To Enjoy Festive Vibes in The City
Elante Mall Chandigarh – Perfect Outing For Shop & Dine
Additionally, follow us on ChandigarhBytes.