Zakir Hussain Rose Garden in Chandigarh, believed to be the largest rose garden in Asia, was named after the third President of India, Dr Zakir Hussain, a keen horticulturist. The roses are laid out in aesthetically designed flowerbeds, surrounded by beautifully landscaped areas interspersed with trees and flowering shrubs. In addition to roses, the promotional literature says there are over 1000 varieties there, there are also several medicinal herbs, plants and trees.
About Zakir Hussain Rose Garden
Named after India's third President, Zakir Hussain, the beautiful Rose garden came into existence in 1967 with the support of Chandigarh's first Chief Commissioner, late Dr M S Randhawa. Chandigarh rose garden contains more than 17,000 plants. There are nearly 1,600 varieties of roses over there. It is a spacious garden covering an area of 27 acres.
Dr. Zakir rose garden not just consists of the gorgeous roses, but also trees of medicinal value. Some of the medicinal plants that can be spotted here are bel, bahera, harar, camphor and yellow gulmohar. Rose garden serves as the venue for hosting the annual festival of gardens, a major cultural event of the city.
Let's Dig into Some History…
Zakir Hussain Rose Garden, is a botanical garden in Chandigarh, India and spread over 30 acres (120,000 m2) of land, with 50,000 rose-bushes of 1600 different species. Named after India's former president, Zakir Hussain and created in 1967 under the guidance of Mohinder Singh Randhawa, Chandigarh's first chief commissioner, the garden has the distinction of being Asia's largest. The garden has not only roses, but also trees of medicinal value. Several kinds of medicinal plants can be spotted in the garden, such as bel, bahera, harar, camphor and yellow gulmohar. The rose plants have been planted in carved-out lawns and flower beds.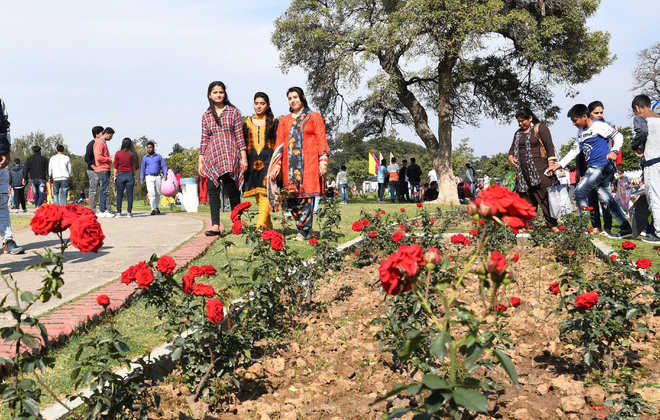 Apart from serving as a host of other events, the Zakir Rose Garden serves as the venue for hosting an annual rose festival called Rose Festival, the most awaited cultural event in the city during February or March. Celebrated mainly as a tribute to the magnificence of the rose itself, the attractions include food, drinks and joyrides. Additionally, contests of varying nature, such as photography, gardening, landscaping, bonsai, and Rose Prince and Princess also take place.
Get a Visual Treat of Colors : Ticket Price & Timings of Visiting
Asia's largest Rose garden, above all the subway is one of the ideal place to hangout and to meet art lovers. One of the peaceful places at the center of City Beautiful. Undoubtedly the only rose garden of its kind in India! It is filled with exotic varieties of roses during the winter season. You can enter it via the main entrance or multiple smaller gates in sector 16 and via the newly built fabulous underpass connecting it to sector 17. Additionally, there is a dedicated kids zone, some fountains towards one of the entrances, and a large wind chime, it's equally good for all age groups.
In addition, tourists can visit this lush green garden to see a whole range of Roses. Its pretty big with swings that children may enjoy. Verka outlet is also available for quick snacking. There is a pathway all around the garden which attracts lots of people for morning walk and it makes the garden an absolute lovely place to stroll around during winters. Apart from this, it's very well maintained; plus, the washrooms are clean. A bit crowded at weekends and evenings, it's the perfect place to spend a day with your loving family. The garden incorporates a large parking space (Add-on : One can ride Smart bike here 🖖🍀).
1. Underpass to Sector-17
The underpass to Sector-17 is also an attraction here. Most of reels/short video lovers are doing their job here which is in trend now a days.
2. Timings
The place doesn't follow any specific timing. However, anyone can visit within the allowed hours which are usually 6:00 am to 10:00 pm. It's an open space which can be visited any time during the day. In order to avoid crowd, good time will be to visit early in the morning.
3. Ticket Price
The entry inside the garden is free of cost.
Best Time to Visit the Zakir Hussain Rose Garden?
Although Chandigarh Weather will let you make the most of the city, still the best season to visit is from February to March. These months are perfect weather-wise and it's the time when the garden is more calm, serene, clean, green and soothing.
Also Read: Cycle Stores in Chandigarh, Yoga Centres in Chandigarh, Coffee Places in Chandigarh
More About the Rose Festival
Rose Festival of Chandigarh is held every year in the Zakir Hussain Rose Garden in the month of February and it lasts until the beginning of March. It is celebrated mainly as a tribute to the magnificence of the rose itself. It receives over lot of visitors from all over the country. Exhibiting the finest of roses, it features lots of competitions, cultural and musical events, and other celebrations. Stalls, decorations and upbeat music dominate the garden during the festival and it becomes a spectacle in its own.
In addition, more attractions include food, joyrides, drinks, and contests of varying nature, such as photography, gardening, landscaping, bonsai, and Rose Prince and Princess. Besides, swings and eating joints are expected to be an added attraction across the road at Leisure Valley, Sector 10. Chopper rides, which have been a huge crowd-puller for the past few years, are also likely to be there. Certainly, the festival is filled with vibrant colors and fun & frolic.
The ones who are travelling to Chandigarh during this time, definitely take out some time to be there.
Tips For Visiting Zakir Hussain Rose Garden
The rose garden is for the people only and they play a significant role in maintaining and managing it. Some points must be taken into consideration when planning a visit to the garden.
Throw any kind of garbage inside the bins as fines are imposed on those littering around or damaging the plants.
Make sure that you follow all the rules set by the garden authorities.
One should avoid plucking of flowers so that all visitors to the garden can enjoy their beauty.
How To Reach Rose Garden
You can easily reach the destination by various modes of transportation. Taxi services like Ola/Uber or an autorickshaw are available to make your way to the garden.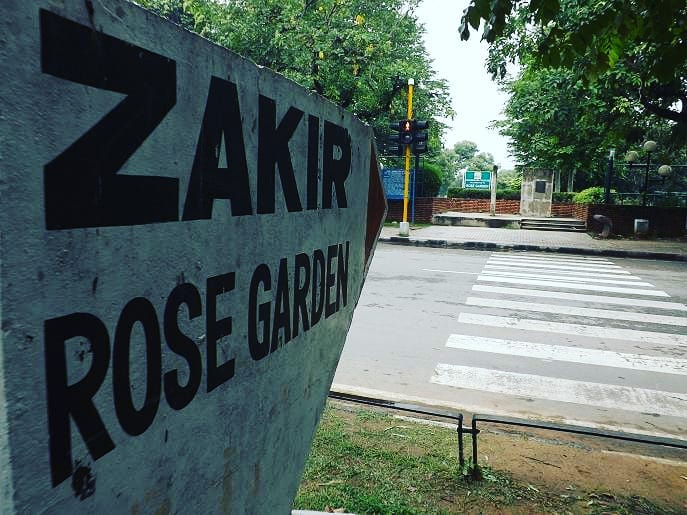 However, if you are travelling by private vehicle, it might be difficult to get free parking area. You can also cycle your way up to the park and park it at the dedicated parking space for bicycles.
Distance from the Garden to ISBT-17, 43, Airport & Railway Station
2.7 Km from ISBT, Sector 17
8.3 Km from Chandigarh Railway station
7 Km from ISBT, Sector 43
23.5 Km from Chandigarh Airport
Address : Jan Marg, Sector 16, Chandigarh, 160016
Get Directions: Google Map
To summarize, the Zakir Hussain Rose Garden is a blooming garden and it's always crowded either by morning walkers or tourists. A highly recommended place where you can see lots of birds and variety of plants and spend time in nature's Nest.
For more information and updates, do follow us on ChandigarhBytes.