Planning A Visit To Chandigarh? We hear you people!!! Before you plan to visit the 'City Beautiful', you definitely need to know about its weather and the best time to visit Chandigarh.
Chandigarh, the primary centre of North India experiences a typical weather like any other Indian Northern City. Tourists can select enjoying at most of the attractive places in the city to being a part of vibrancy of the festivities offered in the town. The city is divided into sectors and due to which people can enjoy hassle-free interconnectivity. It is designed in such a way that it allows tourists to travel to any place conveniently and smoothly.
What is the Best Time to Visit Chandigarh?
Chandigarh experiences four main seasons: Spring, Summer, Monsoon, and Winter. The best time of the year to pay a visit to this city is during the winter season. The pleasing and chilly weather at the same time offers suitable climate for tourists in Chandigarh. Besides this, the time just before the onset of summer is also a great time to plan your visit.
Here in this article, you will find all the information about each season. What's more? get details about the places to visit and activities to engage in each season.
Chandigarh Weather in Spring (March to April)
To begin with, Spring season makes Chandigarh look absolutely pretty and charming. During March and April, the heat is tolerable during the day and the evenings are pleasant. As spring hits the city, the community parks, roadsides and open spaces are beautified with blooming trees and flowers.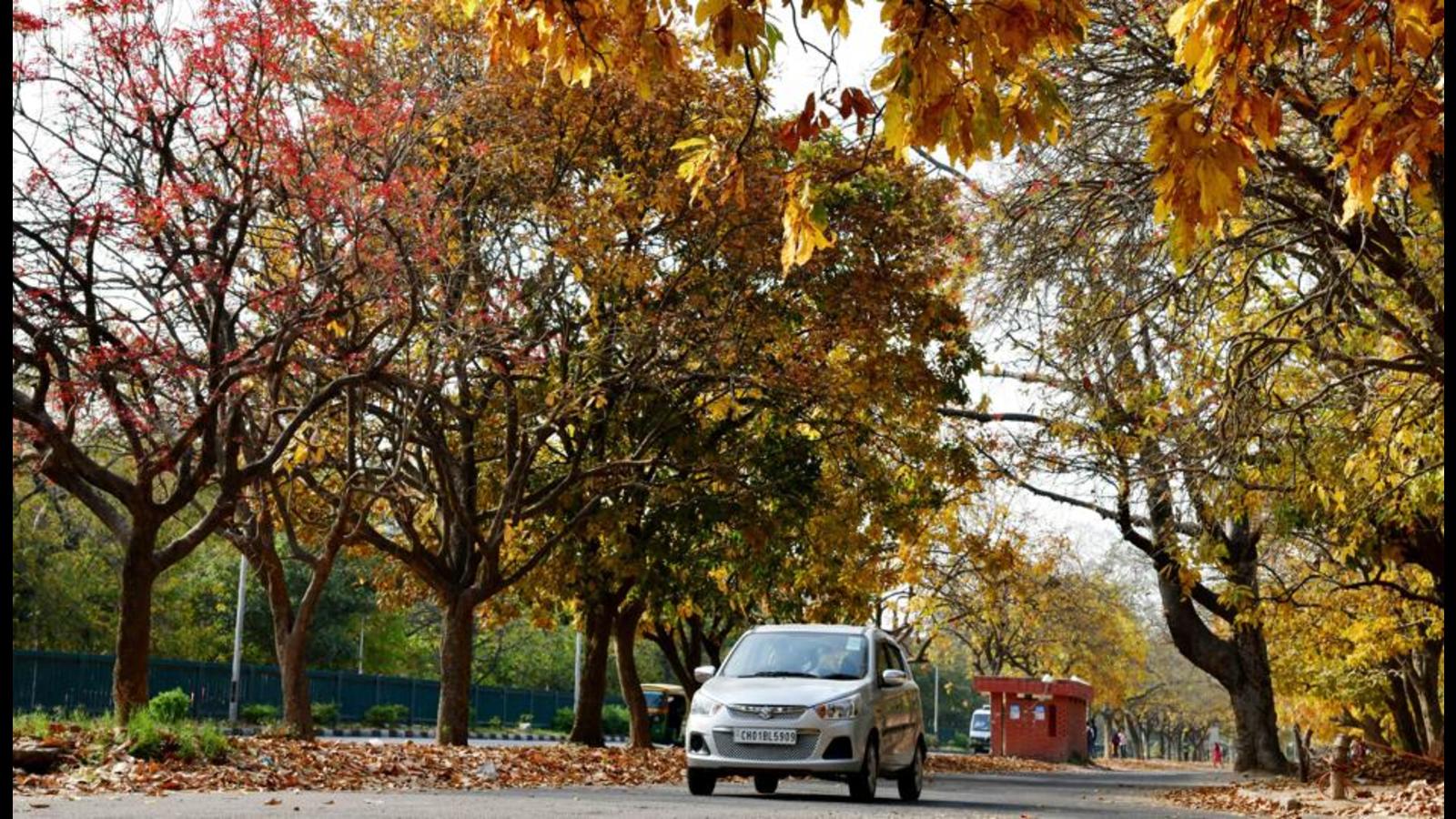 Chandigarh's Spring landscape is a vibrant of yellow, pink, crimson and myriad others colours extracted from nature. The green-looking trees change overnight into panorama of blossoms all the way.
Maximum Temperature:

25 degrees Celsius

Minimum Temperature:

19 degrees Celsius
Places to Visit in Chandigarh in Spring
If you are planning a visit to Chandigarh during Spring, go through these places to visit, festivals to attend, and activities to engage in:
Activities to Do in Chandigarh in Spring
First and foremost, you can enjoy at the Rock Garden as this place is for all the seasons.
Second, celebrate Holi at Chandigarh Club or Fun-City
Chandigarh Weather in Summer (April to June)
Summer season in Chandigarh begins in month of mid-March to June. The temperature starts rising from mid of March and reaches extreme in May and June. Evenings are cooler during May and the weather is accompanied by few showers and thunder storms. People witnessing unbearable heats during end of May and June head towards hill stations to have some relief. Most of the city people flock to hill stations located in the vicinity, at a distance of around 50-250 km, in order to escape the heat.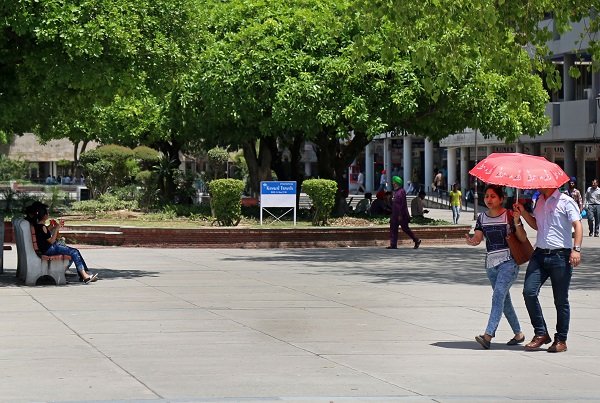 With the weather remaining dry and hot, summer isn't the best season to visit Chandigarh or explore its attractions. Chandigarh in May makes tourists carry shades, lots of sunscreen, and light cotton clothes. However, Chandigarh in June is hot and humid, and not the best season to visit the city or explore its attractions.
Maximum Temperature: 44 degrees Celsius
Minimum Temperature: 25 degrees Celsius
Places to Visit in Chandigarh in Summer
To give yourself some relief from the scorching heat, going to Elante Mall would be the best option.
Also, spend some time in restaurants like Sindhis, Gopals, etc.
Enjoy unlimited thrill Have fun at the waterparks – Fun City, Thunder Zone, and Aqua Village.
Visit the hill stations around Chandigarh – Morni Hills, Nalagarh, Kasauli, Shimla, etc.
Relish a drink at the pubs and bars in Chandigarh – Brew Exchange, Beach and Brew, Playground, Hops n Grains, The Back Room, The Brew Estate, etc.
Activities to Do in Chandigarh in Summer
Celebrate Baisakhi in dive into the cultural vibes that include the harvest season kicking off and the formation of Khalsa Panth being observed.
Watch movies, enjoy food and shopping at Elante Mall, DLF City Centre Mall, etc.
Chandigarh Weather in Monsoon (July to October)
Monsoon stretches in Chandigarh in July and continues till October. Generally, monsoon arrives in July and the afternoons and evenings become more pleasant. The climate in this season is neither very hot nor very cold, but a intermediate of both. Chandigarh weather in August is the wettest as the month experiences maximum rainfall, which makes sightseeing a hard task during this month. By mid-September, the weather turns pleasant and October marks the beginning of the tourist season in the city. Ending of monsoon is the best time to visit Chandigarh, provided that you are ready to experience sudden rain.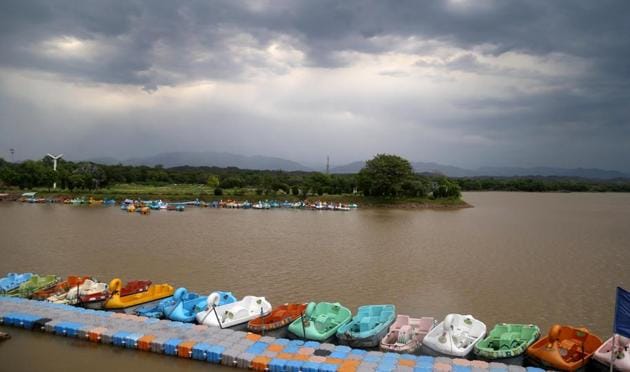 Although Chandigarh receives heavy rainfall regularly until September, the weather remains humid and blazing hot. Excessive rainfall results in the town turning into a lush green meadow, which means tourists who love nature are drawn to Chandigarh's scenic allure.
Maximum Temperature:

30 degrees Celsius

Minimum Temperature:

20 degrees Celsius
Places to Visit in Chandigarh in Monsoon
To all the nature admirers, it's the best time to explore Chandigarh Bird Park, City Forest, Nepli Reserve Forest, etc.
Include International Dolls Museum with your friends and family.
Spend some quality time at Sector-17.
Activities to Do in Chandigarh in Summer
Grab a Smart Bike from your nearest station and let the beauty of the city sink in. You will love doing that, we can guarantee on that!
You can have an experience of the Teej festival celebrated by Punjabi women at the Rock Garden.
Chandigarh Weather in Winter (November to February)
In Chandigarh, November marks the beginning of winter and the season continues till February. Temperature lowers down considerably, marked by cold winds that blow in from the nearby hill station of Shimla and also from Jammu and Kashmir. In the beginning of November, the city receives another wave of monsoons. This helps in reducing the temperature further, making December and January being almost chilly and frosty. January is the coldest month in the city.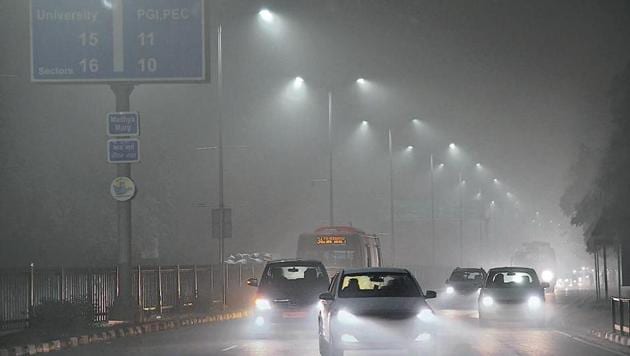 Usually, the days aren't very cold, but once the night begins to settle, a thick fog envelops the city and the temperature starts to dip. During February, the temperature starts increasing up turning days into little warmer and pleasant. Witnessing this climate makes it the best season to visit Chandigarh.
Maximum Temperature: 23 degrees Celsius
Minimum Temperature: 4 degrees Celsius
Places to Visit in Chandigarh in Winter
Feel the warmth with great food at the best restaurants in Chandigarh – Absolute Barebcues, Doaba Sweets, Garam Dharam, Barbeque Nation, Cottage, etc.
Visit the scenic lakes in and around Chandigarh – Sukhna Lake, Dhanas Lake, New Lake, etc.
Spend some time at Rose Garden or visit Chhatbir Zoo
Attend the Festival of Gardens (February), Chandigarh Carnival (November), and Chrysanthemum Show (December)
Activities to Do in Chandigarh in Winter
Take a cycling tour around the city.
Enjoy a hot cup of coffee at the cozy cafes in Chandigarh – The Willow Café, Café JC's, etc.
Go for boating at Sukhna Lake
Celebrate Lohri and Guru Purab.
Conclusion
To summarize, Chandigarh, capital of Haryana and Punjab is located at the foothills of the Shivalik Range, witnessing a humid subtropical climate. The best time to visit Chandigarh is from October to February which makes the experience a lot more happier and comfortable. Places to witness and things to do according to every season are included.