Chandigarh is a city of fitness enthusiasts. Who doesn't want a healthy body with a healthy mind? Well, Yoga definitely helps you achieve both the things. It is much more than just a physical workout; it aims at mental, emotional as well as spiritual well-being. If you've been considering joining a good yoga class to be guided towards holistic wellness, check out this list of the top 7 yoga centres in Chandigarh.
7 Yoga Centres in Chandigarh – For your Mental, Emotional and Spiritual Journey
Yoga has come a long, long way. And since it's an ancient artform accepted and practised worldwide, we know that yoga comes with tons of benefits. It is the buzz word for a healthier lifestyle. It is proven to be one of the best way to attain a healthy mind, body and soul. Read on to know the 7 best yoga centres in Chandigarh around you where you could start your yogic journey! So, get ready to take that yoga mat out and stretch away!
1. Art of Living Chandigarh
To begin with, Art of Living is one of the oldest, popular and respected Yoga centres and it literally needs no introduction as it is the heart and soul of the Yogic practice. The Art of Living Centre was established by Gurudev Sri Sri Ravi Shankar. They offer yoga for beginners to yoga experts. Moreover, it is one widely-known centre throughout India and the globe.
Specializes in: Eagle, Chair, Triangle, Warrior, Reverse Prayer, Cow Face, Child, Cobra, Locust, Meditation & Upward-Facing Dog Yoga
Address: PGIMER HEALTH CLUB, Sector 12, Chandigarh, 160012
Contact: 098722 11101
Timings: Open 24 Hours
2. Aarogya Sadan Chandigarh
Nothing really beats the classic traditional yoga. Aarogya Sadan is a mystical institution offering relief and assured cure of various diseases and disorders through illustrated Yoga practices and Meditation techniques. Smt. Madhu Pal is the Yoga Therapist, and Sh. B.K. Lakhanpal is the Yog and Dhyan Sadhna Expert. Aarogya Sadan has been serving for more than thirty years. In addition, they conduct special seminars and workshops.
Specializes in: Meditation, Anusara, Hatha, Vinyasa, Bikram, Power & Kundalini Yoga
Address: 612, IAS-IPS Society, Sukhna Path, Sector-49A, Sector 49, Chandigarh, 160047
Contact: 09888338575
Timings: Mon-Fri (5am -11pm, 3am – 6pm), Sat & Sun- Closed
3. Yog Amore Chandigarh
Om studio is a one stop destination for all types of yoga forms. 'Yog Amore' stands for 'Union with Love' All classes are different; no two sessions will be the same. At Yog Amore, customers can learn & practice something different than the previous. Yoga for beginners, traditional yoga, Pranayam, Power Yoga, Fat Burn yoga, aerial yoga, you name it and they have it! They practice a blend of different yoga styles. An additional, they also take retreats, therapy workshops, private yoga classes and kriya sessions.
Specializes in: Karma, Bhakti, Raja, Jnana, Purpose, Ashtanga, Workshops, Meditation, Bikram, Integral, Iyengar, Jivamukti, Kripalu, Kundalini, Sivananda and Vini & Hatha Yoga
Address: Kansal Enclave, Yog Amore Shala, behind Chandigarh Club, Sector 1, Chandigarh, CH 160001
Contact: 098154 72323
Timings: Mon-Tue-Thu-Fri (7:30am – 8:45am, 6:00pm– 7:15pm), Wed-Sat- Sun (Closed)
Also Read: Cycle Stores in Chandigarh, Coffee Places in Chandigarh, Supermarkets in Chandigarh
4. Government College of Yoga Education and Health Chandigarh
Next on the list of best Yoga Centres in Chandigarh is the prestigious Government college Yoga Education and Health. Get to know about their degree programs for yoga, enrollment fees, infrastructure on their website gcyeh.edu.in. Further, the college also holds yoga classes for the general public in Chandiagrh.
Specializes in: Yoga therapy, Workshops, Meditation
Address: Sector 23 Near Chandigarh Traffic Park, Chandigarh 160023
Contact: 0172 270 0378
Timings: Mon-Tue-Thu-Fri (9:00am – 4:00pm), Sat (9:00am-2:00pm), Sunday( Closed)
5. Yog Cafe Chandigarh
Yoga Cafe is a well-equipped yoga center in Chandigarh that practices yoga to cure physical and mental illnesses. They help you build strength while pushing the limits of your body more and more every day. Power yoga, Hatha yoga, Iyengar yoga, and meditation courses are all offered at the center. Yog Cafe Chandigarh offers professional trainers, personal training, and small group lessons in a serene and spacious setting. You're sure to learn something different every day with their teachers' approach to this ancient art. It's indeed one of the perfect Yoga Centres in Chandigarh when it comes to healing yourself.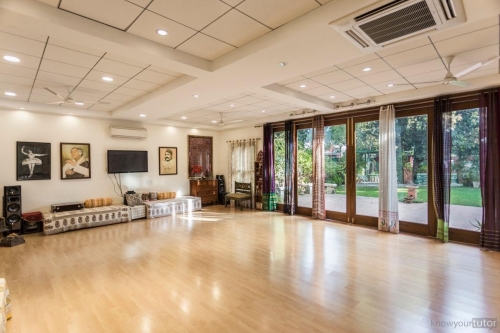 Specializes in: Yoga therapy, W Power yoga, Hatha yoga, Iyengar yoga
Address: House no 242, Shringaar, Opp Punajb Kala Bhawan, Near Rose Garden, Sector16-A, Chandigarh
Contact: 099886 67956
Timings: Mon-Tue-Thu-Fri (7:30am – 7:30pm), Wed (Closed), Sat-Sun (9:00am-10:30am)
6. Yoga Vigyan Chandigarh
Looking for holistic wellness? Yoga Vigyan is the answer. Every session here is unique conducted by renowned and best yoga instructors. Allow them to be your guide, teaching you the techniques needed to create and maintain a steady personal practice. These classes are so much more than simply learning exercises, they are about creating a healthier lifestyle and exploring deeper dimensions of life. Discover the tools and develop the habits you'll need to help improve your daily patterns and ultimately, your life.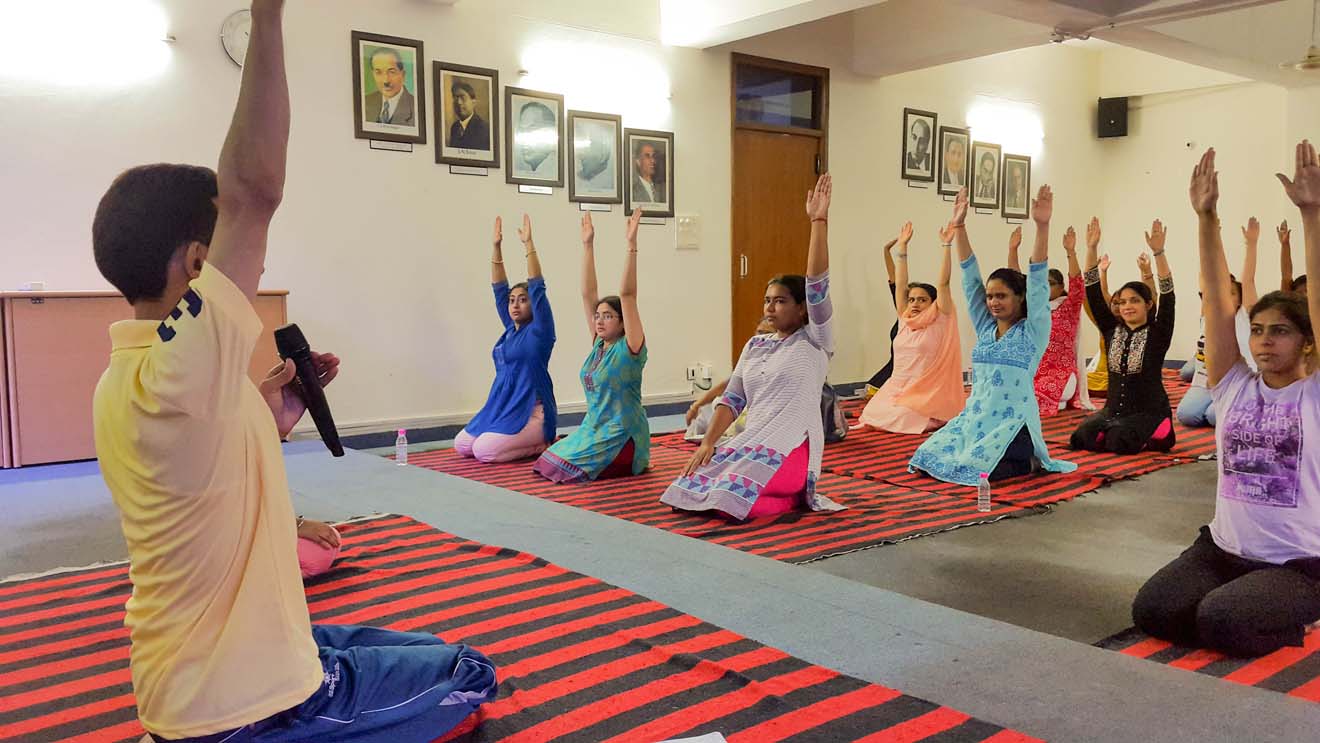 Specializes in: Yoga therapy, Shakti yoga, Hatha yoga
Address: 5 Rivers Hair Transplant Sector-104, Pearls City, Sahibzada Ajit Singh Nagar, Punjab 140307
Contact: 91-9711112800
Timings: 11:00am-11:00pm( All days)
7. Oxizone Fitness Spa Chandigarh
Last but not the least, Each class comes with a meditation and pranayama practice, making sure you flow with effortless ease through the week. The asanas taught here are customized to individual needs. They offer a complete fitness package which focus on health, strength, endurance and flexibility. Not only do they help in shedding weight and increasing flexibility, but they'll help you achieve peace of mind.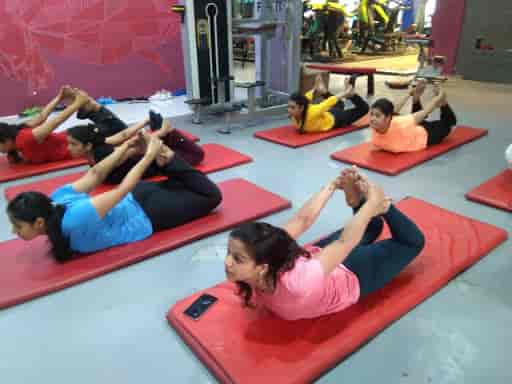 Specializes in: Yoga therapy, Yoga spiritual training
Address: Sco 321, Sector 38-D, Sector 38, Chandigarh, 160037
Contact: 090410 33777
Timings: 5:30am-10:00pm(Mon-Sat), Sun- Closed
Conclusion
To summarize, Chandigarh is a wonderful city with a myriad yoga schools and classes. Try these for yourself and you will fall in love with this ancient practice. Especially, if you think that yoga is not your thing. Try it to believe it! Book your trial now!
For more updates and information, do follow us on ChandigarhBytes.