Searching for clothing markets in Chandigarh? Well, a trip to the 'City Beautiful' remains incomplete without exploring the nooks and corners of the labyrinthine markets that deal with everything from local food to clothing. While there are numerous brand outlets, air-conditioned supermarkets and shopping malls, the raw essence lies in the small stalls in the markets run by local traders. Chandigarh is enriched with many such market areas which remain bustling with local visitors and tourists throughout the week. Visiting here, you will get acquainted with the Chandigarh's heritage, art, culture and craftsmanship and it will enhance your skill of bargaining undoubtedly!
Best Shopping markets in Chandigarh – From High-end brands to Budget Friendly Options!
The shopping places in Chandigarh make for experiences that are simply unforgettable and that is the reason why this city also attracts travellers who love to go shopping at any place they travel to. The city has everything to make shopaholics happy! Right from the top luxury brands to budget-friendly options. Shoppers are spoilt for choice when it comes to an array of designs and styles for men, women, and kids offered by the clothing markets in Chandigarh. Besides the people residing in this exciting and thriving city, even the ones who visit, fall in love with its exquisite markets and shopping destinations that offer almost everything you'll need. So, go explore and have a thrilling experience of the city's best clothes shopping markets.
1. Shastri Market Chandigarh
Shastri market is one of the oldest and highly popular clothing markets in Chandigarh, has huge variety of clothes providing a budget shopping experience. Whether you need a quick dress for a last-minute house party, a traditional attire for an upcoming function, this place has it all. You can get everything here in cheap rates but certainly quality stuff. There are ample number of shops where bargaining id definitely recommended.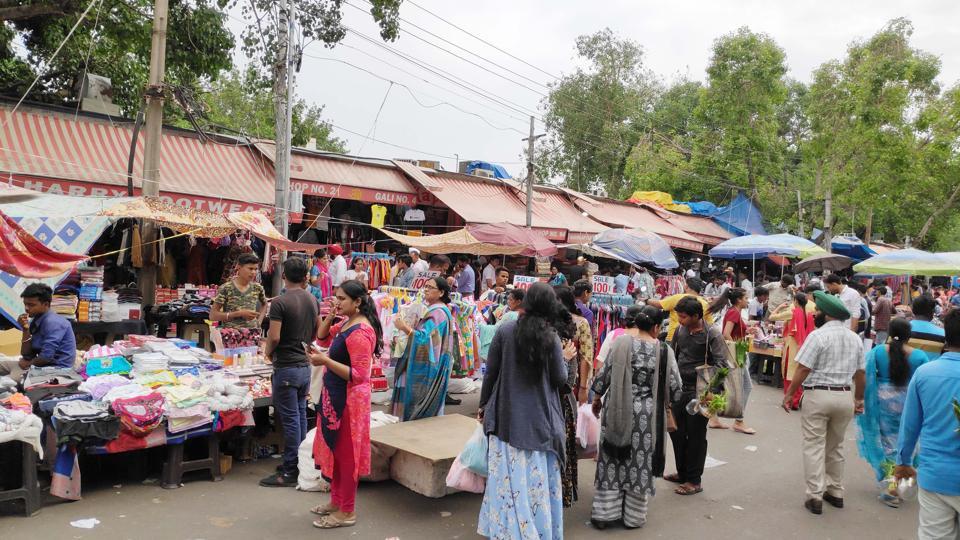 The market is almost like a paradise where one can find latest designs and is immensely famous among females. Best time to visit is during day time as crowd will be less otherwise it's very crowded specially on weekends. What's more? food stalls & restaurants available. Must visit if you are travelling and want to add up few more clothes to your luggage before proceeding to next destination. So, what are you waiting for? Go and satisfy your hunger for changing your wardrobe!
Location: Shastri Market Rd, Sector 22, Chandigarh, 160022
Timings: Sunday To Monday (10:00 am – 10:30 pm), Monday- Closed
Best time to visit: Around 11-11:30 am
Landmark: Kiran Theater, Sector 22
How to Reach: Google Map Location
Parking: Available
2. Sadar Bazaar, Palika Market Chandigarh
You can find some of the best clothing options here than anyplace else in the city. The market comprises two sectioned markets which are Sadar Bazaar, Sector 19 Chandigarh, and Palika Market Chandigarh.
Sadar bazaar is a big market which is spread in a wide area divided into small booths, whereas Palika market is a concrete 3 storey market which is more compact and organized. You can find a great number of fashion accessories in this market, especially clothing. The market is also a big supporter of locally made products. Both of these markets are always crowded and people from all over the tri-city come to visit here.
Location: Sukhna Path, Sector 19C, Chandigarh, 160019
Timings: Monday To Sunday (9:00 am – 9:00 pm)
Best time to visit: After 5 pm
Landmark: Main Market, Sector 19 C
How to Reach: Google Map Location
Parking: Available
Check out: Supermarkets in Chandigarh, Cycle Stores in Chandigarh
3. Patel Market Chandigarh
Patel Market sector 15 Chandigarh is a shopping hub where you can find locally produced Clothes as well as other fashion accessories. This place houses a lot of shops where you can look for all kinds of clothing you need to shop for. This sector 15 Chandigarh cloth market claims to be the cheapest market in the city.
You won't even feel the need to bargain because of the already so low prices. The quality of products is also great and there is no compromise. All you have to do is work a little and find the shops with the best quality products.
Location: Sector 15 D, Chandigarh, 160015
Timings: Monday To Sunday (10:00 am – 10:30 pm)
Best time to visit: Around 11-11:30 am
Landmark: Gopal's, Sector 15 C
How to Reach: Google Map Location
Parking: Available
Related: Rehri Market, Sector 15
4. Sector 17 Shopping Plaza Chandigarh
Sector 17 Shopping Plaza Chandigarh is a big and most diverse shopping centre in the city. This place houses some of the biggest international brands as well as locally manufactured cloth stores. The market is located in the heart of Chandigarh i.e., sector 17 which is also a hub for entertainment and food.
This makes it a perfect place for shopping in the city. The market is very big and is designed in the old Chandigarh architecture. The buildings are extremely beautiful and eye-pleasing. Some people refer to it as an open-air mall because of the large variety of shops and beautiful views.
Location: Shopping Plaza, Sector 17C, Sector 17, Chandigarh, 160017
Timings: Monday To Sunday (11:00 am – 10:00 pm)
Best time to visit: 5-5:30pm
Landmark: Laser show fountain, Sector 17C
How to Reach: Google Map Location
Parking: Available
5. Krishna Market Chandigarh
Krishna market Chandigarh is one of those shopping places in the city which is visited by almost every shopper around. This market is a concrete structure made in a two-story design. You can find different small booths as well as street vendors in the corridors. The market is known to sell some of the best quality street shopping clothes at reasonable prices.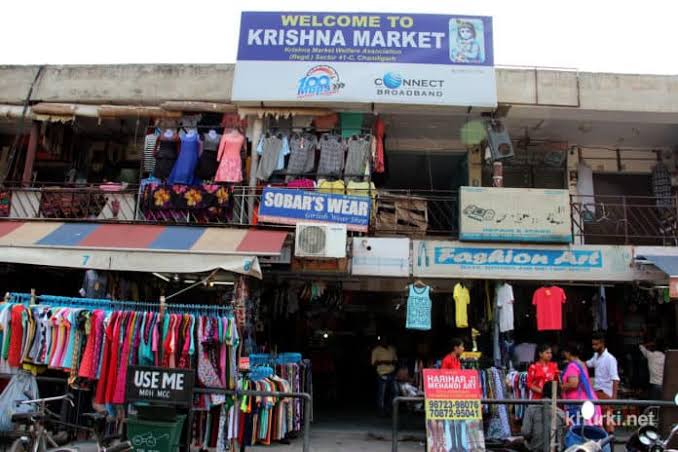 If there is anything fashion-related whether it Is clothing or accessories which you are not able to find anywhere else in the city, you will find it here. The market is also accompanied by a large parking area adjacent to it which makes it convenient for people as they don't have to look around for unsafe parking spaces. If you are an avid shopper and a sucker for new designs and want to support local manufacturers then you must visit the Krishna market in sector 41 Chandigarh.
Location: Sector 41C, Chandigarh, 160036
Timings: Monday To Sunday (10:00 am – 10:00 pm)
Best time to visit: Around 11-11:30am
Landmark: Seventh Day Adventist Church, Sector 41-B
How to Reach: Google Map Location
Parking: Available
For those who are new to the city and want to buy clothes at affordable prices, the sector 19 market in Chandigarh is the one to go. Mainly because it is an extended market with various options in different types of clothing all in one place. Another similar market to check out is the Krishna market in sector 41, Chandigarh. Since Chandigarh is a culturally-diverse city, even the clothing here is available for diverse cultures. So don't wait up!
You might be interested in reading: Book Stores In Chandigarh
For more information and updates, do follow us on ChandigarhBytes.