How many of us have stopped our friends from demolishing the food on their plates just so we can take a pretty photo for our Instagram feed first? Well, don't blame yourself because Chandigarh has seen a rise in the number of pretty cafes where the ambience is just as pretty as the food stacked on the plates. So, we bring you a list of the prettiest, cute and best cafes in Chandigarh that'll make your Instagram feed (and your tummy) very, very happy.
Insta-Worthy Best Cafés in Chandigarh
When we visit a cafe, we hope to not only feed our body but nourish our Instagram feeds. It just so happens that Chandigarh has plenty of cafes where that's possible. The cafés provide multiple Instagram worthy spots. You'll never be short of Instagrammable spots. Get your phone at the ready and prepare to get snap-happy inside one of these Instagrammable best cafés in Chandigarh.
1. Café JC Chandigarh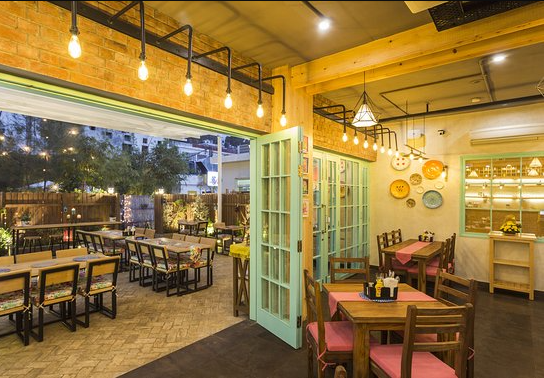 Cafe JC's is one of the classiest and best cafes in Chandigarh with comfort written over it. (metaphorically, duh!!). The Café has a versatile menu offering a wide variety of comfort food cuisines starting from English Breakfast too, Continental, Italian, Oriental, and North Indian. They have got one of the prettiest ambiances with Wooden outdoor seating, potted plants, lamps, and fairy lights. All the ingredients required for the perfect Instagrammable photos. The chic, beautiful minimalistic indoor seating compliments the vibes of the outdoor seating. This restaurant is a total catch when it comes to spending a good time. The food is also tasty. The chicken sandwiches and Chinese starters are my personal favorites.
Location: Coal Depot Complex, Shop No. 2 & 3, Azaadi Rte, 10D, Sector 10, Chandigarh, 160011
Timings: Sunday To Saturday (10:00 am – 10:00 pm)
Contact: 0172 463 0666
How to Reach: Google Map Location
2. Virgin courtyard Chandigarh
" Happiness belongs in the place of great food accompanied with even greater ambiance" – TCB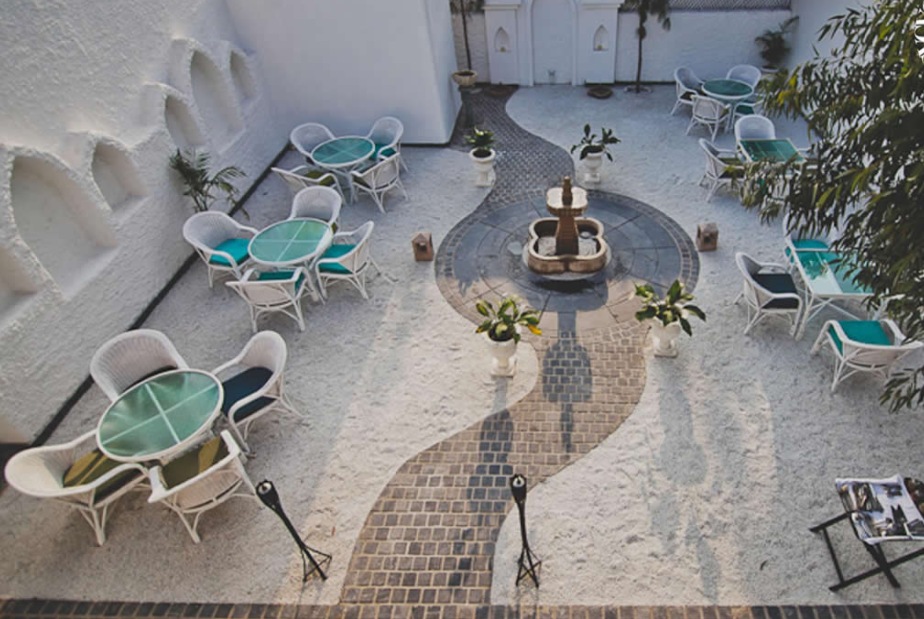 Virgin Courtyard brings the vibe of Italy in the city beautifully laid in French architecture. As soon as you enter this beautiful place, you will surely be mesmerized by the stone steps with water running by the side. Wait till you reach the inside of the place or I may say Outside. The seating is amidst a perfectly mowed lawn, surrounded by delicately groomed trees with the perfect amount of lamps & lighting. The white walls, cobblestone floor, and patio are just enough for spending a cozy hour under the sun on winter noon.
They have their décor team which even spice things up to a heavenly level when you book the place for a pre-wedding event or cocktail party. The food is as amazing as the ambiance. They serve delicacies including banana pizza in their dessert menu. This is a 10/10 place for anything and everything.
Location: SCO 1A, Sector 7-C, Sector 7, Chandigarh, 160007
Timings: Sunday To Saturday (11:30 am – 11:00 pm)
Contact: 086990 00999
How to Reach: Google Map Location
3. Cottage Chandigarh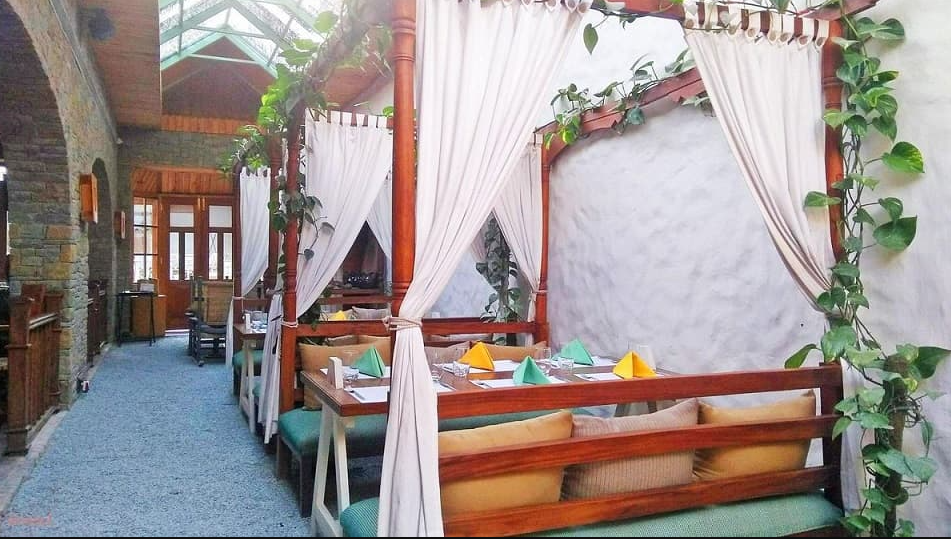 The cottage is another one of the fanciest places located in Sector 7, Chandigarh. The whole restaurant is themed. They serve European and Mediterranean delicacies. The ambiance is exotic. It will at once take you on the imaginary trip to Europe via their rustic décor and entrance. The restaurant offers both, outdoor and indoor seating. They serve delicious food and the staff is very courteous.
Location: SCO 44, Madhya Marg, Sector 7-C, Sector 7, Chandigarh, 160007
Timings: Sunday To Saturday (11:00 am – 11:00 pm)
Contact: 082889 00033
How to Reach: Google Map Location
You might be interested in: Buffet Restaurants in Chandigarh, Coffee Places in Chandigarh
4. Four folks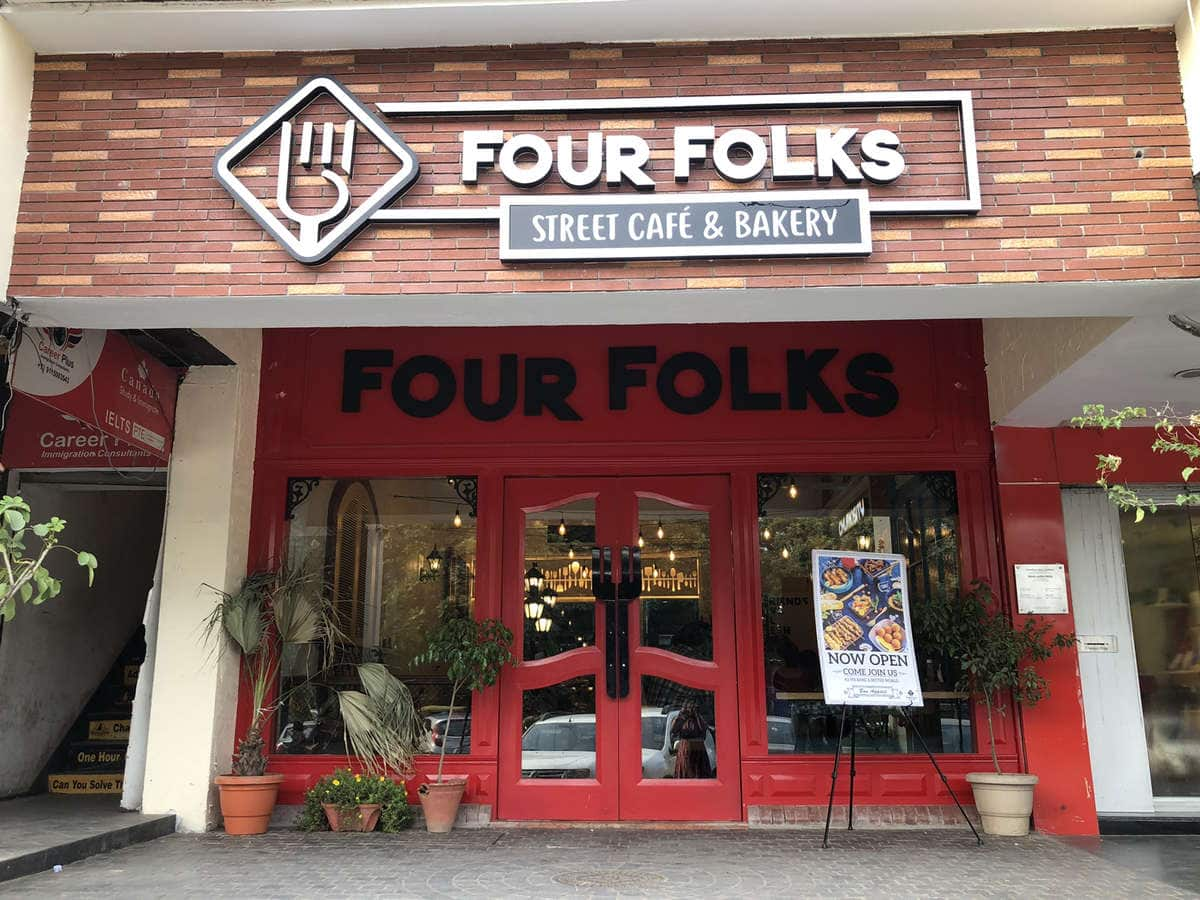 Four Folks is a Multicuisine café and bakery. The restaurant was recently born but yet manage to make a feature on this list. It might not be as fancy as the other cafes described above, but still has a touch of comfort. Families feast, friends bond, and lovers love at four folks. The ambiance is inspired by a street with peppy door frames and quirky wall art. The cafe is extremely Instagramable bringing out the most aesthetic pictures.
Location: Sector 35
Timings: Sunday To Saturday (11:30 am – 11:00 pm)
How to Reach: Google Map Location
5. Aja Fresh Chandigarh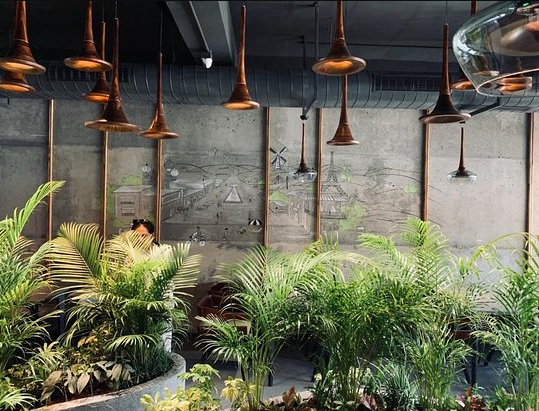 The one, most chosen spot for healthy dining. The goal of the restaurant is to, not serve junk food. Aja Fresh was awarded "Best Healthy Restaurant in India" consecutively for 2 years. You will love the tasty twist they give to healthy food. The décor is designed by keeping differently-abled people in mind. This concept is not only Courteous but also brave & beautiful. The best thing about this café is its food. They have vegetarian, non-vegetarian, and even lactose intolerant options for their customers. The picturesque cafe serves casual dining with a pocket-friendly craving donation.
Location: 130, S.c.o 129, 131, Madhya Marg, Sector 9C, Chandigarh, 160009
Timings: Sunday To Saturday (10:00 am – 11:00 pm)
Contact: 098887 88802
How to Reach: Google Map Location
6. Pink Wasabi Chandigarh
Pink Wasabi, an addition at Elante Mall is one of the chic and best cafes in Chandigarh. The Instagram-worthy spots around the café transport you to the breathtakingly beautiful, Japan in full bloom season. They make for a great photo option and serve excellent food. It beautifully captures the youthful spirit of the young generation looking for eye-pleasing cafes along with delectable food. From rose-adorn interiors, wisteria-covered exteriors, candy-floss pink furnishings, and stunning cherry blossom grooves transport guests to the breathtakingly beautiful- Japanese bloom season. Hence, it makes this picture-perfect restaurant definitely worth one worth the 'gram.
Location: Phase I, Elante Mall, 178A, Industrial Area Phase I, Chandigarh, 160002
Timings: Sunday To Saturday (11:00 am – 10:00 pm)
How to Reach: Google Map Location
Also Read: Supermarkets in Chandigarh
Hope you like our Curated list. Don't forget to tag @ChandigarhBytes in the bunch of pictures you clickity-click. Stay tuned for the good stuff coming soon!!
For more information and updates, do follow us on ChandigarhBytes.