They say old is gold and we definitely believe it's true when it comes to the oldest and popular places to eat in Chandigarh having authenticity, comfort and quality as their key ingredients.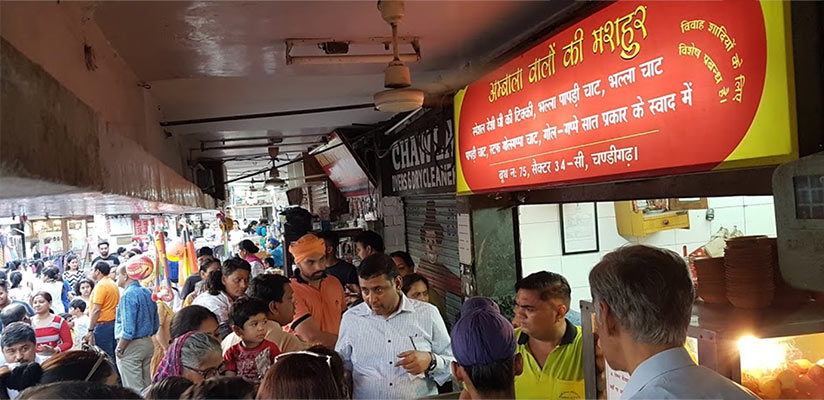 Even before Pizza Hut, Subway, Mc Donald's took over Chandigarh by storm, there existed some super amazing restaurants in the city. And you know what, they are still as great, serving some delish food and keeping the heritage of our city still intact! And trust us, no amount of newly opened pubs or cafes can change our love for them. So check out these 6 oldest places to eat in Chandigarh that still rule our hearts!
Oldest Places to eat in Chandigarh – For a Dose of Nostalgia
For someone who has grown up in Chandigarh, this city has undoubtedly become a part of me. From reading about the rich history, culture, and heritage that Chandigarh has, to experiencing each of these; something about this place feels exceptionally comfortable.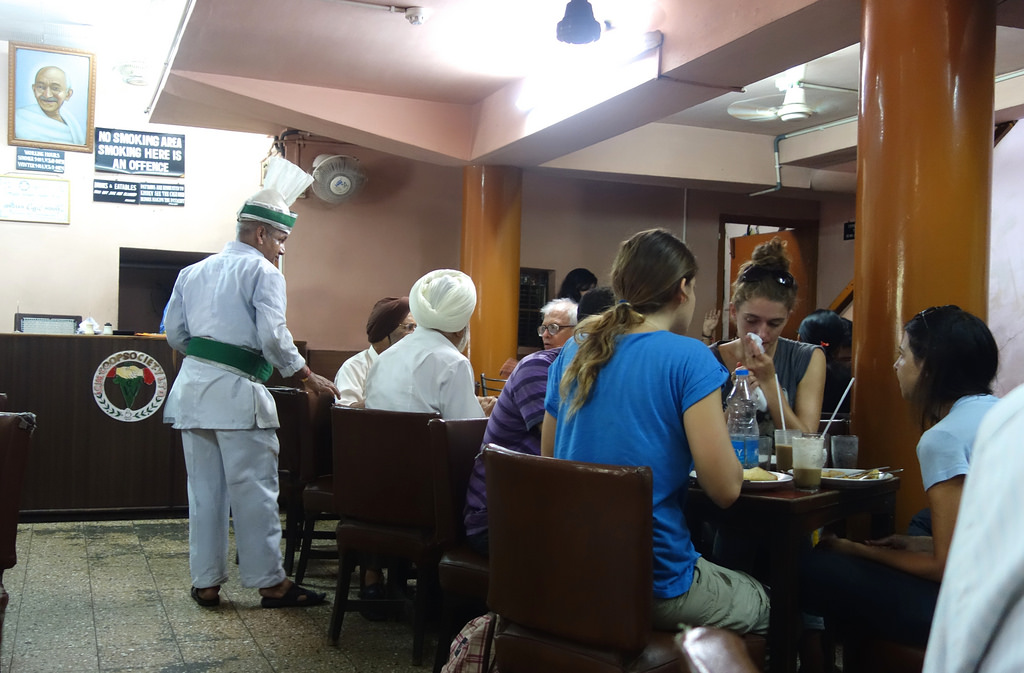 But that's not only it. You will find nooks and corners bustling with food stalls, small restaurants, cafes, and so much more. And surprisingly, each food place will also offer you a new taste. While we can go on and on about Chandigarh's street food, the one thing you should surely be exploring this time is the city's oldest running restaurants.
So, let's time travel and bring back old memories of Chandigarh.
1. Indian Coffee House, Chandigarh
Opened in 1964, the oldest food joint in the town, has old world charm preserving city's heritage and warmth under their roof. Believed to be every Chandigarhian's childhood café crush. Interior remains intact and has very economically priced menus displayed on the wall which has always made placing orders a hassle free experience. Interesting No?!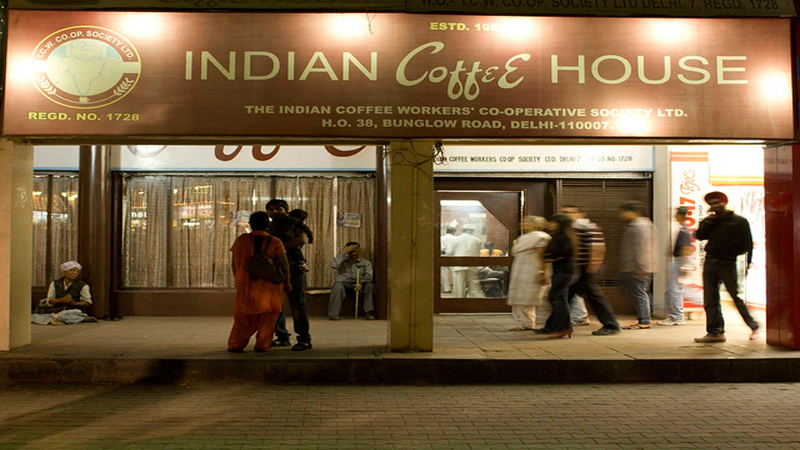 Highly Popular for:
Coffee
Masala Dosa
Idli/Vada Sambar &
Cutlets
One has to wait for their turn to get a seat but their quality of service & food playbacks well. Always! The aroma of Sambar, Vadas dipped in it, the chatter of people, busy well-dressed waiters taking unending orders and the happy vibes, is no less than a therapy. It's the best!
Address : 12, Jan Marg, near Neelam Cinema, Bridge Market, Sector 17E, Chandigarh, 160017
Contact : 0172 270 2804
Get Directions : Google Map
Timings : 9:15am-9:00pm
2. Sindhi Sweets, Chandigarh
Its concept was originated from Pakistan and made its way to Chandigarh in 1976, serving tempting and mouthwatering pocket-friendly Indian delicacies since then.
Hopping in here has always made me wonder that how their legacy has always made quality and hygiene their utmost priority. Years of devotion, perseverance, ethical work culture is clearly evident. And and and..!! The humble staff there will always make you feel like home.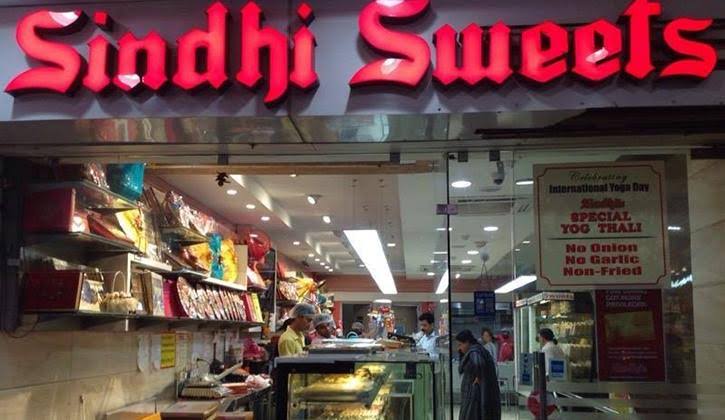 Crowds always queuing up, tables filled with beautiful tempting dishes prepared with contrasting flavors ranging from hot to sweet to savory, Kaisa bhi mood ho, this place has always been a savior. Too many food options yaar! Value for money!
Don't miss:
Lip smacking Chole Bhature
Flavoursome Pav Bhaji
Aloo Tikki
Great news for Mango Lovers : This summer season, they have come up with their "Aam ki Bahaar" festival with mouthwatering varieties of mangoes to savour. It is a great opportunity for mango lovers to start the summer season on a fresh and juicy note. So, go pay a visit for some fun and frolic as well as exploration into traditional mango varieties as well as the new hybrid versions.
Outlet No. 1
Address : 108-109, Himalaya Marg, Shopping Plaza, Sector 17C, Chandigarh, 160017
Contact : 0172-464 1222
Get Directions : Google Map
Timings: 9:15am-9:00pm
Outlet No. 2
Address : SCO 151-152, Madhya Marg, Sector 8C, Chandigarh, 160018
Contact : 0172-277 8938
Get Directions : Google Map
Timings: 9:15am-9:00pm
Outlet No. 3
Address : Elante Mall, 178A, Purv Marg, Industrial Area Phase I, Chandigarh, 160002
Contact : 0172-466 7831
Get Directions : Google Map
Timings: 9:15am-9:00pm
3. Garg Chat, Chandigarh
Another on the list is, this famous Chat corner making foodies relish finger licking street food since 1968. Located in the center of the city, bustling with crowd desperately waiting to place their orders and grab their plates.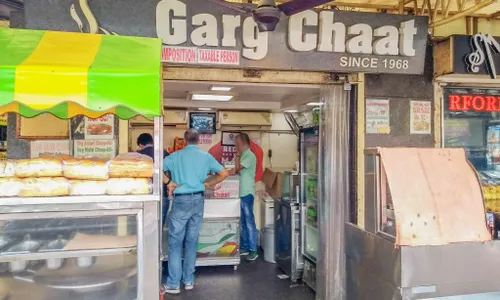 Known for its:
Yummilicious Papri Chat
Crispy Aloo Tikki
Bharwa Gol Gappe loaded with curd ready in your mouth ready to explode.
The most wonderful thing about this place is, that not only are they serving quality fresh food but also introduced eco-friendly dish plates ( also called as Dunas in Hindi), making both humans and environment happy. Worth applauding no?! Kitne saal ho gaye yaha aate hue aur wo jab dahi golgappa muh me jaate hai, oye hoye hoye, mza hi aa jata hai..
Address : 35, Sector 23C, Chandigarh, 160023
Contact : 9988337676
Get Directions : Google Map
Timings: 11:30am-9:30pm
4. Pal Dhaba, Chandigarh
Leading pioneers since 1960 providing killer non-veg & ultimate Punjabi veg food. Proudly lasting from 3 generations with their consistent preparations, conscious & humility inherited from their ancestors. This has not only been a culinary paradise for locals but has massive popularity among celebrities which one can have a look at the photos of them hanging on the walls there.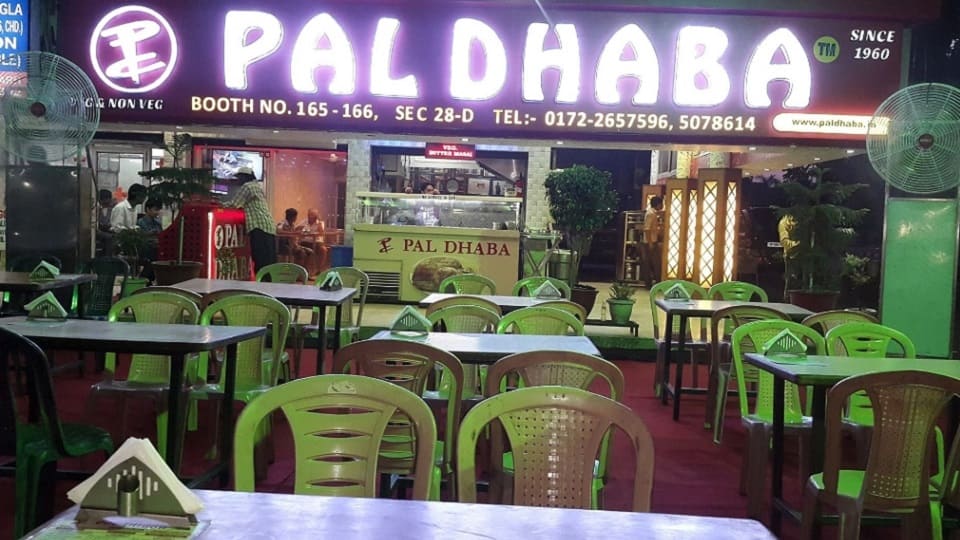 Their techniques and desi style cooking of roasting masalas and taste enhancing makes the food platters all the more divine.
Must tries:
Ghee rich mutton curry
Chicken curry
Shahi paneer
Baingan Bhartha
The juicy, tender, nicely textured chicken looks heavenly on the plate, what a mix of spices, those intense flavors, one can never stop drooling over. For us, it's that one
place, we always keep coming back to. Because, we are Chandigarhians and we can't keep calm!
Address : SCO 151 & 152, Sector 28 Market Rd, Sector 28 D, Chandigarh, 160002
Contact : 0172 265 0709
Get Directions : Google Map
Timings: 8:00am-10:45pm
5) Doaba Sweets, Chandigarh
6 decades and it's still growing par excellence! That one name which stands out clearly whenever thoughts of having Chole Bhature comes to our minds. I am sure Chandigarh residents would definitely agree that no one can beat them in this, right?!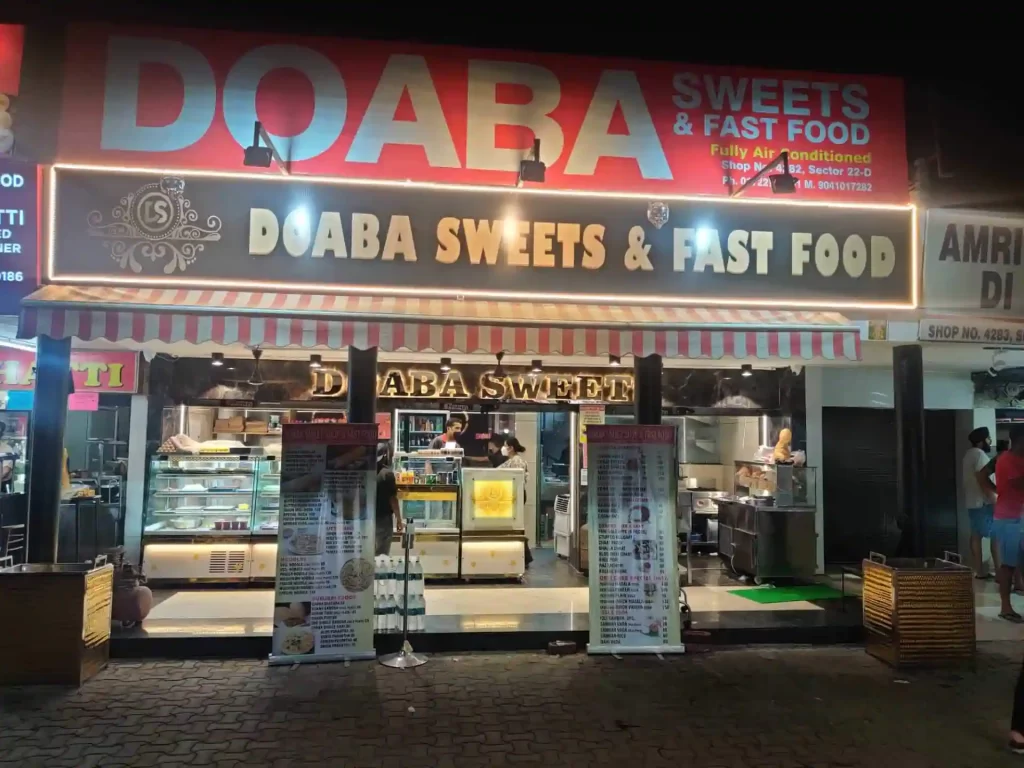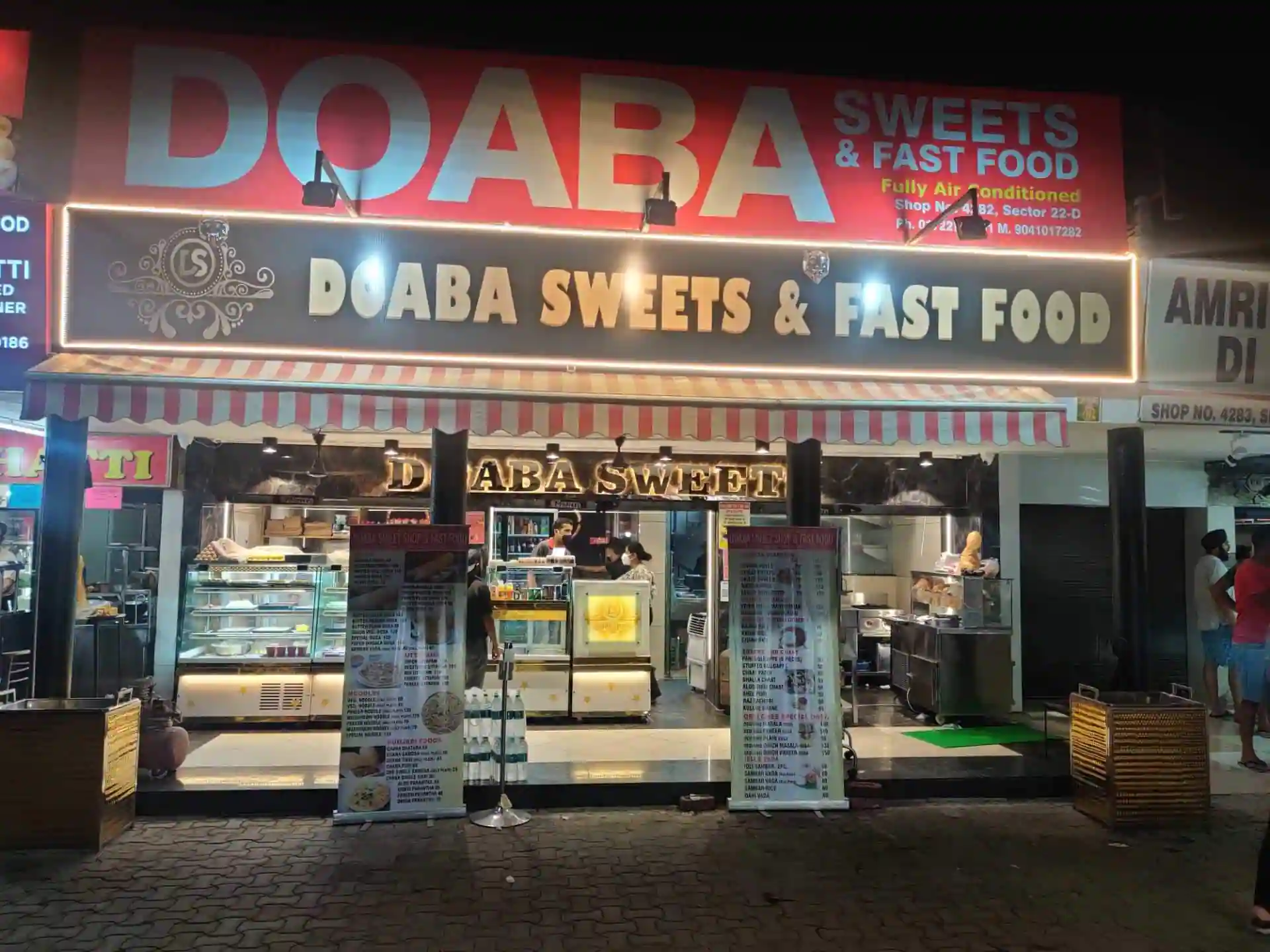 Opened in 1954, one of the best places to dine out with friends and family with everything at reasonable prices. Living through their ancient traditional standards of preparation in the open kitchen. Quick service, hygiene and quality guaranteed food will satisfy your taste buds like no other. The place recently got renovated and has made the visit even more exciting.
Popular for its:
Chole Bhature
Dosa Sambar
Vada Sambar
When you are in no mood to cook, just come to this place and try Chole Bhature, the first bite you take & you are dominated by the flavors in your plate, we promise! You just can't ignore this one.
Address : Sector 22-D, Chandigarh, 160022
Contact : 0172 270 0661
Get Directions : Google Map
Timings: 8:00am-10:00pm
6. Krishna Chat Shop, Chandigarh
Last but not the least, established in the year 1979, incredibly famous among street food lovers. One of the happening eateries in the town where one enjoys eating while standing right in front of the shop, having quick service and everything is at extremely cheap prices.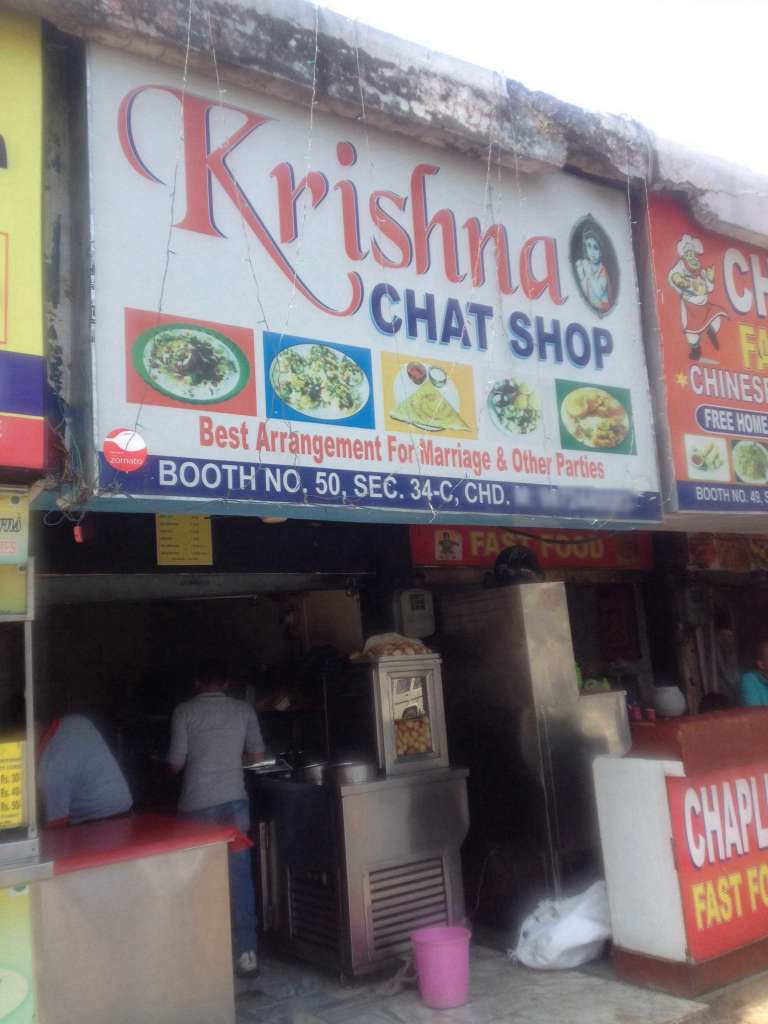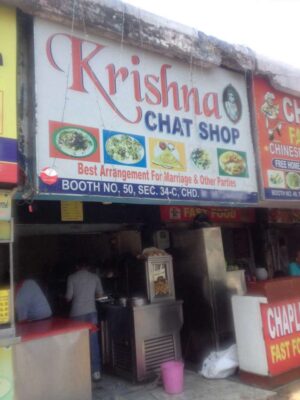 Their immense attention paid to the preparation is so up-to the mark , presentation looks amazing. Moreover, the taste will offcourse make you crave more and more.
Can't be missed:
Papri Chat
Bharwa Gol gappe
Golgappe with Spicy Hing and Rai Water
Their old tradition of garnishing ginger pieces and raisins over the food plate just wins your heart giving it the blend of taste and aiding digestion. Yaha jae bina kabhi ahi reh sakte..
Address : Booth no, 50, Sector 34 C, Chandigarh, 160034
Contact : 098724 40083
Get Directions : Google Map
Timings: 10:30am-10:30pm
Also Read: 2 Sikh-Brothers Selling Indian Street Food Wearing Formal Suits in Mohali, Buffet Restaurants in Chandigarh, Clothing Markets in Chandigarh
For more information and updates, do follow us on ChandigarhBytes.