Eleven tourists were stranded mid-air in a cable car at Timber Trail Resorts, Parwanoo in Himachal Pradesh due to a technical glitch. The incident happened Monday afternoon. After three hours and counting, six of them have so far been rescued in an ongoing operation, officials said.
The Timber Trail Resorts Height is located at a height of 5000 feet above sea level on the Shivalik hills, about 35km from Chandigarh. The resort is accessible only by the ropeway which connects Timber trail resort at the main Kalka Parwanoo highway.
Another cable car has been deployed for their rescue and the police are monitoring the operation, according to the Solan district police chief Virendra Sharma. Speaking about the incident, he also said that six people, four women and two men, have been safely rescued by the staff of the resort. All those who were stranded are tourists from Delhi, he added. Solan district administration and technical staff of Timber Trail Resorts are evacuating people. Additionally, the NDRF team has also reached there.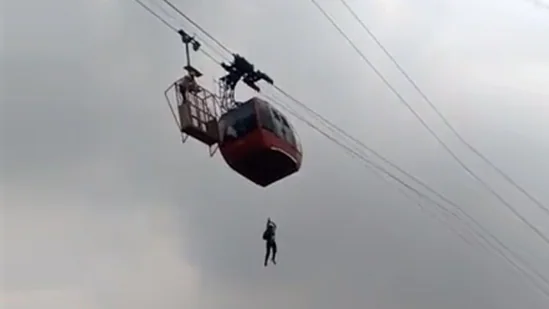 Furthermore, a team of the National Disaster Response Force will shortly reach the spot, said Dhanbir Thakur, sub-divisional magistrate.
The cable car is a popular feature of the Timber Trail resort. It is about 35 kilometres from Chandigarh on the route to Kasauli and Shimla. It is frequented by people from across the region as Parwanoo is at the cusp of Himachal Pradesh with Haryana, Punjab and Chandigarh.
A similar scene was seen on October 13, 1992, when the haulage cable broke near the docking station. And the cable car carrying 11 passengers slid backwards.
For more such important information and updates, do follow us on ChandigarhBytes.