There are times when food doesn't just satisfy our bellies but touch our hearts and souls. A duo selling Indian street food in Mohali near Chandigarh, with love, compassion and best intentions in mind is making people go wow! Desi street food is arguably the most recognizable and widely-available Indian food. From street vendors to grocery stores to the menu in restaurants small and large, these delectable morsels are practically synonymous with Indian cuisine.
However, have you ever seen Indian street sellers dressed up stylishly in their formal suits? You must be surprised reading this. Aren't you? They don't intend to go for any meeting, but to sell street food. Isn't that interesting to see?
Who are these two Sikh Brothers?
It's the story of two young friends of 22 years of age named Guri and Mania. They are holders of hotel management degrees and later worked in Domino's Pizza as well. Not only this, the team of two also worked for Nik Bakers as they were always fascinated with bakery and wanted to be skilled in the same field as well. After that, they decided to quit, invest their personal savings in building this business which has now become the major spotlight of the city.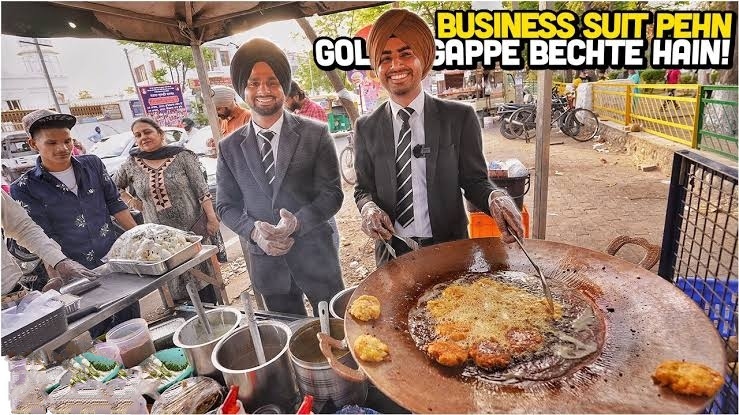 They dress up in business suits every day and sell desi street food. They both sell all kinds of cuisines ranging from golgappa to aloo tikki. Finding a place on their plates , and hearts, these brothers are literally short of hand these days.
What made them start this business?
Talking about the initial stage of their journey, they shared that they had no support from their parents. And just like a typical mindset, they wished them to have jobs. For the early six months, they didn't disclose anything to their parents about what they do in Mohali.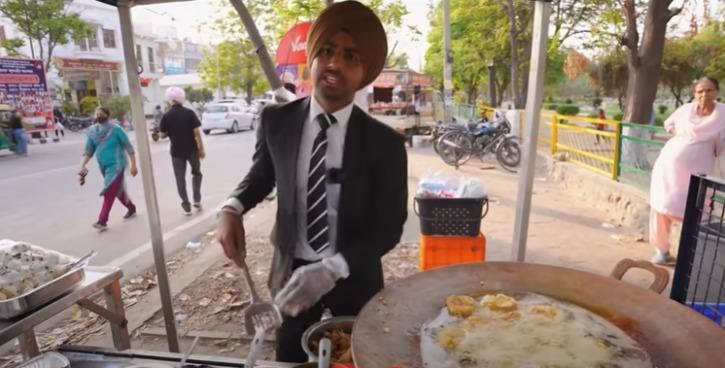 However, now, with grit and determination, these two friends decided to start working on a street-food stall. But soon after all this, they decided to quit, invest their savings in building this small venture which has now gathered a huge spotlight. And now, with their lip-smacking Indian street food and their humbleness, they have gone viral among people. And, how can social media be left behind? Various bloggers went to their stall and covered their story and business ideology. They are also known as 'Smart Sikh Brothers' and are famous for their style of selling formal suits.
Why do they dress up in formal business attire?
Wearing suits and selling street food? What? Don't they feel weird or uncomfortable? Is this what you're thinking, right? Well, it's none of those!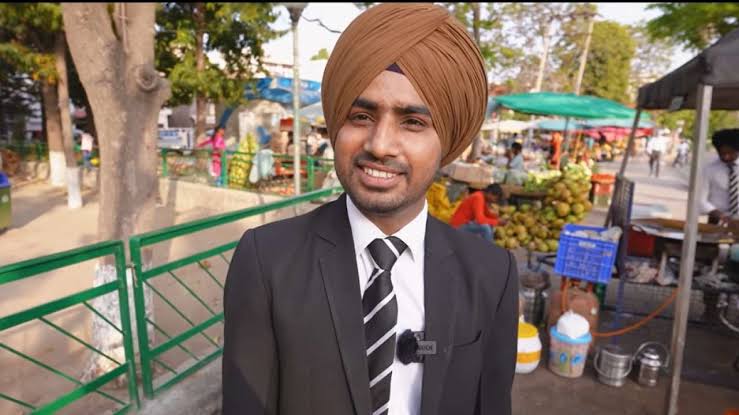 Instead, for them, wearing their Hotel Management uniform is a sign of pride and honour. Paying attention to the importance of appearance, They said that during studying in college, they were taught to always be groomed up neatly and smartly while attending the customers.
What do these boys sell?
Guri and Mania sell freshly prepared street food items like Aloo Tikki Chaat, Dahi Bhalla Chaat, Bhalla Papri Chaat, Gol-Gappe and more. They shared that they wake up at 6 in the morning, prepare fresh chutneys and condiments for the day. They both feel content and joyful to see when all gets finished by the end of the day.
Just take a look at this video!
Where can you find this duo?
You can easily locate them opposite Gurudwara Singh Sabha in Phase 11, Mohali.
Their future Plans
In future, with all the earnings their stall makes said that once his shop earns more than needed then he'll start up a small shop of his named 'I love Punjab.' Additionally, he also plans to expand his chaat business.
Wrapping It Up
The two Sikh brothers are a perfect example of doing what their heart desires. A street food stall with flavorful delicacies, warmth and humbleness. This place in Mohali witnesses crowds of people seeking fresh street food that not just taste but also fills their souls. You definitely gotta try and appreciate them, and you may feel inspired or your dreams may get a push. You never know!