Apart from Chandigarh's scenic beauty, cleanliness and happening crowd, you know what makes the 'City Beautiful' stand out from the rest? Its the 'Chandigarh Police'! They are efficient, punctual, fair in "normal circumstances" and generally spotted all over the city. While wandering in the city, you will be able to spot a PCR vehicle near all important red lights and popular chowks. Moreover, the safeguarding and making the city crime free is the duty of Chandigarh police. The authorities aim to protect this rapidly expanding city (originally planned for only 5,00,000 people) with their active task force and daily meeting new challenges.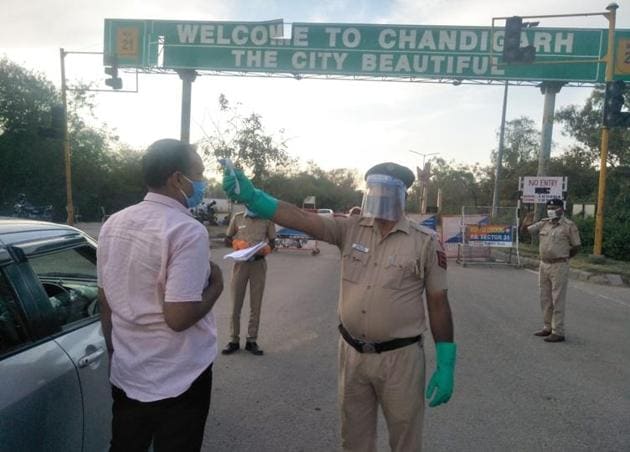 Not only this, they are always on their feet trying to protect us. Get overrun by errant drivers , oppressed by Politicians, insulted by influentials, still they keep the calm and do their duty to the best.
Chandigarh Police : History
The reorganization of the Chandigarh police was done in November, 1966. The first chief of Chandigarh Police was Shri V. K. Kalia, SSP. The post of IGP was created in 1981. It is currently headed by the Inspector General of Police (IG) and seconded by the Deputy Inspector General of Police (DIG). While Traffic and Security is the responsibility of the Senior Superintendent of Police, the Senior Superintendent of Police maintains crime and law.
Besides this, the jurisdiction of training, operations and crimes against women & children falls with the Senior Superintendent of Police (Operation & Training). The Commandment, IRB of Chandigarh Police looks after the Indian Reserve Battalion unit in the city.
Presently, Police Force of Chandigarh has staff strength of about 6000 men and women. Some of their units include the Operation Cell, Cyber Crime Cell, Security Wing. And others engaged in providing 24*7 policing services to keep Chandigarh citizens safe.
Contact Information of the Inspector General of Police, Chandigarh
Address: Police Headquarters, Sector-9 D, Chandigarh
Phone: 0172-2740106 (O), 2740501(R)
Website: https://chandigarhpolice.gov.in/
E-mail: police-chd@nic.inControl Room: 100
Services Performed by the Police of Chandigarh
The Police officials in Chandigarh ensure the smooth and safe life for all its residents by performing various quality services.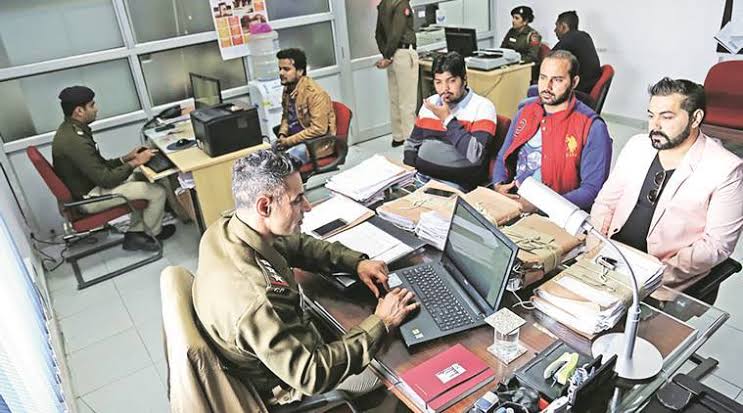 Below are the services that you can get assistance from them:
Traffic Police Related Services
Firstly, the department of traffic enforcement has been playing a vital role in effectively managing the traffic. And keeping the city roads safe for its citizens and visitors. They always put traffic rules and regulations on our top priority so that road users feel safe in moving around at any time of the day. For all traffic related complaint or emergencies; one may contact the Traffic Police Dept round the clock on helpline number 1073.
Passport Application Portal
Secondly, for all those who are intending to make passport, Police verification is mandatory for them. It ensures that you can check the status of your passport related police verification. All you have to do is by entering your passport application number into the following: https://admser.chd.nic.in/policeonline/passport.asp
FIR copy Download
Thirdly, one can download the First Information Report (FIR) copy by clicking here.
Crime Prevention & Registration
Fourthly, Chandigarh police aims to maintain law and order in the city. For this purpose, 40 motorcycles, 60 gypsies, and 3 ambulances are deployed round the clock in the city. Apart from this, patrolling parties from numerous police stations and posts have been set up. 18 Police Posts and the Special Crime Unit, and 11 Police stations have been created to prevent and investigate various crimes in Chandigarh
Stolen/Recovered Vehicle Status
Get to know the status of your stolen vehicle, i.e. whether it has been recovered by the police or not by clicking on the direct link.
Know your Case" Scheme
A unique scheme launched in 2013 has been taken to lend greater transparency and accountability in the functioning of Chandigarh police. As per the scheme, the complainant has the right to know the status of investigations of his/her case or petition.
Complaint Registration
In addition, every resident has a legal right to file a factually correct and valid complaint with the concerned authority. One can call the Chandigarh Police Control Room No. 100 or 0172-2744100/0172-2749194 or the concerned area Police station/post. In case of dissatisfaction with their response, one may complain to the IGP/Chandigarh, SSP/Chandigarh, DIG/Chandigarh or the concerned sub-division police officer.
Public Window Complaint Status
Furthermore, citizens having complaint about any matter can submit a written complaint at the public window. It is located on the ground floor entrance of Sector 9D, Chandigarh Police Headquarters. Know your compliant status from this direct link.
Servant/PG/Tenant Verification
Under this act, the Chandigarh verifies all helpers/servants/tenants/paying guests to ensure safety in the neighborhood. This verification is mandatory and non-registration of the aforementioned people is a punishable offence for which a FIR can be registered against the employer or landlord.
Foreigner's Registration & Rules
All foreign nationals staying in Chandigarh can apply for registration, return visa. Plus, visa extension, exit permit to the FRO Chandigarh on the website, https://indianfrro.gov.in/frro/. They must bring a hard copy of their Online Application Form and other documents according to their visa category, to FRO Chandigarh on the appointment date.
Mobile Police Stations Scheme
An additional, to provide quality policing, the authorities sends two mobile police stations to areas mostly inhabited by the underprivileged and poor. Thereby, providing them proper police assistance instantly.
Late Night Dropping for Ladies
If a woman cannot avail a cab, auto, taxi etc. late at night to reach her place safely; she can seek help by calling the PCR at No. 100 or 0172-2749194 or 0172-2744100. So, a vehicle will then be sent to drop her at her place within Chandigarh.
Late Night Towing Services
Lastly, the officials ensures that any vehicle disabled late at night will be towed to the nearest safe place. For this, you can call the Chandigarh Police Control Room No. 100 or 0172-2749194 or 0172-2744100.
List of Police Stations in Chandigarh
All the police stations in various sectors of the city have adequate police force with inspectors, sub-inspectors, constables, etc. Moreover, the Traffic Police Wing of Chandigarh Police, the men in white dress can be specked easily on Chandigarh roads. Certainly, Chandigarh traffic police is known to be the most efficient police force in the country. The police force does a large number of challans every year adding to the Chandigarh Government's revenue.
Police Station – Sector 17
Phone: 2773951

Police Station – Sector 11
Phone: 2747066
Police Station – Sector 3
Phone: 2740254
Police Station – Sector 26
Phone: 2790594

Police Station – Sector 19
Phone: 2775173
Police Station – Manimajra
Phone: 2734082
Police Station – Industrial Area
Phone: 2657344

Police Station – Sector 31
Phone: 2662698

Police Station – Sector 34
Phone: 2662697

Police Station – Sector 36
Phone: 2662995

Police Station – Sector 39
Phone: 2690906

Police Post – Sector 22
Phone: 2707849

Police Post – PGI
Phone: 2744262

Police Post – Dhanas
Phone: 2690383

Police Post – Railway Station
Phone: 2654766

Police Post – Maloya
Phone: 2643213

Police Post – Palsora
Phone: 2688896
Important thing to Note: Add the city code before these numbers if you are calling from outside the city. For International Calls, ISD Code 91-172 and for Indian Nationals, STD Code 0172.
Emergency Helpline Numbers
For Crime Related Emergency- Dial 100 or 0172-2749194 or 0172-2744
Traffic Helpline: 1073
Women & Child Helpline No.- Dial 1091 or 0172-2741174
For Senior Citizens Complaint– Dial 1090
For Cyber Crime Complaint– E-mail: – cybercrime-chd@nic.in
DSP Night Duty– Dial 09465121000 (from 12:00 AM to 05:00 AM daily)
Passport Verification Helpline– Dial 0172-5025000
In a nutshell, Police of Chandigarh is very much strict and disciplined. They don't bother anyone, they even challan their own officials, MLAs n Ministers for violations. Most importantly, it has been continuously striving to keep the city safe and secure. Its various units like crime wing, Operation Cell, Security Wing, Traffic Police, etc. keep working round the clock to provide best policing services to the citizens.
To add to it, for such important details and more updates, do follow us at ChandigarhBytes.