Absolute Barbecues, Chandigarh is one of the newly opened restaurants for an amazing dining experience. It is one of the fastest-growing and widely recognized restaurant brands which has several branches all over India. A place with attractive offerings based on constant menu innovation and customer focus. Most importantly, experienced and well-trained staff and value-oriented business culture led by some of their senior management team bringing a worthy experience for its customers.
Absolute Barbecues, Chandigarh – Best Things About the Restaurant
A unique 'do-it-yourself' dining experience where diners grill on the Table, their choice of Meat, Seafood and Vegetables starters served on skewers to their preference. A central live grill "Wish Grill" dishing out exotic varieties of veggies and game birds take the experience of dining to a whole new level. There are so many highlights about the entire experience. Some of the best ones are :
1. Ambience
To begin with, one the factors about Absolute Barbecues being one of the best in the city is their ambience. Yellow walls with vintage looks with exposed brick walls on its opposite sides, infuses a comforting atmosphere to the dining room.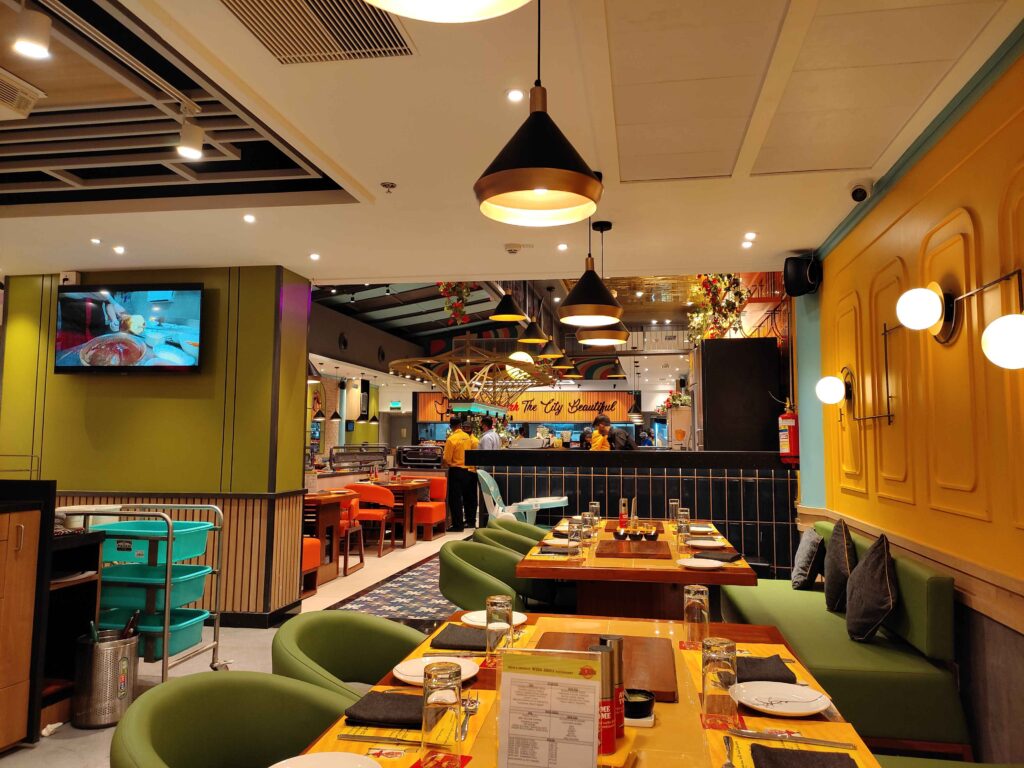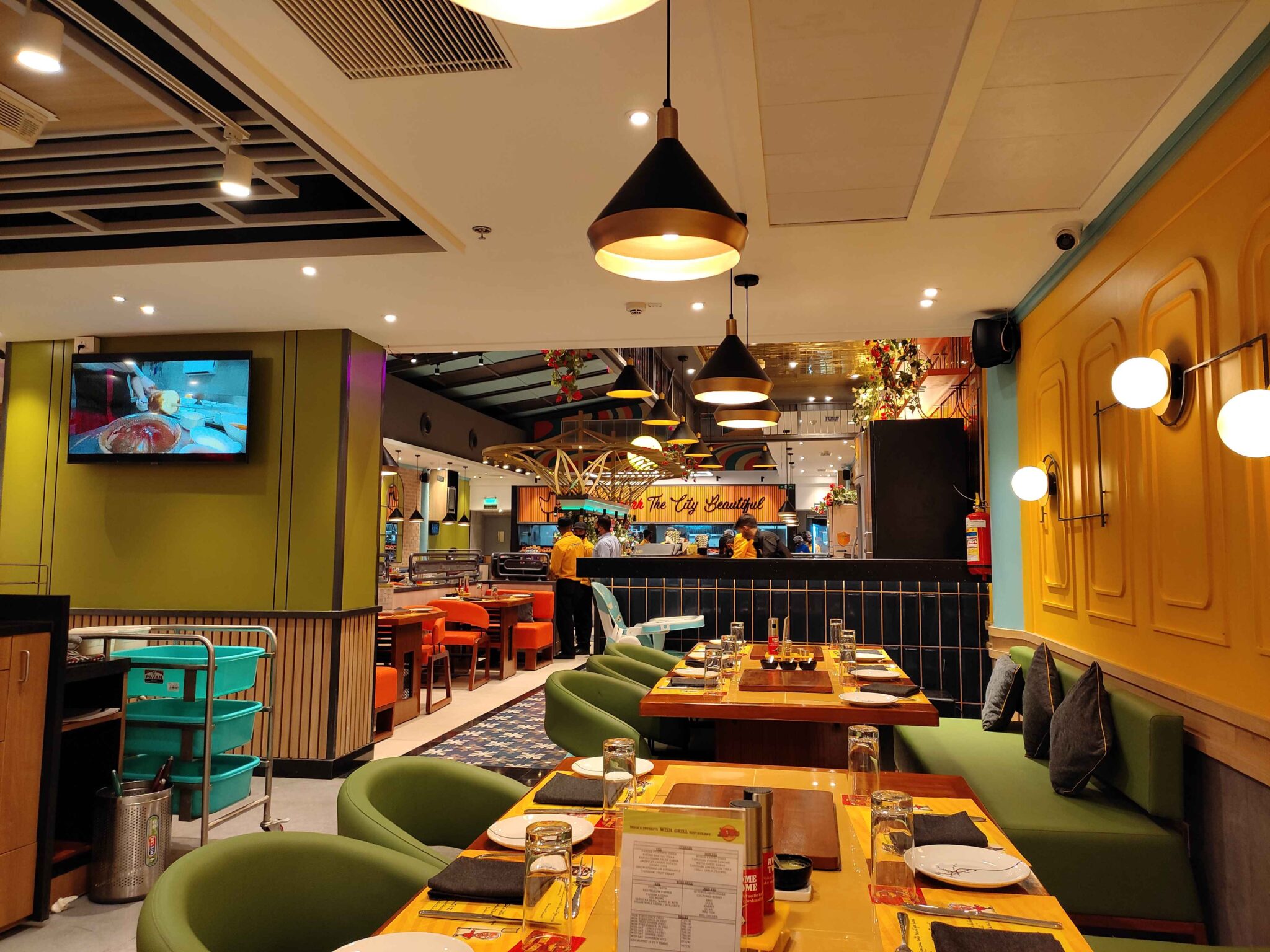 Additionally, vibe is always rambunctious here as chirp of families and large groups of diners mingle with the ambience. Comfortable seating with sofas on one and chairs on the other side. Moreover, its a busy place, reservation is encouraged.
2. Cuisines – Indian & International
Secondly, there are two sections in the terms of food items. One of their specialties is their Wish Grill section where in the customers can try grilling by choosing their favorite food items. Certainly, it adds to the fun and gives an opportunity to the customers to have enjoyable experience and feel like home.
1. Indian Cuisines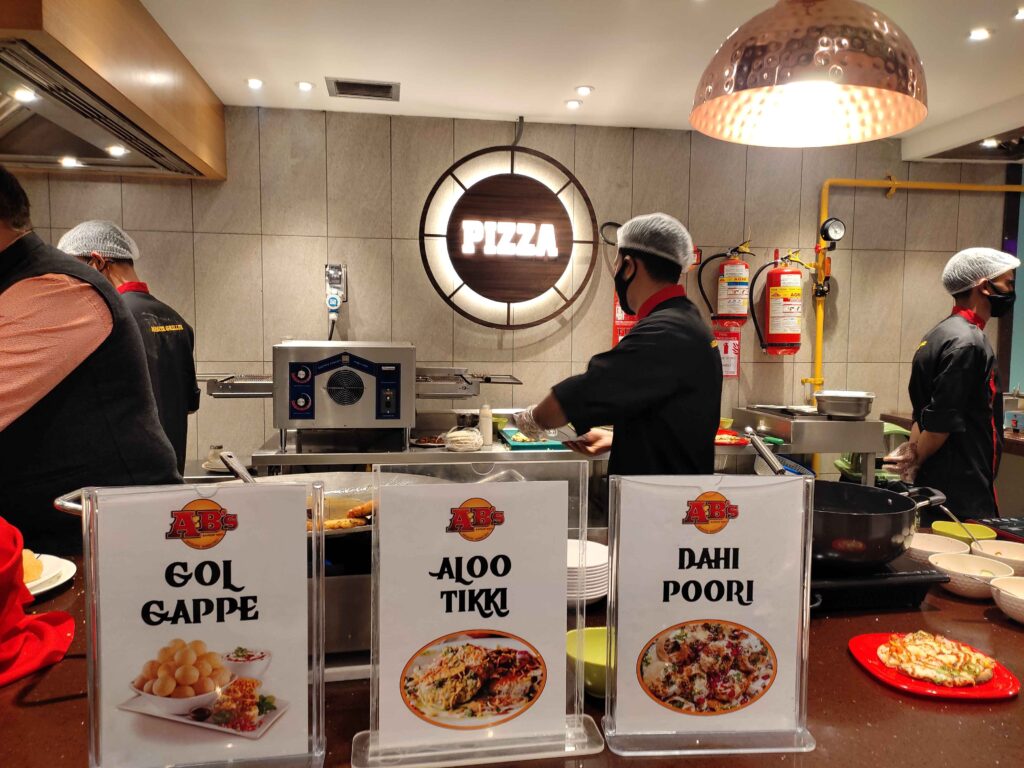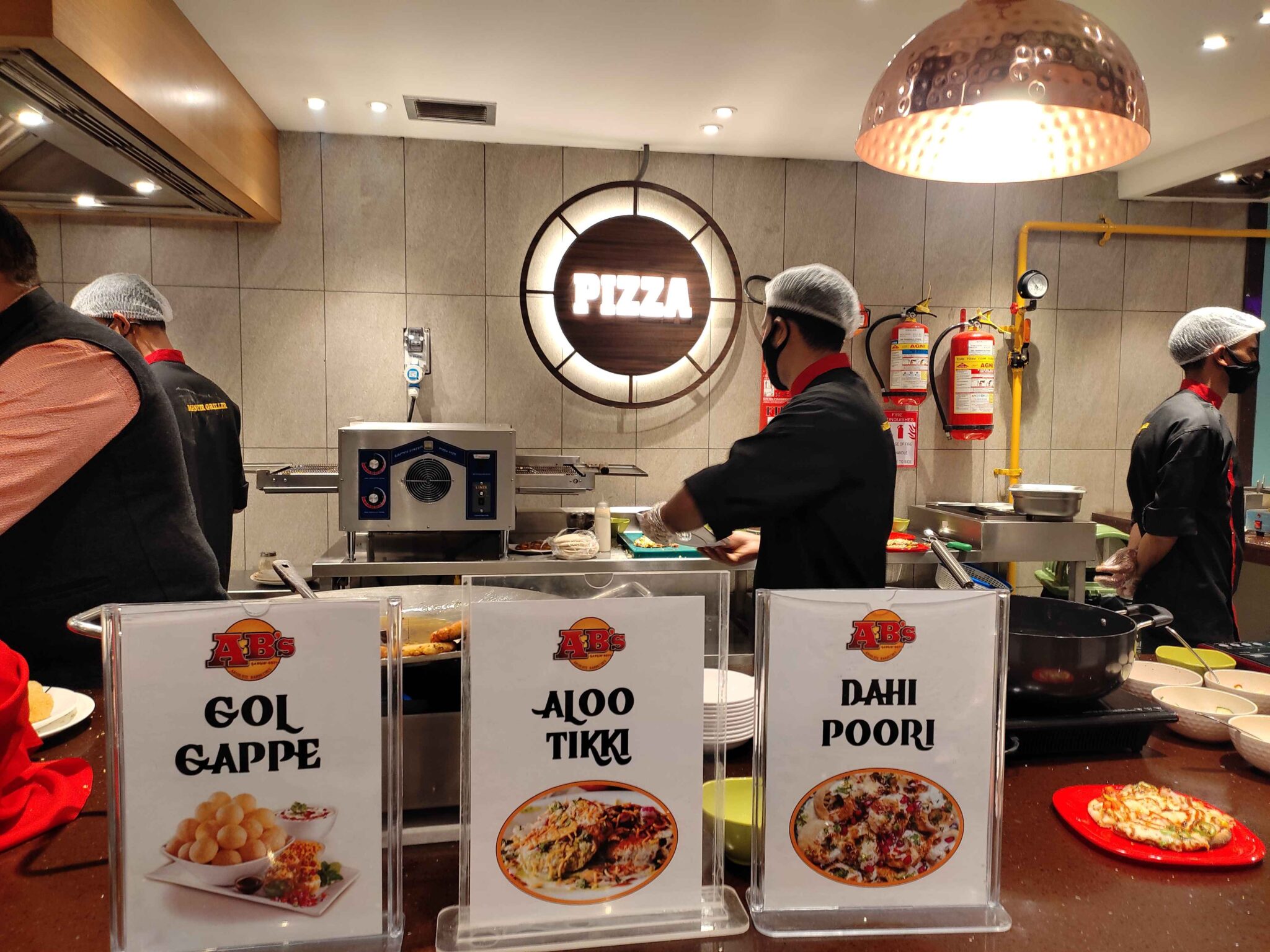 This category includes Gol Gappe, Aloo Tikki and Dahi Puri. These were the mouth watering items one cannot resist trying.
2. International Cuisines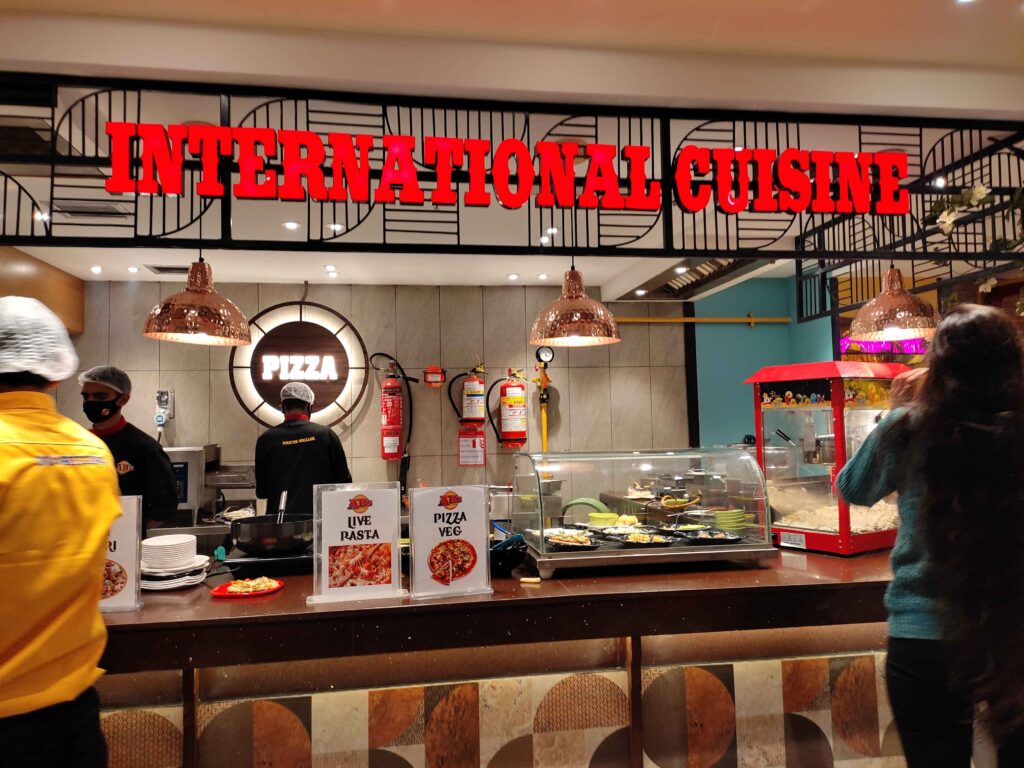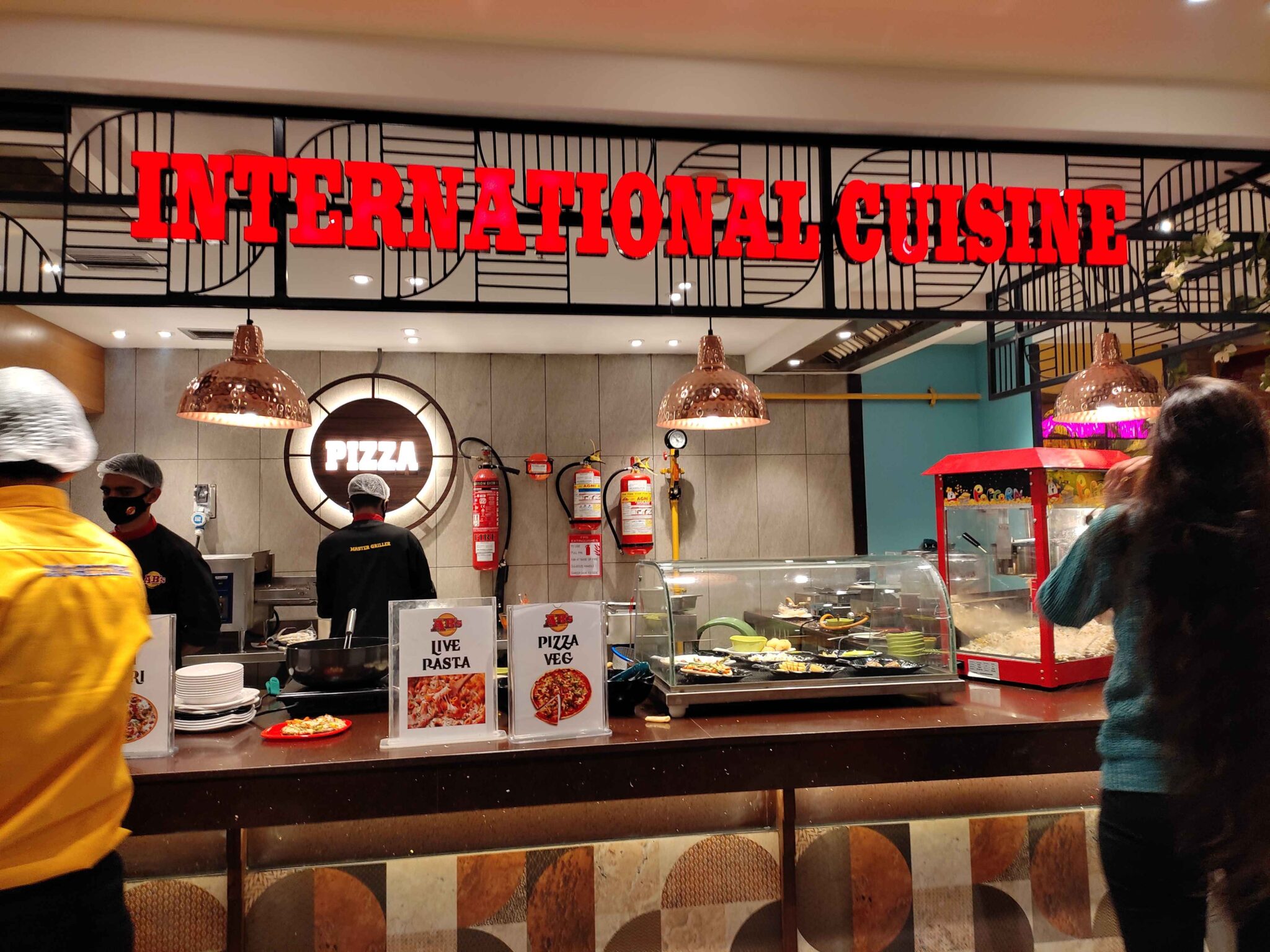 Live Pasta and Veg Pizza were the main items in this section. They also have unconventional non veg items (such as duck, rabbit, octopus, emu, turkey and many more).
3. Popcorn Machine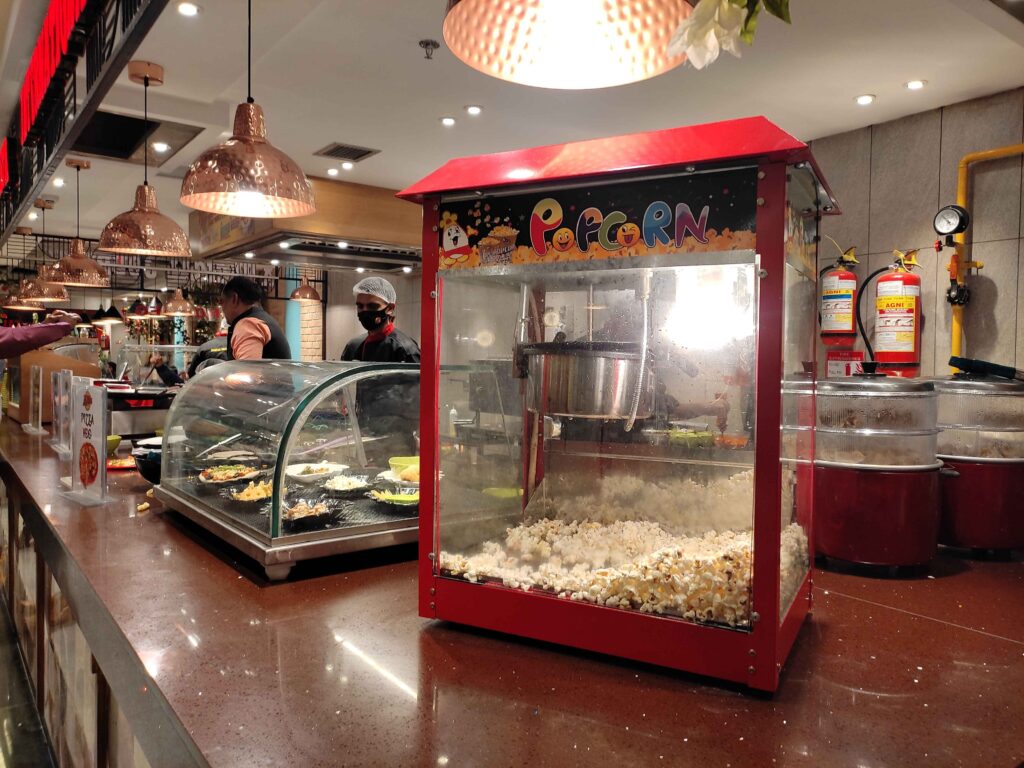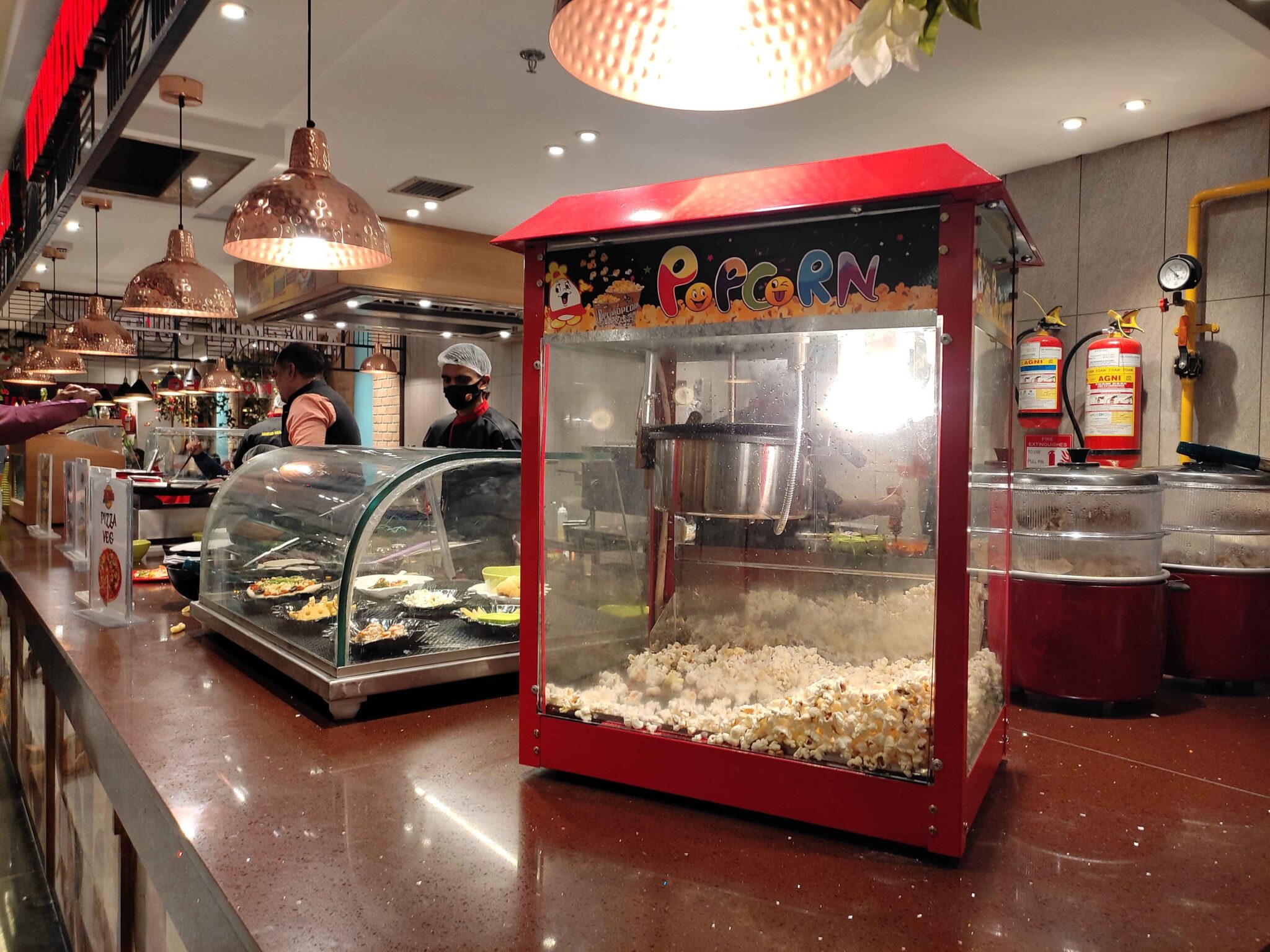 Interestingly, they also have popcorn section for kids to enjoy. No barbecue restaurant has that.
4. Wish Grill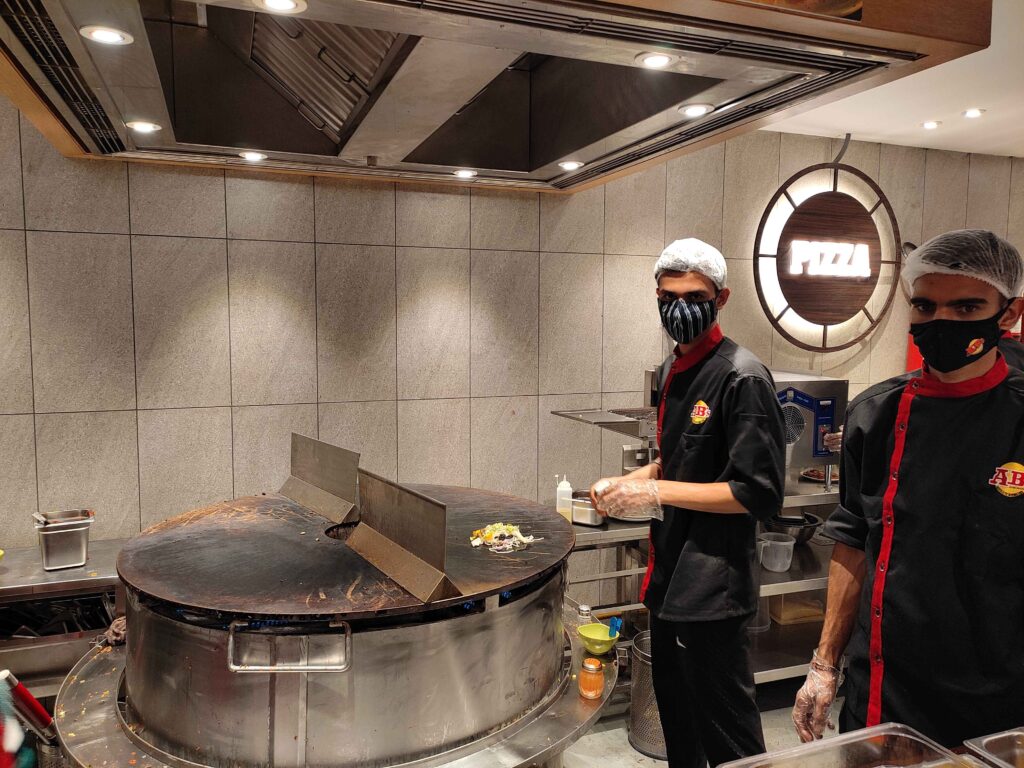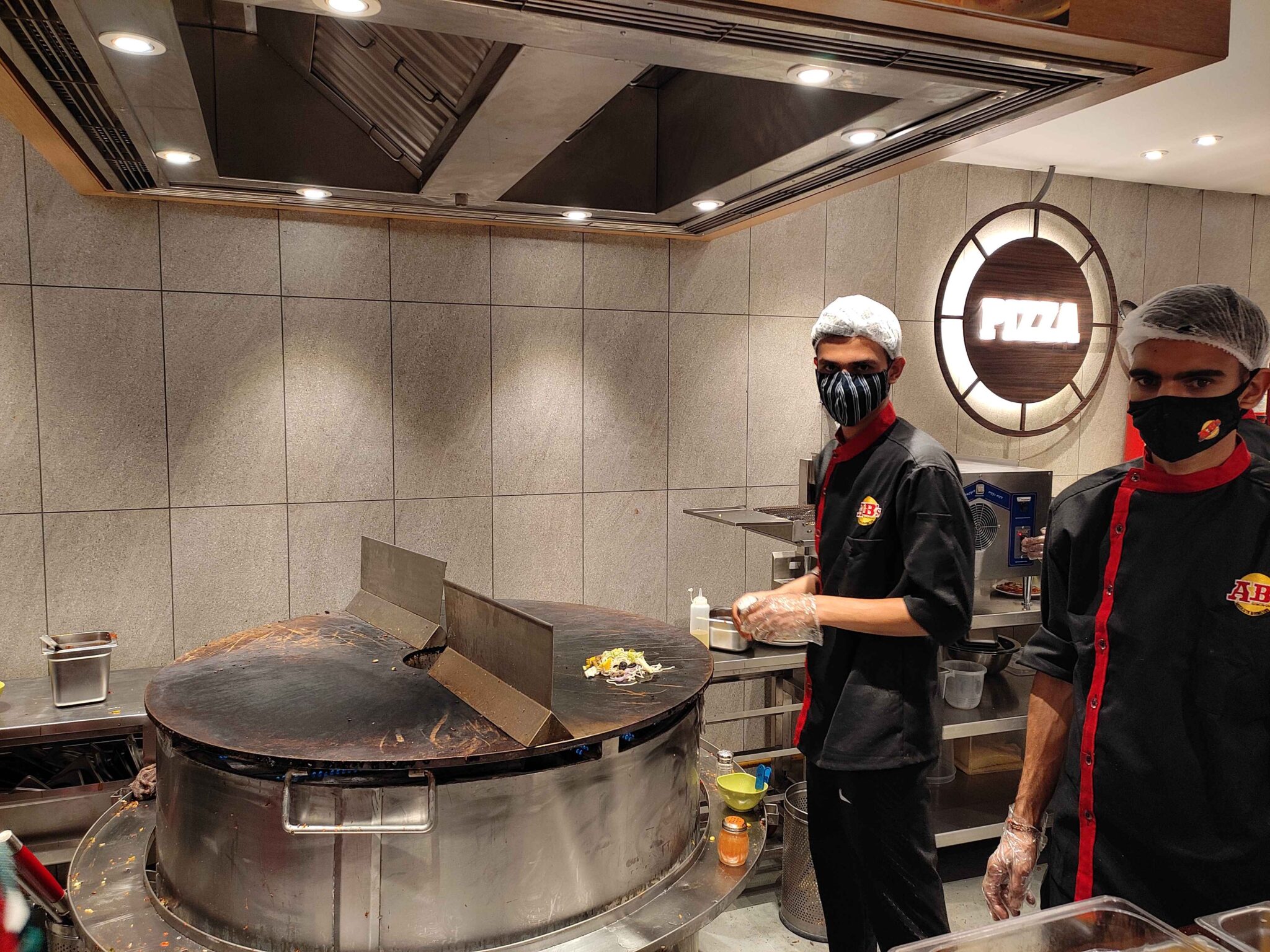 Now, the one thing that set them apart was their wish grill section which served rabbit, duck, turkey, emu, octopus, etc. Most of them tasted good. In India one can rarely find such offbeat food options. Big thumbs up for that!
Live Grills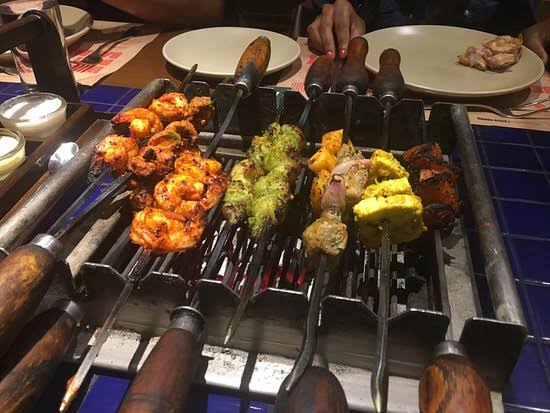 Further, live grills are attached to every table, which is then loaded with semi-cooked starters you can help finish. Also, the serving was unlimited.
On one hand, in the Non- Veg grill section, chef offers, Schezwan chicken, mutton masala seekh, chilli corn teak, angara wings and chilli garlic prawns ajwani fried fish etc.
On the other hand, in the Veg grill section they include, achari paneer tikka, bbq pineapple and watermelon, mushrooms, crispy cornetc.
Beverages Corner
Absolute Barbecues have the most interesting and delicious drinks. There's often nothing better in the world than a refreshing drink to unwind the stress of a long, tough week. Whether you're meeting up with a bunch of girlfriends for fruity cocktails while chit-chatting, this place can facilitate your de-stressing needs.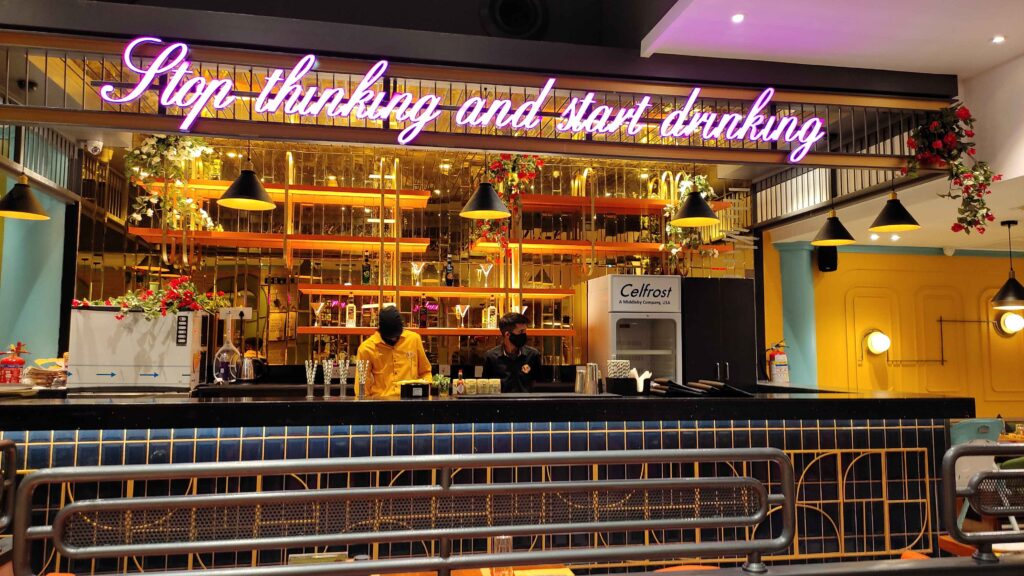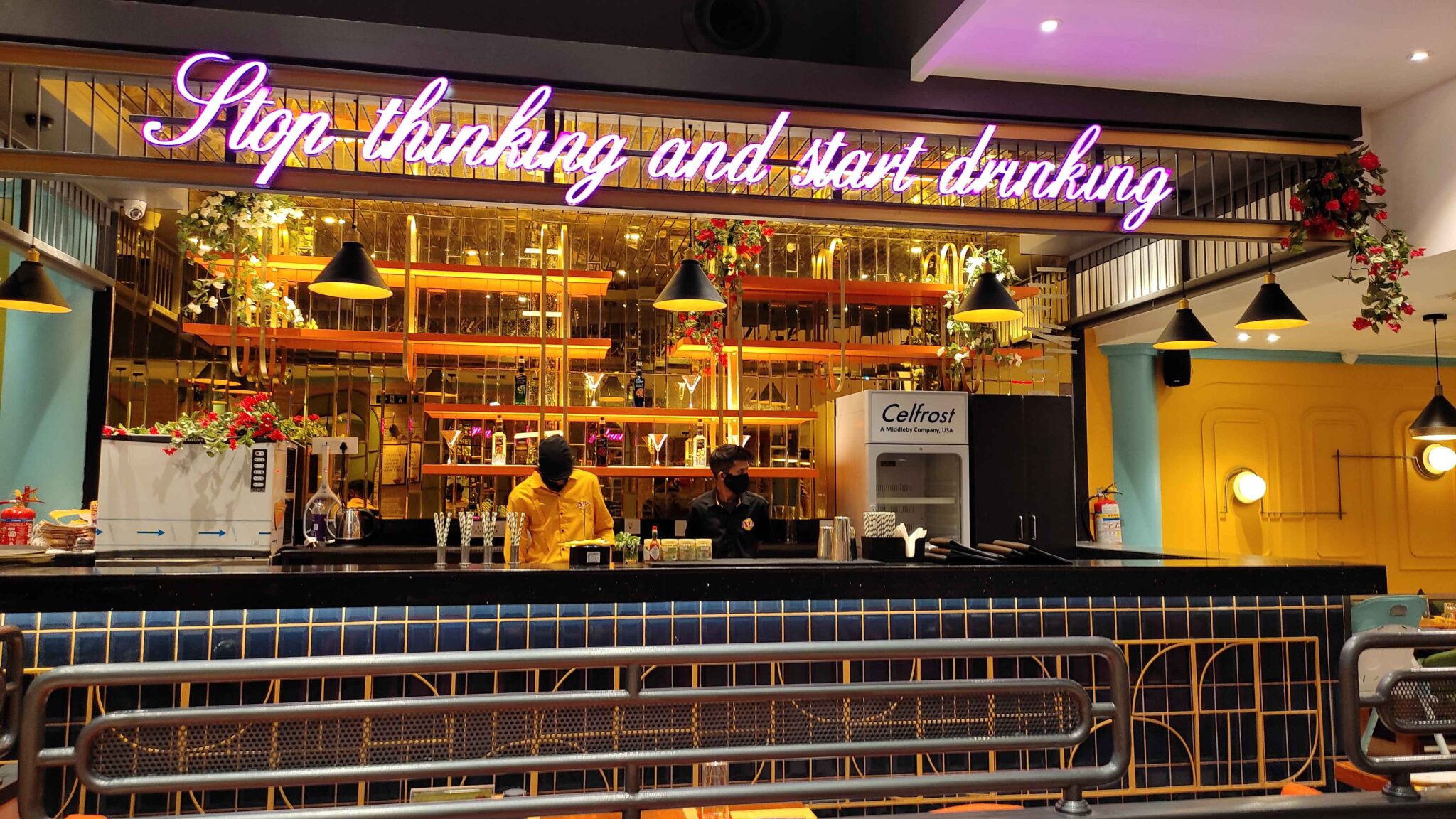 Variety of cocktails and mock tails include Virgin Mojito, Blue Angel, Black Duck, Virgin Mary, Coco Mink and so on.
Mouth-Watering Main Course
In addition, their main course section offers umpteen options on all varieties of food. Starting from counters for all different veg and non-veg delicacies, Chinese and so on.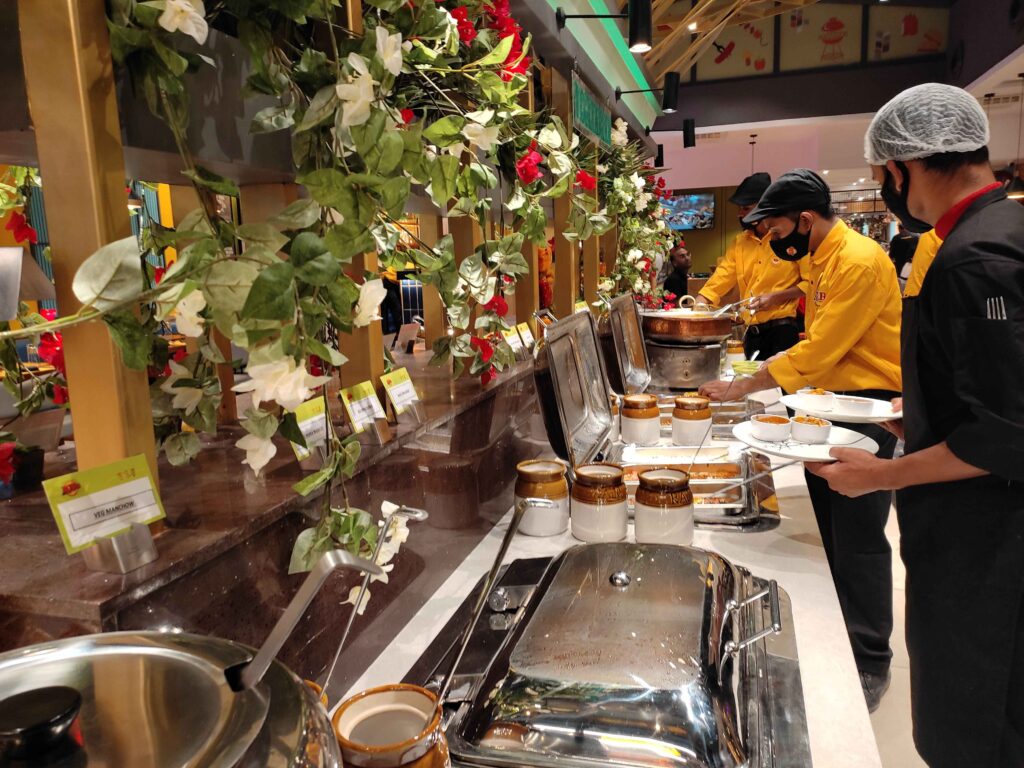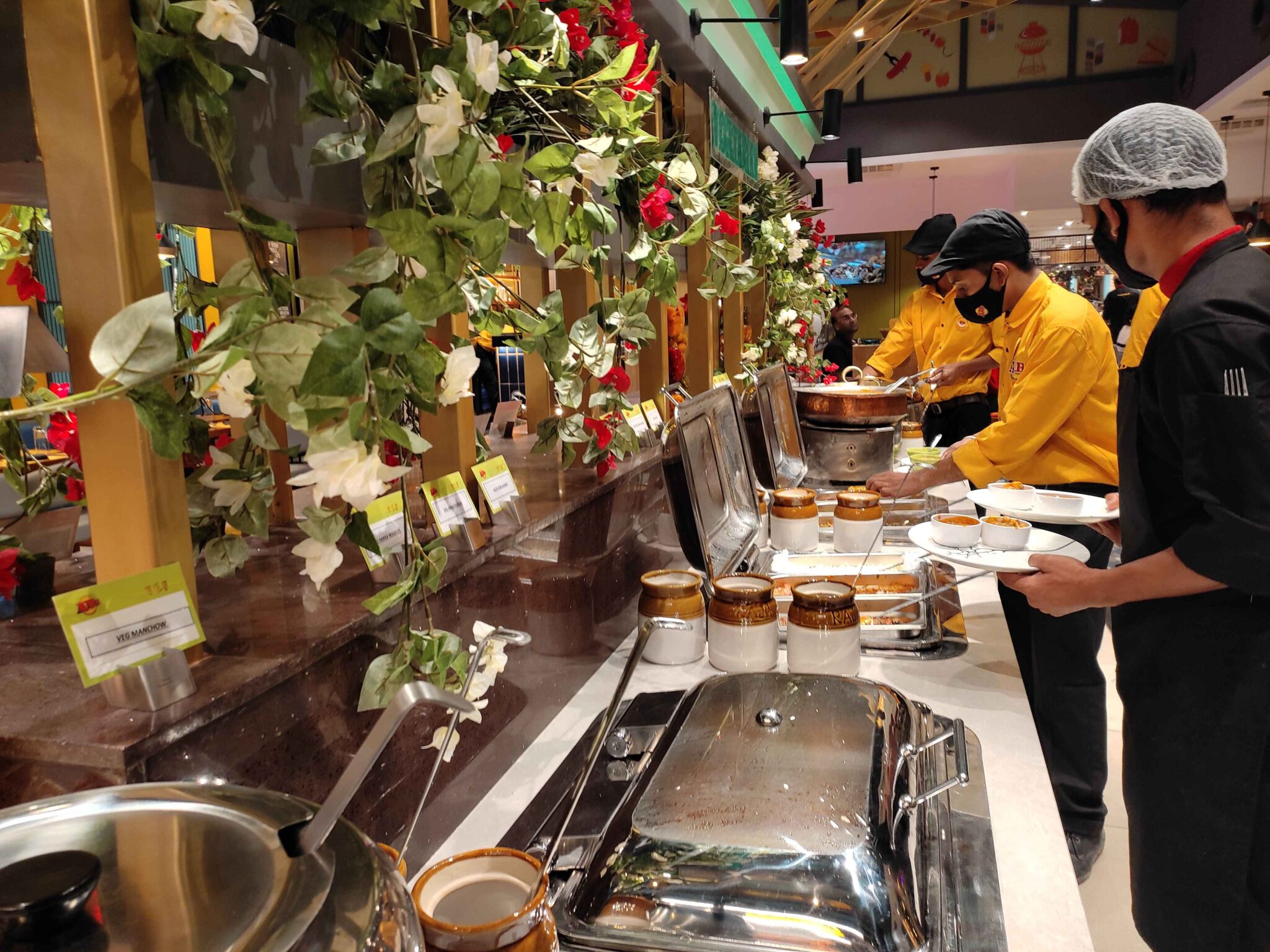 From the main course, try the Moong dal, Dal Makhani, Sarson-ka-saag, Kadhi, and you are sorted. If Chinese is more of your thing, find solace in 'Noodles', 'Manchurian', etc.
Most outstanding features:
1. Firstly, have you ever seen Gur (Jagery) and Desi Ghee being kept in the main course section. Well, you will find it here! Sarso-ka-saag is a famous North Indian dish which is absolutely incomplete without some generous dollop of desi ghee floating on it.
Plus, kept beside, desi ghee is the Gur for a heavenly flavor and aiding the digestion. Thereby, making it a wholesome Indian Punjabi cuisine.
2. Secondly, here, individual chefs have been appreciated for serving some of their best preparations. Isn't that amazing? It's really important to appreciate their efforts as trained craftsmen and showcase that with the public to enhance their motivation levels.
They deserve every acknowledgment as this is how a food restaurant grows by uplifting their chefs. Because at the end of the day, they are people who are making a customer happy by serving them delicious food.
Unlimited Desserts Feast
They have so many varieties of pure Indian sweets mainly milk based delicacies. From pastries, brownies, chocolate lollipops, Rabri, Ice-creams, Garam Gulab Jamun to Rajasthan's famous cuisine Ghevar, and the list goes on.
A live counter is also facilitated to prepare Rolled Ice Cream which can be tried by the clients. Isn't that so much of fun?!
Service
Service was commendable and somewhat better than Barbecue Nation. Waiters were cheerful and suggestive. Starters were served on the table and anything reordered was brought promptly. Our waiter suggested us several dishes and even brought the shawarma grill stick on the table. Everything considered, service is remarkably better than most Barbecue Nations we'd visited and it makes you feel important.
In a nutshell, AB's is a gathering place for all – families, friends and office team gatherings too. Authentic, slow smoked best barbecue buffet in Chandigarh. Absolute Barbecues serves up mouthwatering barbecue buffet, appetizing veg and non veg starters, wish grill selection, exotic veg and non veg dishes, soups & salads and a wide range of scrumptious desserts.
Furthermore, you light love reading our more interesting reads.
Chandigarh Bird Park – A Perfect Escape for Nature & Birds Admirers
10 Best Bridal Shops In Chandigarh – Ultimate Guide to "Shaadi" Shopping
10 Best Lesser Visited Places In and Around Chandigarh (City Beautiful)
Chandigarh Festivities : 10 Best Places To Enjoy Festive Vibes in The City
Elante Mall Chandigarh – Perfect Outing For Shop & Dine
Additionally, do follow us on ChandigarhBytes.