Everyone wants to be on holiday, but who has the time, really? Well, not all holidays need to be a flight away. What if there are places around where you live worth going to?
Well, the lively, energetic and ever-evolving city of Chandigarh has many tourist attractions both in the city and around it. Here's a list of picnic spots to visit near Chandigarh within 100 kilometres. These parks, camps, lakes and gardens are perfect for a weekend getaway or a to have a perfect picnic.
Picnic places near Within 100 Kilometers For Your Outdoor Living Experience
1. Morni Hills(Tikkar taal)
First and foremost, what can be a better place than a hill station? Yes, we are talking about Morni Hills which is around 45 kms from Chandigarh. It is a beautiful hill station with fresh air and an amazing view. If you are in Chandigarh, your spontaneous weekend road trips list must have this destination on the list.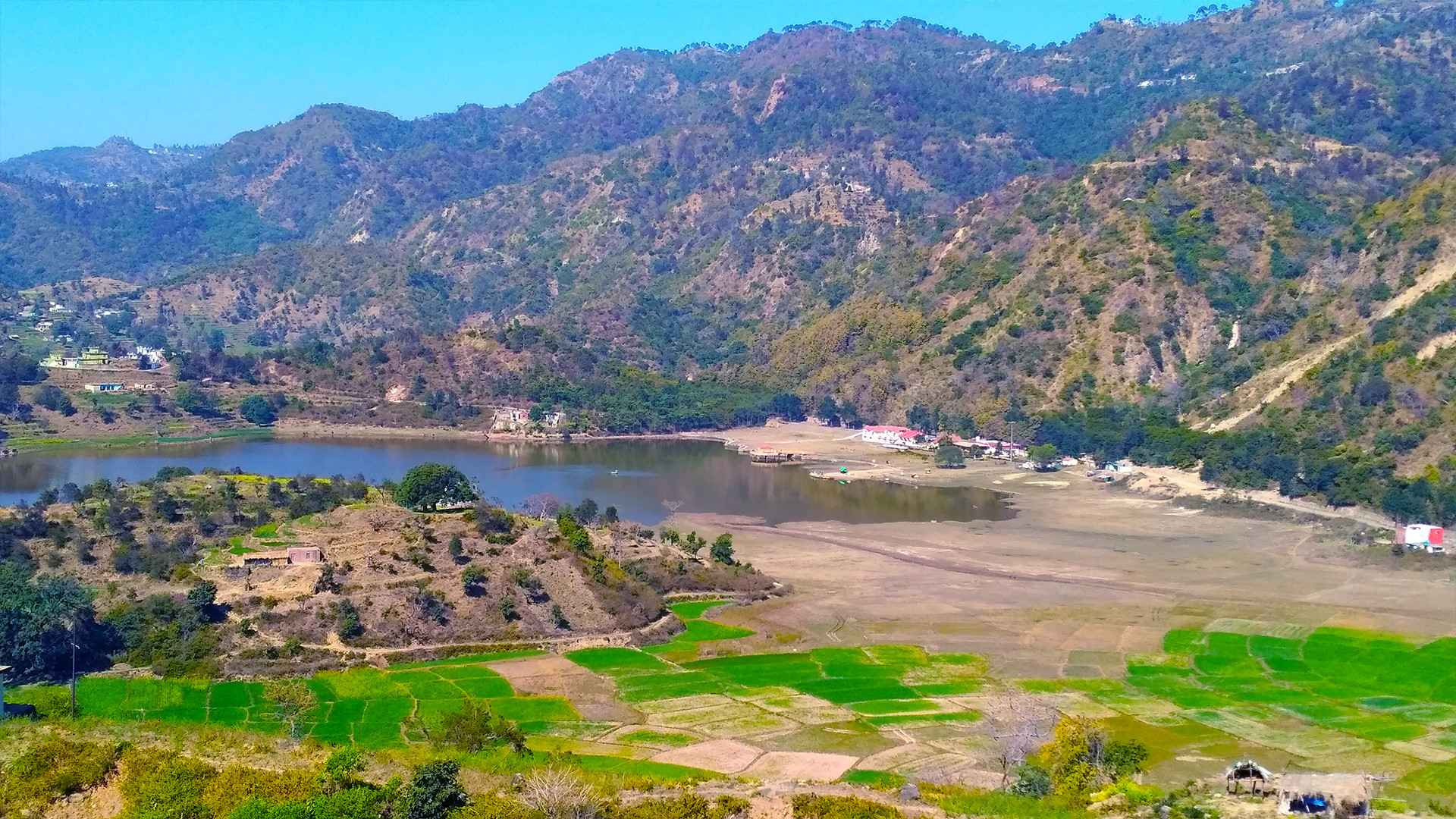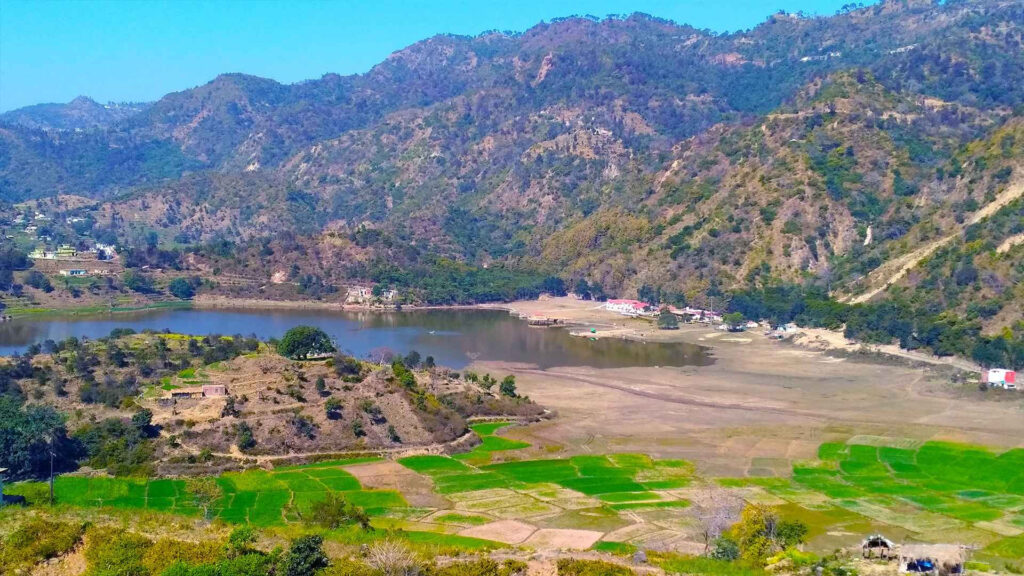 Location : Morni Hills, Panchkula, Haryana, 134205
Distance from Chandigarh : 45kms( Approx)
Best season to visit: October- May
Means of Transport: Bus, Car
Get directions: Google Map
Places to visit in Morni Hills
Morni hills has some hidden gems which you must definitely explore.
1. Morni Fort
Dates back to the 17th century, the Morni Fort belonged to the queen who once reigned over the land there. It was once in ruins until it was restored into a luxurious resort.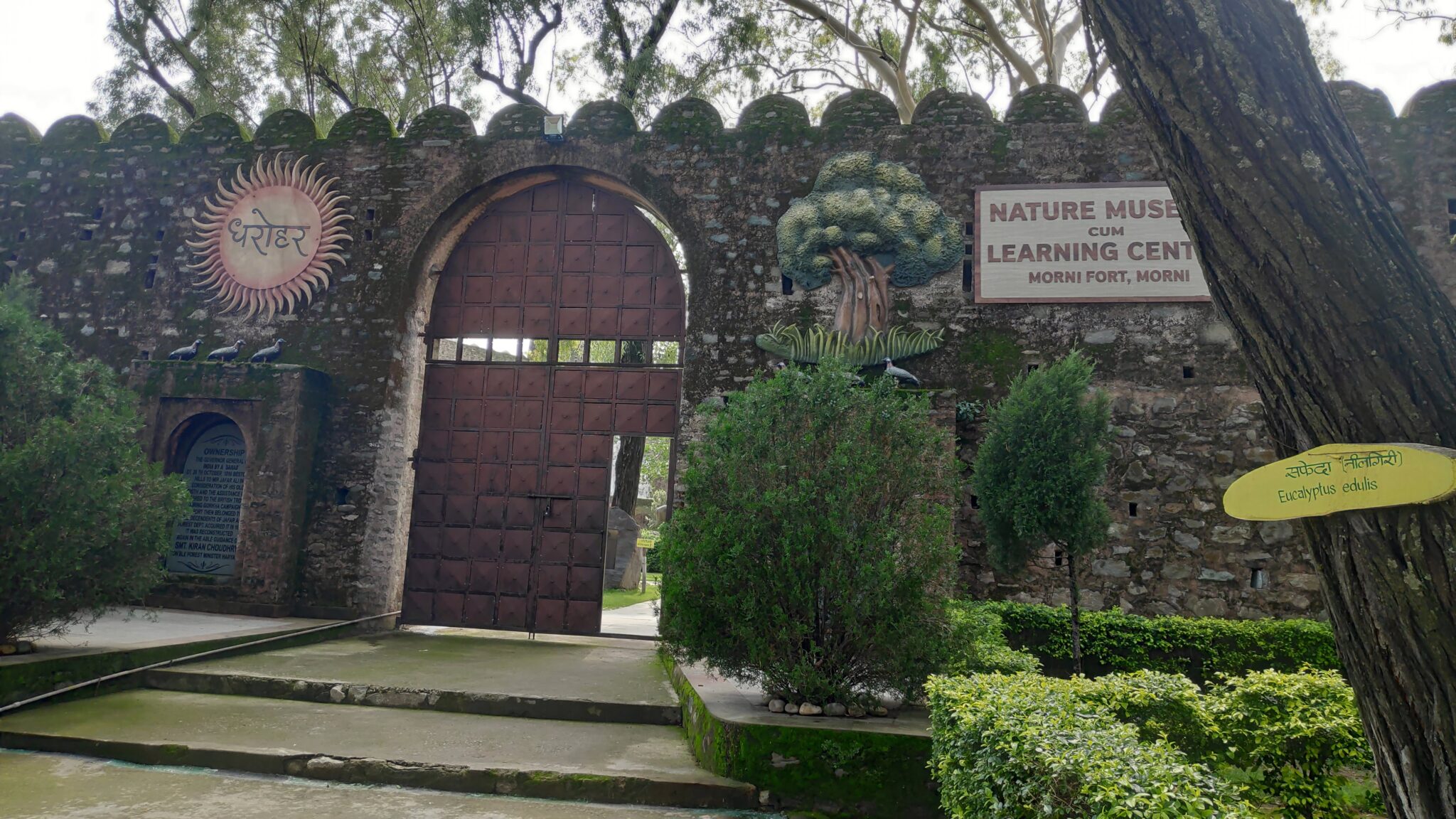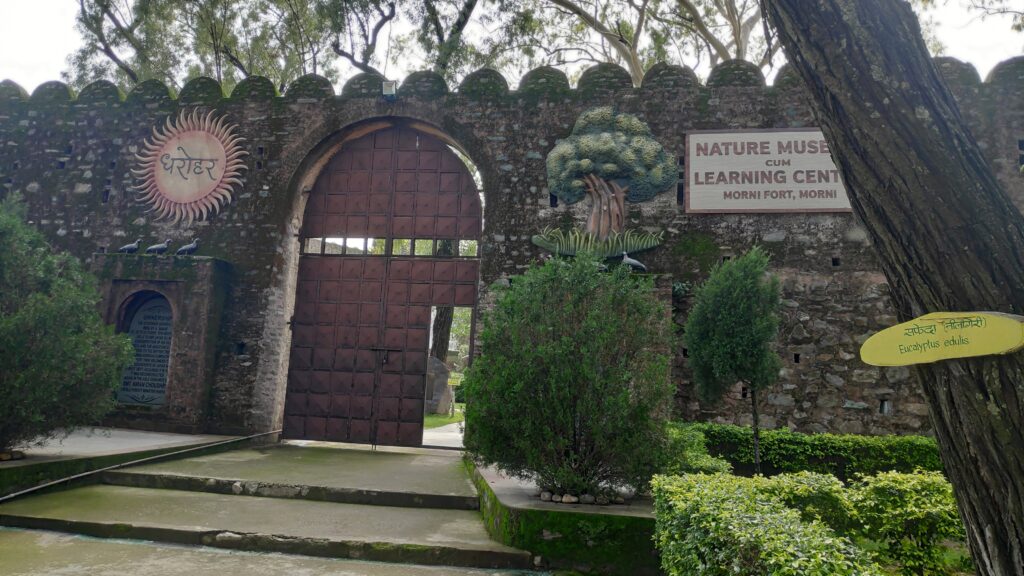 The place has since then been well preserved and has green lawns for you to sit and relax. You will need to go on a trek to reach this fort.
2. Adventure Park
The adventure park in Morni Hills has recreational and adventurous yet safe activities such as zip-lining, climbing nets and a Burma bridge.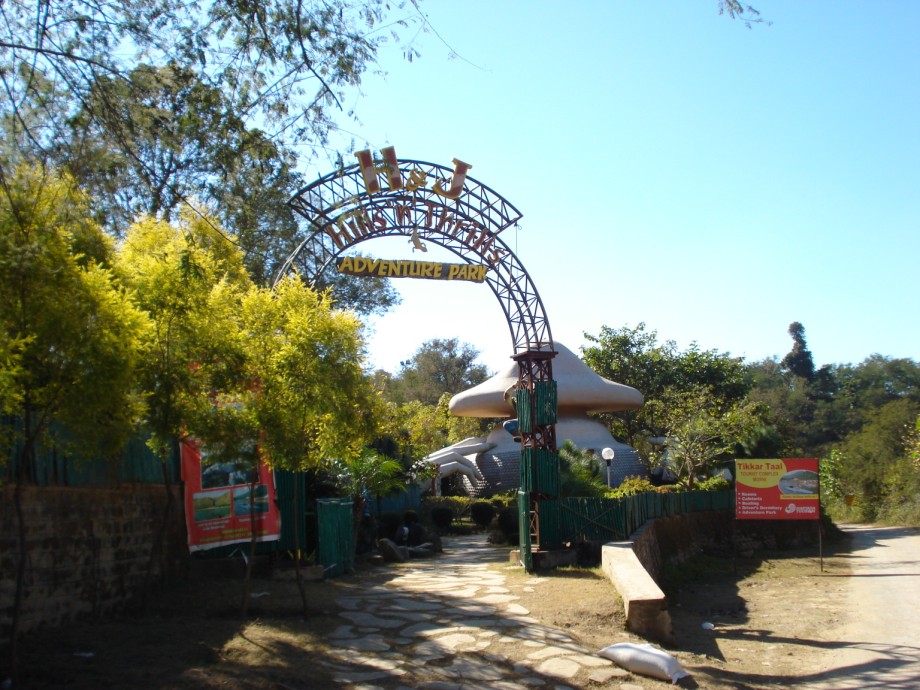 Even though it is fun for the kids to play here and a nice picnic spot.
3. Thakur Dwar Temple
On your way to Tikkar Taal or back, you'll come across a 10th-century ancient temple dedicated to Lord Krishna.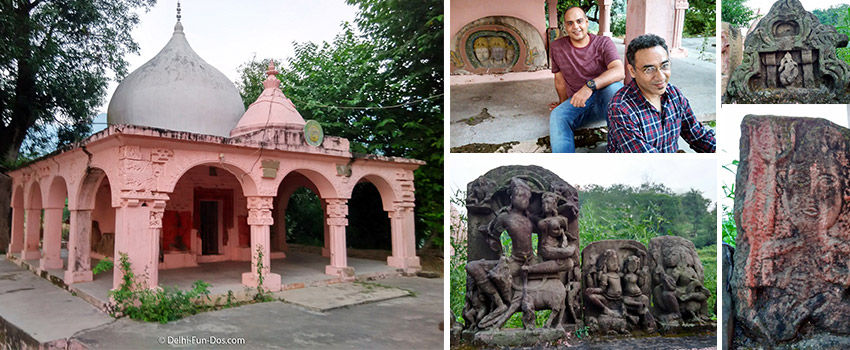 If you are an architecture lover, you'll adore the intricately carved stone structure.
4. Tikkar Taal
A short drive downhill on a narrow road will bring you to this peaceful lake called Tikkar Taal. Surrounded by mountains, this lake will take your relaxation to the max.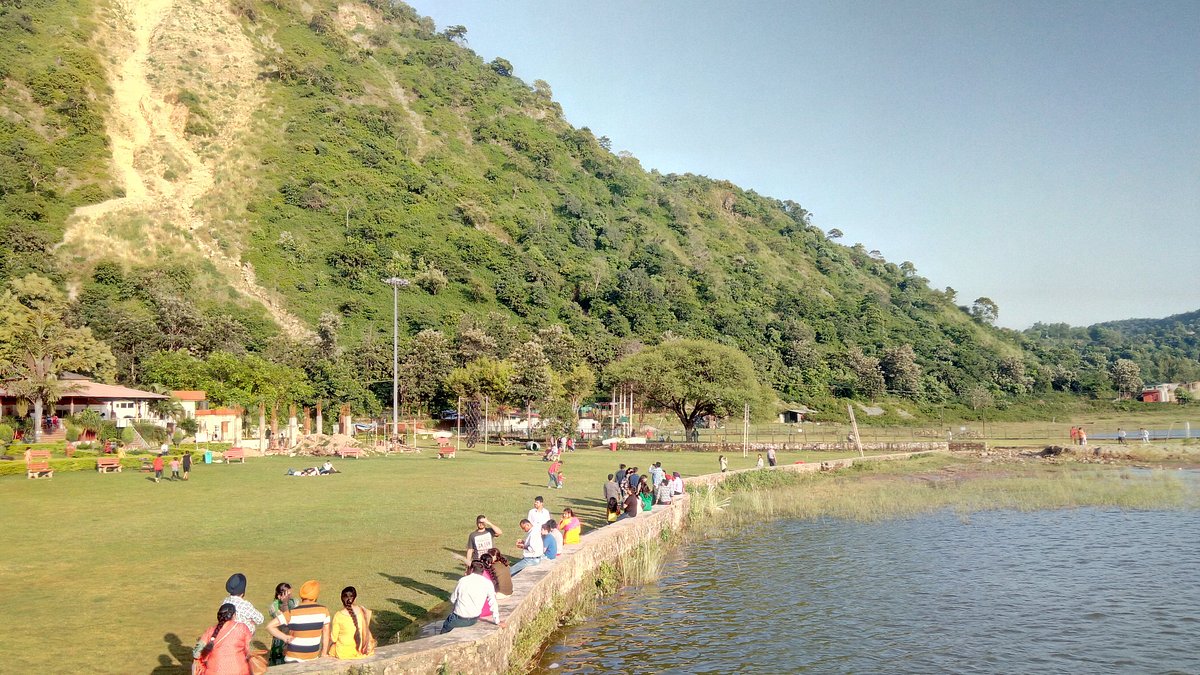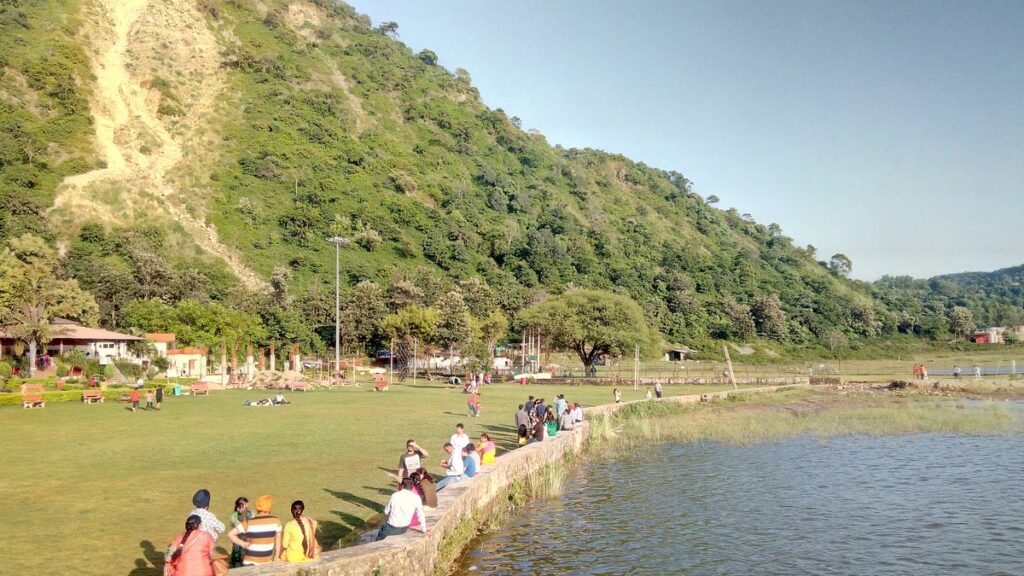 The kids will love it the most since there are camping and other activities held here during the summers.
5. Nada Sahib Gurudwara
Nada Sahib Gurudwara is a place where you can sit, appreciate the calmness and positivity emanating from this place.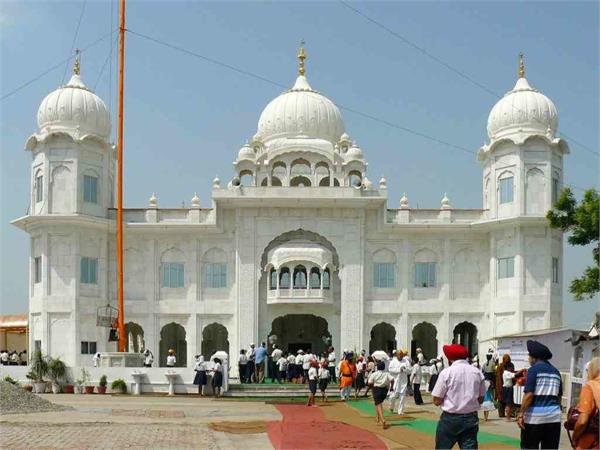 Visit this place and let the spirituality sink in.
2. Timber trail-Parwanoo
Timber Trail, Parwanoo is located almost 36 kms from Chandigarh. This peaceful space is a beautiful place to visit for a relaxing and at the same time an adventure picnic. Surrounded with hills, the offers calm and serene. A host of migratory birds visit this lake in the winter months. People flock here to be refreshed and wash away the city blues. A much loved picnic spot, Timber trail is not just about scenic beauty but also provides opportunities to feed the love of adrenaline rush in every visitor.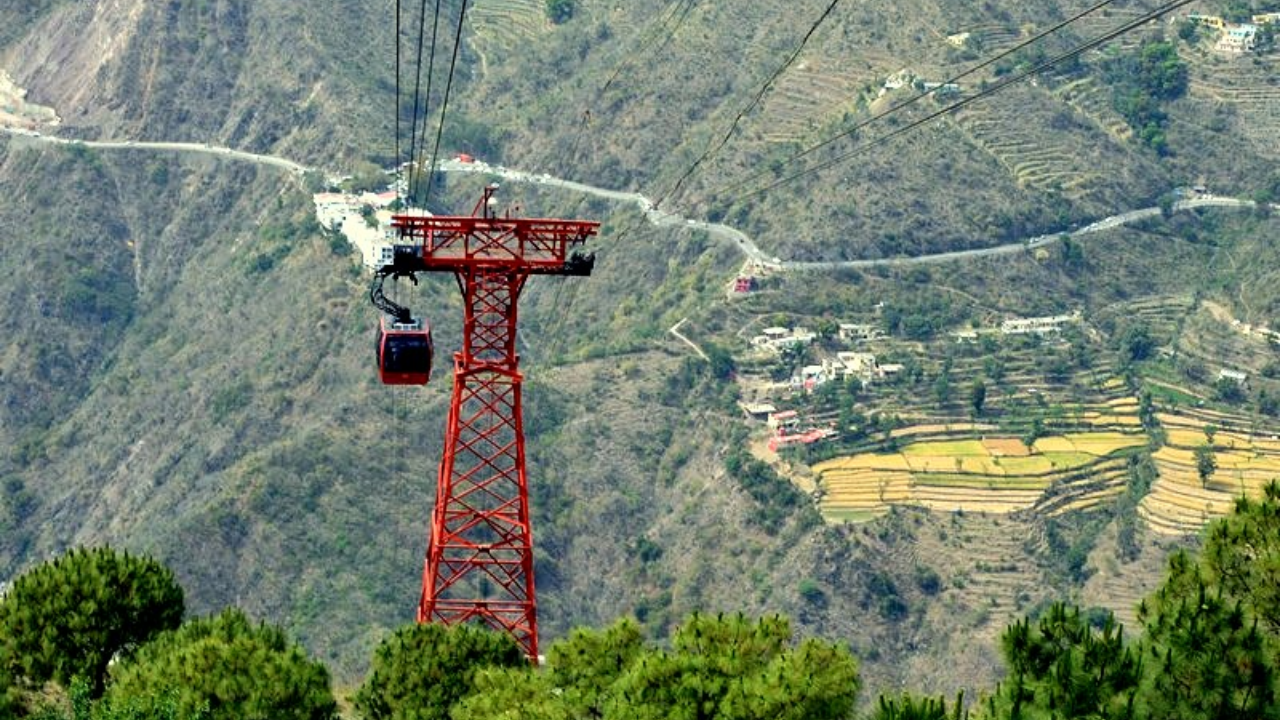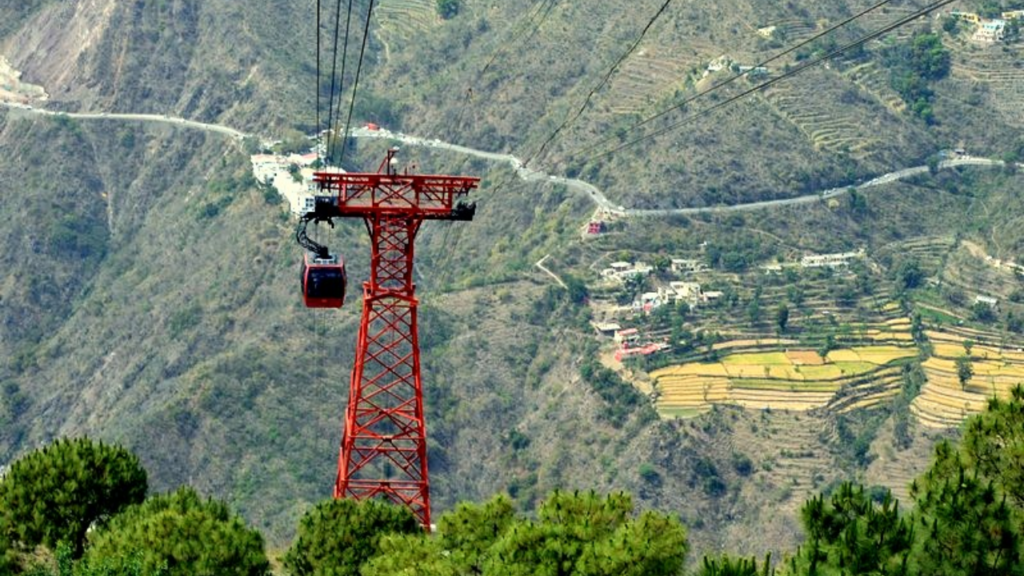 Location : Timber Trail, Parwanoo, Himachal Pradesh, 173220
Distance from Chandigarh : 36kms(Approx.)
Best season to visit: March to May and from October to November.
Means of Transport: Bus, Car, Two-wheeler
Get directions: Google Map
3. Manki Point
Manki point is the highest point in Kasauli, HP. Since it is situated in a defence area, a visitor pass is issued after verifying your ID. Electronic gadgets, bags, purses etc are prohibited to carry. So, you can deposit them there in a locker at entry for a fee. (Rs 10 each & Rs 30 each resp).
A climb of 10 minutes and then you are at the hill top where a Hanuman temple is located. A great place to spend some quality time with your family and friends.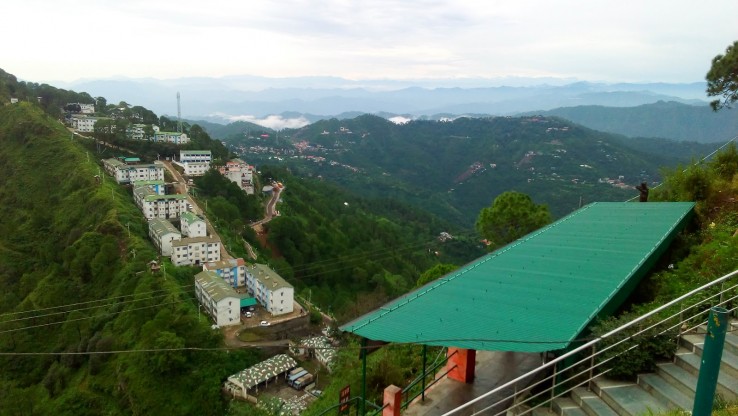 Additionally, there is a small restaurant serving hot and cold drinks, pakoras etc. Tables and chairs are provided there so that one can enjoy the food and just relax with ease and comfort. You'll experience very beautiful views provided the weather is good.
Just beware of monkeys in the way as they can attack food packets and even water bottles in your hand.
Location : VXHG+F47, Kasauli, Himachal Pradesh, 173204
Distance from Chandigarh : 60kms(Approx.)
Best season to visit: March to June, October
Means of Transport: Bus, Car
Get directions: Google Map
4. Sanawar Camp
Further, Sanawar Camp is one of the ideal picnic spots near Chandigarh. It's an eco-tourist camping site offering straightforward rental huts & a variety of outdoor activities. Away from pollution and traffic, in the lap of nature is this beautiful spacious place to enjoy.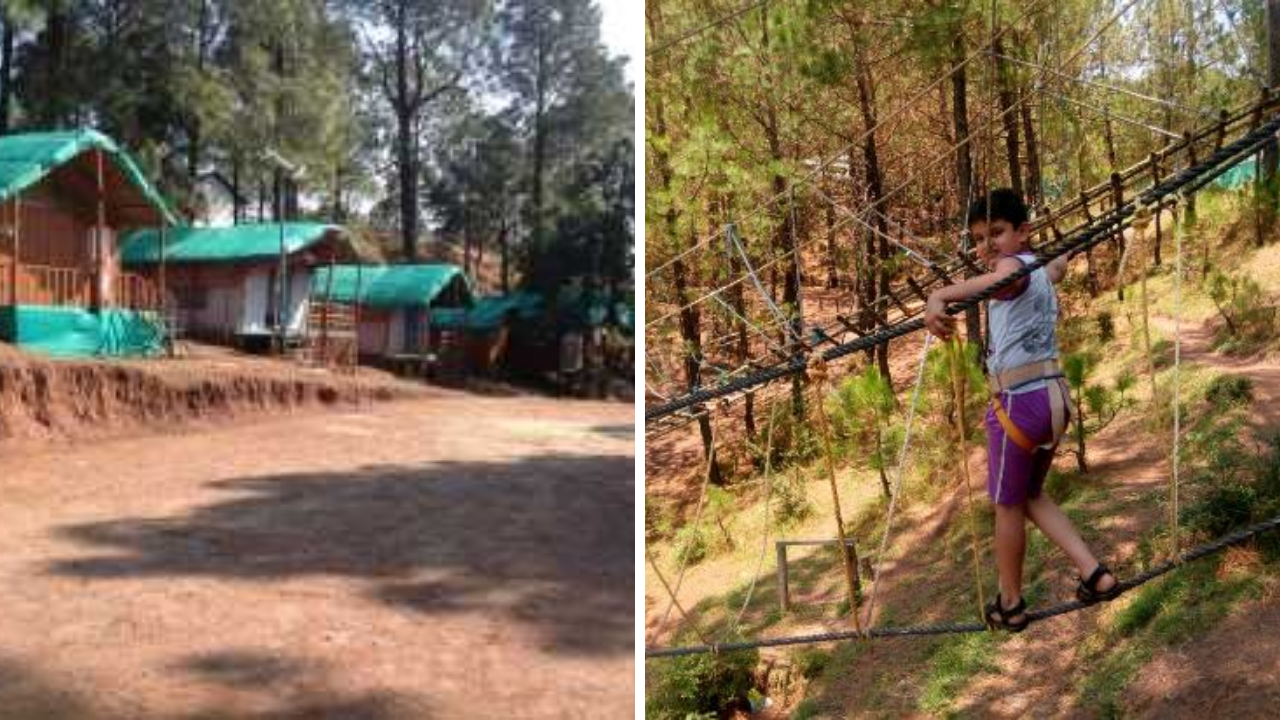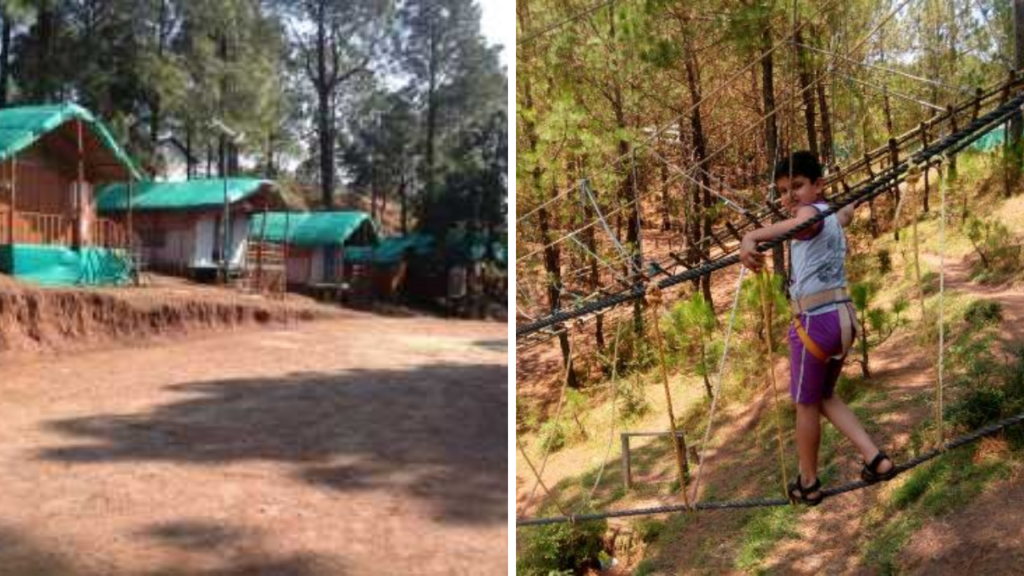 Moreover, they have wooden huts with spacious rooms, so you can even a night or 2 over there. For their guests entertainment, the camp is incorporated with 3 types of adventure sports activities. Take your family and buddies and experience this unlimited fun.
Location : Kasaul-Dharmapur Road, Sanawar, Solan, Kasauli, Himachal Pradesh,173202, Ph- 01792 261137
Distance from Chandigarh : 50kms(Approx.)
Best season to visit: Anytime, it's that amazing!
Means of Transport: Bus, Car
Get directions: Google Map
5. Sadhupul, Chail
A surreal experience in a location far from city's hustle-bustle, Sadhupul is a pretty little village based around the hill river Ashwin, between Chail and Solan. A small bridge atop the river is the highlight of the view which is also a popular picnic spot and is an important tourist site for the nearby towns.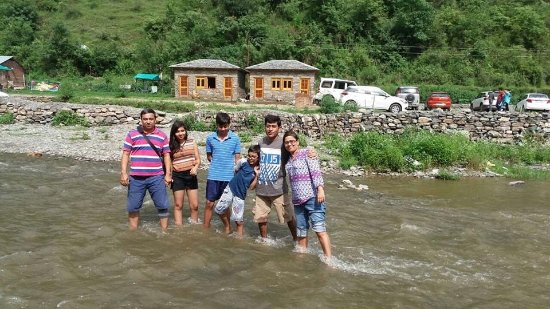 To have some respite from the Chandigarh weather in hot summers, you can visit this place by sitting amidst the river on the benches that are installed. In addition, visitors can enjoy local food from the vendors present at the spot. For the tech addicts, you could definitely consider taking some time off from your screens and head over this place.
Location: Sadhupul, Chail, Himachal Pradesh, 173202
Distance from Chandigarh : 95kms(Approx.)
Best season to visit: July-August
Means of Transport: Bus, Car
Get directions: Google Map
6. Barog
Barog is a small enchanting hill station located in Himachal Pradesh, located just about 57 km from Chandigarh. It is perfect for tourists looking for natural scenic beauty and an offbeat location for their entertainment. The station lies on UNESCO World Heritage Site Kalka–Shimla Railway. Popular for its Dolanji Bon Monastery, Suketi Fossil Park, Jatoli Temple, Pine Hill Eco Camp, and so on.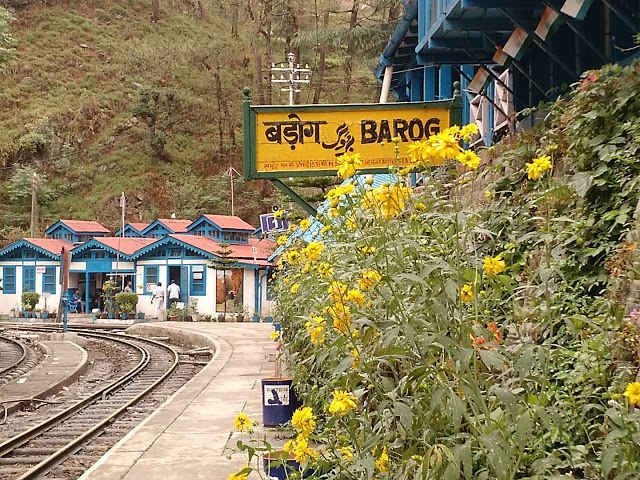 The weather remains quite pleasant during the summer and the winter welcomes the travelers with chills and snow. This is a good picnic spot where one can enjoy all the above mentioned places admist nature.
Location: Barog, Himachal Pradesh, 173211
Distance from Chandigarh : 57kms(Approx.)
Best season to visit: October-January
Means of Transport: Bus, Car
Get directions: Google Map
7. Pinjore Garden, Panchkula, Haryana
Last but not the least, Pinjore Gardens, also known as Yadavindra gardens is a beautiful Mughal Garden made in 17th Century India located in Pinjore city of Panchkula. The garden expands over a massive area of 100 acres and is a beautiful place to unwind with nature.
A very nice and a close to nature place.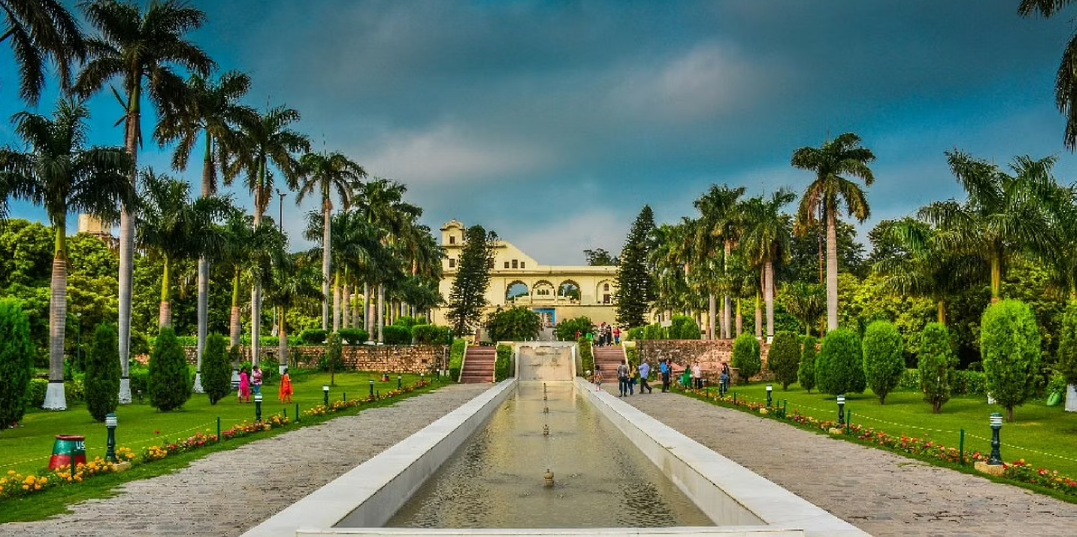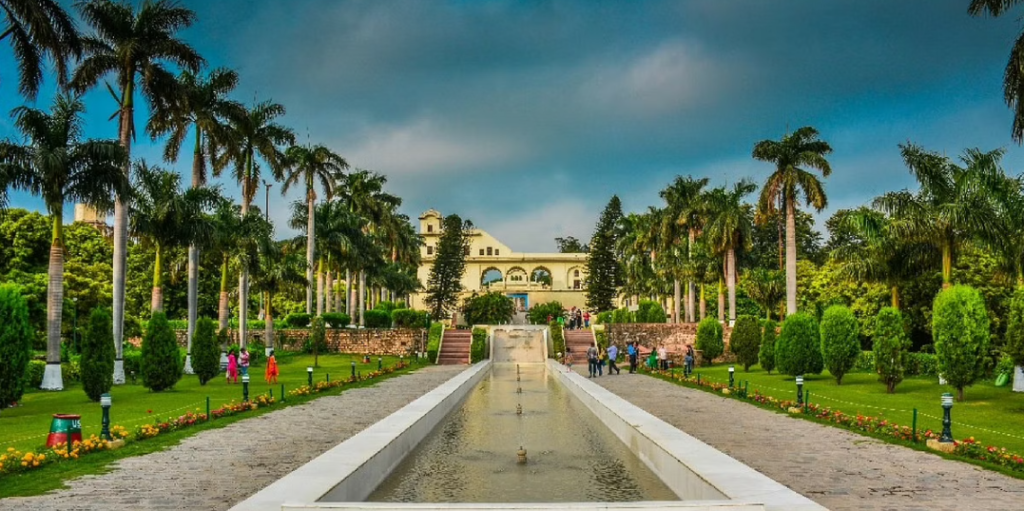 You can witness some animals and birds roaming in the surroundings of the garden. It's well maintained, great to hangout with family and friends. Highly recommended to halt for a rest too. If you don't want to carry your own eatables, don't you bother as this place has a canteen in which most of the food items are available.
Location: Ambala, Kalka – Shimla Rd, Pinjore, Haryana 134102, Ph-01733 231 877
Distance from Chandigarh : 22kms(Approx.)
Best season to visit: Feb – Apr, Aug – Nov
Means of Transport: Bus, Car, two-wheeler
Get directions: Google Map
Timings- 7:30am-9:00pm
Ticket Entry Fee: INR 20/person for adults, Free for children below the age of 3.
Last Words
To summarize, the best part about Chandigarh is that it provides you with all kinds of nearby picnic places to enjoy. A day or two of fun is imperative in order to keep yourself calm and organised throughout the weekend. Moreover, you should always figure out time to spend with your dear ones, and visiting these places with your family or friends will undoubtedly leave a lasting impression on your memory. So, wait no more!
Also, read:
For more information, follow us on ChandigarhBytes.