Indira Gandhi National Open University (IGNOU), one of the Mega-University in the World, and it provides distant education to those students who can not enroll themselves in regular courses. They are giving chances to those people who did not have the hope to study. This time IGNOU awarded a gold medal to the student who was sentenced life imprisonment.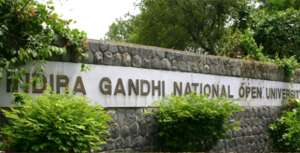 This was not the first time and last year they had awarded a gold medal to Ajit the prisoner from the same jail. These people are motivating others and this is making those students productive, who has committed crimes and serving life imprisonment.
IGNOU awarded a gold medal to a prisoner:
A 30- years old student, committed a murder due to a land dispute and then he has been sentenced to life imprisonment. He committed a big mistake of life but after this, he thought of making changes in it so he enrolled himself in diploma in tourism under IGNOU programme. He is in the Barrack No. B-4, Varanasi Central Jail and there he continued his studies and now he has completed his course by scoring highest 72% marks.
His Journey has not Competed Yet:
Suresh wanted to become lawyer and was very good in studies but his one mistake led him to the jail because he killed a person after a land dispute. He belongs to a small village Dobra Kala of District Ghazipur in Uttar Pradesh. But after the jail sentence, he did not lose the hope and continued his studies. His hard work made him graduated in arts and now he is Diploma holder in Tourism from IGNOU. He is not only interested in studies but also a good sportsperson. He loves to play cricket match and many time he scored centuries the league matches that held in jail. His journey is not completed yet and he has enrolled himself in Dairy Technology course.