The administration has taken news step and said no to Chandigarh Rock Garden Wedding Events. The famous tourist place rock garden that is created by Mr. Nek Chand is a sculpture garden. It built on the concept of how we can get best out of the waste because every sculpture in a garden built from the thrown away things. People love to visit here because of its uniqueness and also it is very soothing and peaceful place to visit.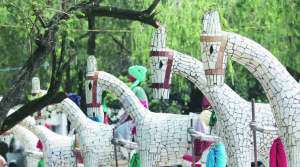 Recently, Administration inaugurated rag doll village in the rock garden to enhance its beauty and make it more attractive. The administration is taking news steps to make it more attractive and charming place and for this, they have imposed a ban on all Rock Garden Wedding Events. Here in Chandigarh, people find it a good place for organizing wedding events and this news surely will disappoint them but according to the UT Administration this step is taken to make it clean and beautiful.
Why No To Chandigarh Rock Garden Wedding:
This decision is taken because these wedding functions create lots of mess at that beautiful place and this is tarnishing its beauty. Tourists also face lots of problems because during these events people are not allowed to go there. The marriage function occurs at the third phase of the Garden and many people who come there to visit this garden many times get disappointed because they can not go to the third phase of the garden because of wedding functions.
Another problem is related to garbage after the wedding garbage or green waste was not being cleaned and this will not good for the garden. It gives really a very bad look to this beautiful place and this place does not deserve to be spoiled by such things.
Chandigarh Rock Garden Wedding Booking Cost
The booking cost for the wedding at Rock Garden is  70,000 and out of which Rs 10,000 is refundable. This amount people get after wedding function. These orders of no wedding at Rock Garden will not be applicable for those who had already booked the venue and for next two months these wedding program will happen there.
This will surely impact the revenue collection of Rock Garden Society because they were going to get lots of booking in Wedding season. But from now onwards there will be no new booking for the wedding events in the Rock Garden. This step is taken because Administration was getting lots of complaints regarding the effects of these events on the cleanliness of the garden and this is the reason they banned it.