Tricity's Music Concert is pumping with Daawat-E-Mushiq Season 2 to perform and entertain people. My FM promises to charm people in every way possible, they live up to their promise so they are out with Tricity's Music Concert – Daawat-E-Mushiq Season 2.
The music will travel all across the city knocking your doors to listen to their melodious voice through this Tricity's Music Concert. My FM never sits back to entertain people with fun and frolic, sometimes with FM reality shows "Paiso Ka Pedh" or  Jiyo Dil Se Awards to boost public confidence, Excellency Award for the Entrepreneurs in the city. They have come so long with this and they know the tack ticks to make people enjoy their shows.
Daawat-E-Mushiq will continue for a month at different places, it could be your office, your college, your society, your school, malls or anywhere to surprise you with the rocking music.
Daawat-E-Mushiq at Rayat Bahra University
The Music Concert Daawat-E-Mushiq initiated at the Rayat Bahra University where RJ Manav put his foot with New age band to rock the floor and gathered hundreds of students with their entertaining qualities.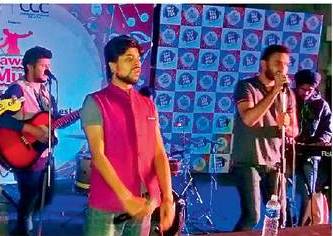 Daawat-E-Mushiq at Panchkula
Daawat-E-Mushiq reached JH Society in Sector 20 Panchkula to amaze people. RJ Manav performed with New Age Band. All the society members tapped their feet to enjoy.
Daawat-E-Mushiq at Mohali
After Sector 20, Daawat-E-Mushiq entered Paragon School in Mohali to make the students forget their stress and relish the music in their school itself. At the school, RJ Geet and Fazal Band performed musing teachers and students to shake their booty on the floor.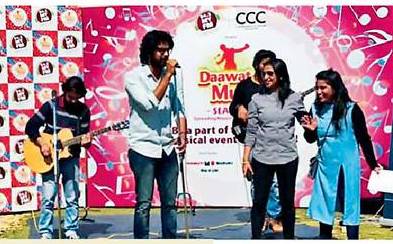 Daawat-E-Mushiq at Chandigarh
Daawat-E-Mushiq also presented in Sector 32 Market near the newly opened Sindhi Sweets. This is the most happening market in the city where the student crowd wanders. My FM targeted this market for all sorts of people to relish their music. RJ Jassi conducted the show with New Age Band and served "Suroo Ke Pakwaan Sangeet Ki Daawat Mein".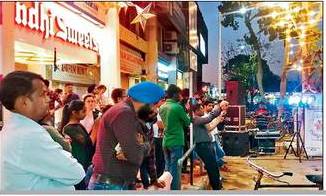 If you are interested in participating in this Tricity's Music Concert SMS "DEM" at 9988646943.