You probably think of visiting Srinagar every year but somehow couldn't go or may be you are a procrastinator. Life is too short to miss witnessing such enchanting beauty with incredible landscapes. Known to be existing in Jammu and Kashmir, named as "Heaven on Earth". A land of mesmerizing lakes and gardens, houseboats, warm people and what not. So, migrate for a while from Chandigarh's vibe, parties, geris and instead of having fun at Sukhna Lake, enjoy at Dal Lake. Engulf yourself in local culture by embracing your sea legs and renting one of the wooden boats called shikaras for a daytime. Plan your travel for this unforgettable experience and land onto the most prettiest part of North India. To know everything about Chandigarh to Srinagar flights, just keep scrolling.
Total Number of Chandigarh to Srinagar Flights
There are numerous flights that operate on daily basis from Chandigarh to Srinagar. Some of them are non-stop while some include one stop.
Total number of flights operating from Chandigarh Airport– 19 flights/week.

NOTE : The flight timings depends upon which flight you book. And the airfare generally depends upon how early or late a passenger is booking the flight ticket.
Chandigarh To Srinagar Flights : Mandatory Check-In & Boarding Rules
For Domestic Travels
Check-in counters closes 60 minutes prior to scheduled departure time.
Boarding gates close 25 minutes prior to departure at all airports.
Passengers must be present at the boarding gate no later than the time specified by their airlines when they check in or any subsequent announcements made at the airport.
It is mandatory for all passengers to do their web check-in 48 hours and 60 min before flight departure.
For International Travels
Check-in counters closes 75 minutes prior to scheduled departure.
Boarding gates close 25 minutes to departure at all airports.
Passengers must be present at the boarding gate no later than the time specified by the airlines when they check in or any subsequent announcements made at the airport.
We recommend that passengers report for Check-in at least 3 hours prior to the departure of the scheduled flight.
Passenger journey will be smoother if they allow themselves ample time to comply with the Check-in timelines.
IMPORTANT NOTE: COVID RELATED
Due to Covid-19 scenario, all the flights might not be serviceable. They might be temporarily or permanently suspended. Plus, several flights also get delayed due to snow or dense fog. Most importantly, every person needs to carry their fully vaccinated certificates in order to travel.
Chandigarh Airport IXC (Shaheed Bhagat Singh International Airport) Address
New Civil Air Terminal, Jhiurheri, District: SAS Nagar, Punjab, India. 160004
Telephone: +91 172 2659886
Fax: +91 172 2659887
E-mail: apdchd@aai.aero
Srinagar Airport SXR (Sheikh ul-Alam International Airport) Address
Indragandhi Road, Humhama, Badgam,
Jammu and Kashmir 190007
Telephone: +91 0194 230 3311
E-mail: apd_visr@aai.aero
About Chandigarh
Known for cleanliness and greenery, Chandigarh, also known as the "City Beautiful", is a well-organized city in India, designed by the world famous French Architect, Le Corbusier. People living here lead a healthy lifestyle having quality of life, which is unparalleled. It is a wonderful and clean green city. A Union territory in India, and the joint capital of Punjab and Haryana was Pt. Pt. Jawaharlal Nehru's dream city. Known for its incredibly unique garden Rock Garden, the city is the epitome of modernization as well as nature preservation. As the capital of the states of Punjab and Haryana, and the Union Territory of Chandigarh it is a prestigious city.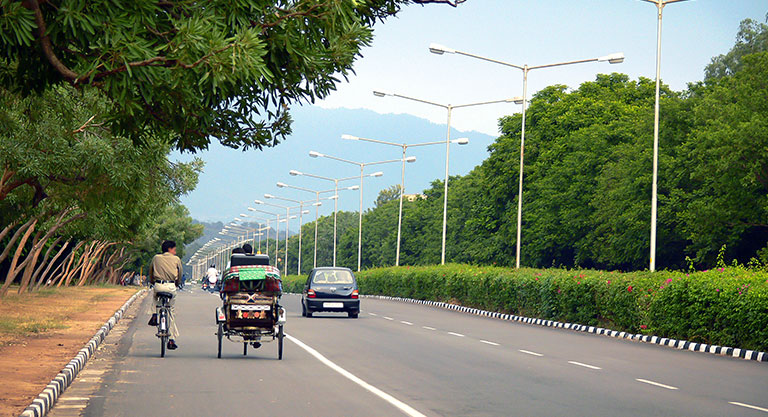 Chandigarh is a rare epitome of modernization co-existing with nature's preservation. It is here that the trees and plants are as much a part of the construction plans as the buildings and the roads.
About Srinagar
Srinagar is located in the union territory of Jammu & Kashmir, on the banks of river Jhelum. It is known for the stationary houseboats and gondola-type rowboats- Shikararas on Dal Lake. The tourists use Shikaras to see attractions like the Floating Vegetable Market and the Mir Bahris – a lively community of people who live on the lake itself. There are a lot of houseboats that provide a beautiful and unique stay experience on the lake.
Srinagar is home to some of India's most exquisite Mughal-age gardens, with the top attractions being Nishat Bagh, Shalimar Bagh and Chashm-E-Shahi Garden.
Last Words
In conclusion, there are multiple flights functional on daily basis from Chandigarh to Srinagar. Ranging from non-stop, with one stop, refundable ones and so on. Necessary information about the check-in and boarding timings are also included. Additionally, total number of flights operating per week and airlines that operate them are also mentioned.
An additional, if you are planning a trip from Chandigarh to different cities of India, know all the details regarding Chandigarh Flights.
As well, incase you are wanting to explore beaches, then this might be helpful for you. Please check, Chandigarh to Goa Flights.
For more information and updates, do follow us on ChandigarhBytes.