Whether you are packing your stuff for the first time or for a hundredth time, packing for a holiday is always difficult and confusing. To learn efficient packing for vacation Travel Packing Checklist is a must. Even the best-planned vacation can be dashed off if you forget your small utilities or some important documents. Unfortunately, the things that you use daily are the things most of you forget and are left out of your suitcase but do not fear we are ready with a handy list to ensure that you never forget such things.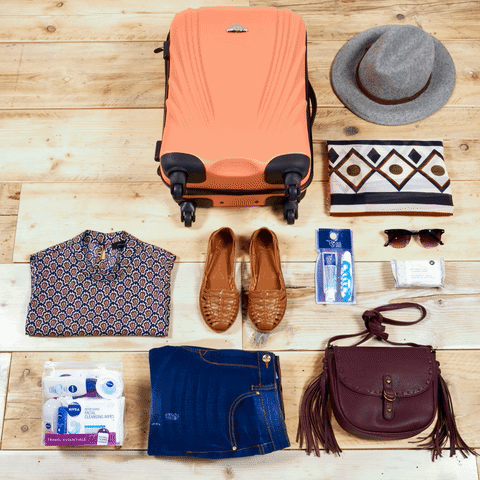 Entire Travel Packing Checklist at your service
 Contact lenses/glasses, if necessary (consider packing extra pairs too)

 Slippers

 Sunglasses
 Equipment
 Alarm clock

 Batteries for small electronics and cameras

 Camera

 Chargers for your cell phone, camera, video camera, and laptop

 Hair dryer

 iPod and iPod dock

 Tripod

 Video camera

Hair Straightener or Curler (for Girls)
 Body lotion

 Comb and brush

 Contact lens solution (if needed)

 Deodorant

 Face cleanser

 First aid kit

 Floss

 Insect repellent

 Lip balm (choose one with SPF 15)

 Makeup

 Personal hygiene items

 Prescriptions

 Razors

 Shampoo and conditioner

 Shaving gel(for Men)

 Sunscreen

 Toothbrush

 Toothpaste

 Travel-sized detergent
 Addresses of friends and family for postcards

 Healthy snacks, such as chewy granola bars, dried fruit, mini bagels, nuts, and pretzels

 Cash, ATM cards, and traveler's checks

 Maps and directions, if driving (try randmcnally.com for maps, directions, and traffic information)

 Photograph of luggage contents in case of loss

 Printouts of reservations

 Sealable plastic bags for stowing small liquid containers

 Travel journal

 Travel pillow and blanket

Take a printout of this checklist and make your travelling as great as possible. It looks like a huge list well!! it is. So at first pack everything and in the first week of your trip to get rid of all the unwanted things by donating them out to a needy person. Hope we helping you out to provide Travel Packing Checklist.