Nothing can stop you to achieve your goals or you can accomplish anything if you are courageous and take risks. We always blame others for our failures but if you are a real fighter then you will be able to get your goals in any condition. Visually impaired students Institute For Blinds from Chandigarh has proven this that they can do anything. They have got very good marks in Class X exams.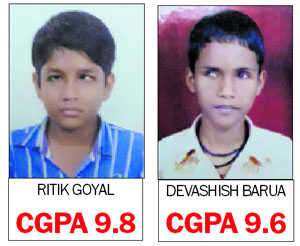 About The Students Of Institute For Blinds:
Students of the Institute for Blind in Sector 26 has proven that they can find their way without eyes. There are 12 visually impaired students in this institute and all the students have passed with good grades. The institute's topper Ritik Goyal scored CGPA 9.8 and Devashish Barua, a resident of Ram Darbar, Phase-I, who scored CGPA 9.6. The third position in the institute was bagged by three students, including Saurav, Muskan, and Suman. They all scored CGPA 8.8. Among the other students who passed Class X includes Rizwan (CGPA 8.2), Sunil Kumar (CGPA 8), Zavi Singh (CGPA 7.6), Nisha (CGPA 7.6), Manoj Kumar (CGPA 7.6), Varun and Sahil (CGPA 6.6).
Challenges A Visually Impaired Student Faces:
The topper of Institute Ritik Goyal wants to clear UPSC exams and his mother who is also visually impaired is very happy with his dedication. According to these students, their consistent studies are their mantra to success and they also said that they face lots of challenges but they love to study so they can face these challenges. Devashish said "Converting notes into Braille and then studying them is not an easy task. According to these students, they are doing well because of the motivation from teachers and support from the parents. The entire team of the Institute wants to provide every facility to these students that can make them able to get their goals. These students can not see the world but their eyes are filled with dreams that they want to fulfill. We wish them all the best for their future.