The story of Baljinder Kaur, the single mother will inspire all women, who lost all their hopes to live their life because of problems of different kinds in their life. She is the first woman Autorickshaw driver in Mohali.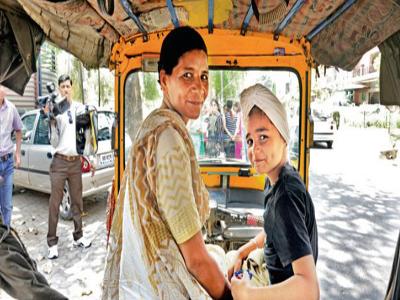 She has faced lots of problems in her life but she has never given place to negativity in her life. She has believed on her strength and now earning money with her hard work.
Baljinder Kaur who overcame gender stereotyping to drive Auto rickshaw
Life has different shades and different plans for everyone. Baljinder Kaur from Mohali did lots of struggles in her life but she never gave up. Her struggles started when she had to separate from her husband after few years of her marriage and at that time she was the mother of 4 months little boy. She overcame gender stereotyping to drive Auto rickshaw and became first Auto rickshaw driver in Mohali
Journey Of First Woman Autorickshaw Driver
Baljinder Kaur after separating from her husband went to her parent's house and to earn something she started stitching clothes because there was no one to help her. Her brother had died and father who was disabled, so there was no one from where she could seek help. But she never lost hopes and never wanted sympathy from anyone. She gathered her courage and pick up her brother's autorickshaw and became the first woman autorickshaw driver of Mohali. She never regrets but tries to improve her life by hard work. She is happy with her work and making good amount out of it. Now she is determined and wants to make her son a police officer. Nothing is impossible if you have the courage to remove all hurdles that are coming to your path.