On 16 May a fire broke out at Shaheed Udham Singh Nagar in the Industrial Area destroyed everything there and in this incident, three persons, including a woman, sustained burn injuries and 15 hutments were destroyed in a fire. Many people get injuries and some got injured while they were saving their belongings.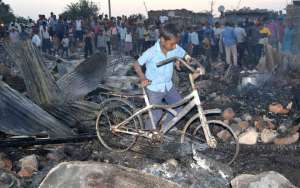 The Mohali Fire victims had identified as Varinder Prasad (40), Shradha Devi (35) and Rajesh Kumar (25). The injured person had shifted to the Civil Hospital at Phase VI here. The incident occurred around 6.20 pm. The fire spread immediately and engulfed 15 hutments. 
Mohali Fire Victims Are Still Struggling: 
After the fire incident, victims have to face many problems like they do not have food and no roof over their head. All the families are worried because ration given by kind-hearted residents of Mohali is also about to finish. They want to build a room for their families as soon as possible that's the reason some of them have gone back to work. They showed their sadness and said that the Red Cross Society had given them food for only one day. Some Gurdwaras and city residents helped them with the ration. However, arrangements for water were made by the Municipal Corporation.
Guddu, who works as a welder, said that small daughters and his wife, Sangeeta Devi, had suffered burn injuries in the fire. This is the reason he is unable to go to the work. He needs a shelter for his family but there is no one from where he can seek any help. He also said that his saved money is burnt in the fire. Kesari Devi, who hails from Bihar, said some of her relatives provided financial help for the wedding of her daughter. Now she had borrowed Rs 10,000 from her employer for the construction of a room. She said local MLA Balbir Singh Sidhu had distributed clothes among the affected persons. The victim, Kavita Devi, said at present, most of them were using tarpaulins as shelter, but windy weather created big problems. She was trying to borrow money to get a room constructed.
Government Negligence:
These affected people can not go to the shelter homes because there working sites are very much far from the shelter homes and their bicycles have burnt in the fire. Victims of Shaheed Udham Singh Nagar fire incident are still engaged in a bitter struggle to regain their feet with the district administration had almost forgotten about their plight. The government authorities, too, are still in a state of slumber over clearing financial aid for the indigent families despite an official report on the incident having been sent to it. Nearly 20 families had lost almost everything in the fire that broke out and waiting for the government help but all is in vain. There is no roof on their head and no food. All families are worried that how they will survive if they would not get any help.