Man Kaur a "miracle from Chandigarh" name given to her by New Zealand media, again she showed never give up fighting spirit and also showed that we can do anything at any age. She again makes India proud by winning her 17th gold medal in world masters games in Auckland on Monday. She celebrated her victory with a cheerful dance as 101-year-old Man Kaur won 100 meters sprint in one minute 14 seconds on Monday.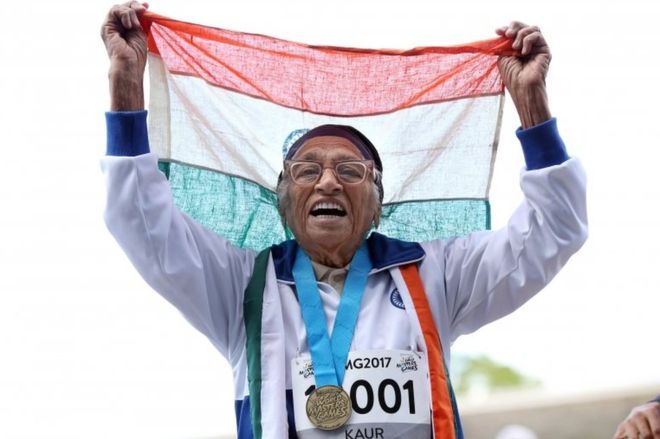 How her late-blooming career started:
According to the "Miracle from Chandigarh" Man Kaur, she did not have any prior experience in the sports but her son Gurdev Singh motivated her and told her about athletics and then she joined him in competing on the international Masters games circuit. After this her journey started with all type of medical checkup and passing this barrier mother and son has taken part in many masters athletics meets around the globe. After winning her 17th gold medal she said that she will never give up and there is no full stop word in her dictionary, she is full of positive spirit and thrives on more.
What is next:
Man Kaur already has won 17 medals but according to her, this journey will still go on without any full stop. Now she is planning to compete in the other things to take her tally to 20.
200m sprint,
Two-kilogram shot put and
400-gram javelin in Auckland
Man Kaur was very much happy after winning her medal and according to her participation matters a lot above winning. Man Kaur is an example for all people who don't have the courage to take one step toward their dream because they have fear of losing. Don't fear, life is small so only cheer and gear up towards your dreams.