Momos: A steamed Dimsum with a juicy & tasty flavoring inside paired with finger-licking Chutneys. Originated and evolved in countries like Tibet, Nepal, and China; Momos today had taken an Indian Avatar. All the three names Momo, Dumpling, or Dimsum are just the same names to us Indians.
A quick question for you… 
How many momos spots you know in town?
Probably 20 or more. It's because the love for momo is ubiquitous. Like, who doesn't' love momos right? Even the friends who say I don't love momo still eats more than half of Dimsum from your plate. 
The unimaginable & delightful flavor has taken over millions of hearts and ruled their stomach. This savory dish has become a passion for food enthusiastic across north India in no time. In fact today one cannot cross a street without spotting at least one 'Momo Vala Bhaiya' selling this delicious delicacy. 
But, here we are not questioning the love or the availability of your momo, instead of the nutritional chart of your momo, the health benefits, and the safety status of your favorite snack!!
Why? Obviously because of…
the whole pandemic drama we just finally started to get over with! And,

To opt for healthier and tasty eating habits so we don't become couch potatoes in our 40s
Let's know our Momos/Dumpling/Dimsum a little more!
Dumplings are of two types: fried and steamed.
View this post on Instagram
We think that momo can be healthy, particularly if they are not fried. But that's not entirely true! The maida we consume is known to raise bad cholesterol which raises our blood pressure in the body. This increased blood sugar level and then dropping it down is no different than a dangerous roller coaster ride for your body. Also, maida is often bleached with chemicals like chlorine gas, benzoyl peroxide, and other bleaches. All this sounds scary, right?
The real dilemma is for those momo lovers who can't resist the cravings and are also health-conscious. Don't worry! We got a solution for you! 
All you need to do is grab your keys and drive to the nearest DIMSUM BOX outlet. Here's Why?
View this post on Instagram
They have only Wheat momos aka Atta Momos

which are a perfect alternative to strike a balance between health! Whole wheat flour is rich in dietary fiber and protein, while Maida (Refined flour) isn't much though! both of these macro-nutrients are essential nutrients that are required for a healthy body. 

Old Players: They are home to our beloved Dumplings introduced by the dumpling hood! (Yes, you heard it right! The revamped version of the Dumpling Hood is now called DIMSUM BOX!)
No maida at all. For the modern millennial who is a party and diet freak at the same time, they use all-purpose flour (Atta) for all their Dimsum preparations. 
Crafted with expertise: They have been doing this for 8+ years. So, they know their craft perfectly!
Say No to Deep Fried, and yeah to Pan Tossed. They don't serve Fried Momos. Instead, They serve Pan tossed dim sum to satisfy your cravings for street style fried momos.
This dim sum recipe has no fat

except some oil that is used for greasing the pan. So overall a no fat healthy dim sum recipe.
What's on the Platter?
View this post on Instagram
Almost 48 varieties of the 1 mm DIMSUM including Steamed, Pan tossed, and cheese DIMSUM along with an extensive side menu of Noodles, sandwich, and pasta, along with some of the best & juiciest refreshing drinks. 
Most of the street style momos or dumplings either contain chicken pieces in non-veg offerings, or contain cabbage, carrots, and onion in veg offerings. 
Here you can have veggies, spinach, mushroom, broccoli, paneer, chicken, mutton, and more. You name it, they have it! Ain't this awesome! right?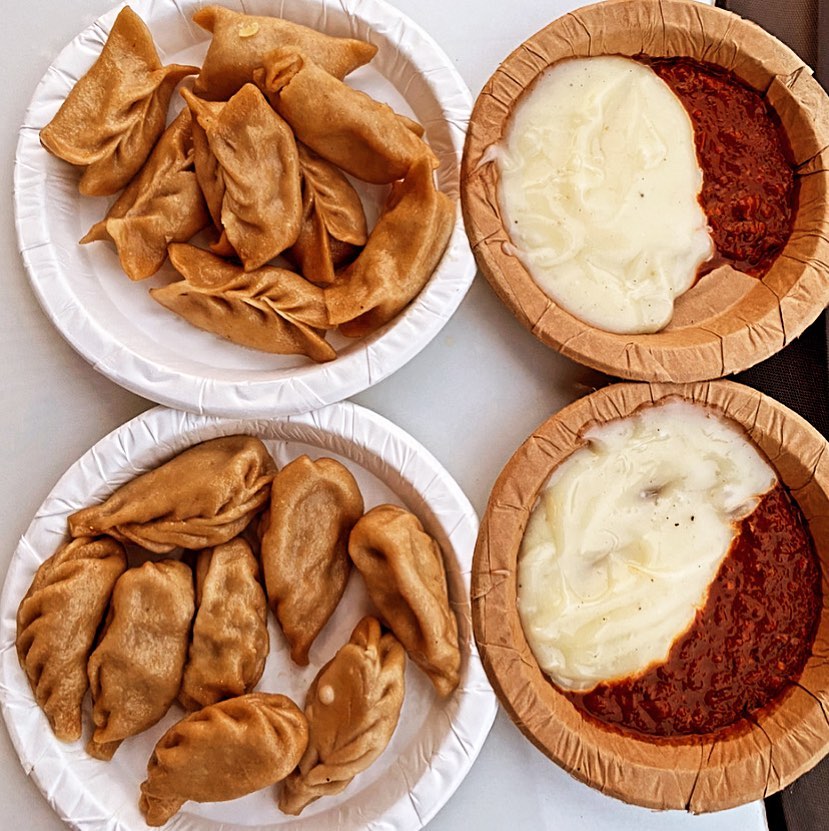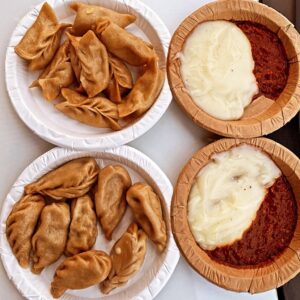 Ab intezaaar kis baat ka? Visit Sector 9, Chandigarh, or any of the nearest outlets today to fill up your stomach with this healthy and cheap Dimsum! We hope you see them every day 🙂
For more Tricity related Cool and Crazy Food hotspots, stay tuned to @ChandigarhBytes