Haryana is facing protest because of the issue of Sutlej-Yamuna Link (SYL) canal. Indian National Lok Dal began this protest today by blocking roads, including in Ambala and Sirsa districts, disrupting the movement of vehicles entering Haryana from Punjab. Activists are gathering on the Ambala-Delhi National Highway. This protest is led by senior leaders of Indian National Lok Dal and they all are gathering to Ambala and Sirsa districts which lie close to the state's border with Punjab. According to officials, traffic diversions have been affected at various points in view of the protest.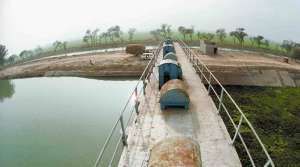 Protesters are protesting by placing tires, some of them come with their own vehicles and also parked them on the roads and some are with their tractors and this is causing inconvenience to many commuters. They are not allowing Punjab buses to enter Haryana. Punjab's Pepsu Road Transport Corporation and Punjab Roadway has decided that they will not ply its Haryana and Delhi-bound buses. The Indian National Lok Dal is holding a protest at many points from 9 am to 3 pm, including in Lalru-Chandigarh Road, Ambala-Shambhu border, Narwana-Dhanauri, Ratia-Budlahada road (Jakhal point) in Fatehabad district and Dabwali on Haryana-Punjab border.
According to the protesters, they will protest in a peaceful way and they do not feel anything against Punjab. But they only want their share of water and that is the reason they are protesting in various places. They also said that they are waiting for their shares from last 50 years. But according to the Punjab, they do not have enough water to share with Haryana. Currently, protesters said they are giving flowers to people but they want immediate announcement on getting the SYL canal constructed from the center or state Government and warned that the "situation in the state may turn bad" if they fail to do so.