Are you bored of celebrating Holi being at home and wondering if you could just move out with your family and friends? Well, don't you worry on that! We've got your back as you are in Chandigarh, my friend. Blooming flowers, bright sunshine, and pleasant weather conditions make this season the perfect time to colour the atmosphere with fun filled Holi colours. There are so many places in the "City Beautiful" that celebrate Holi in a way you never thought existed. So, it is time to plan ahead for the best of Holi parties in Chandigarh.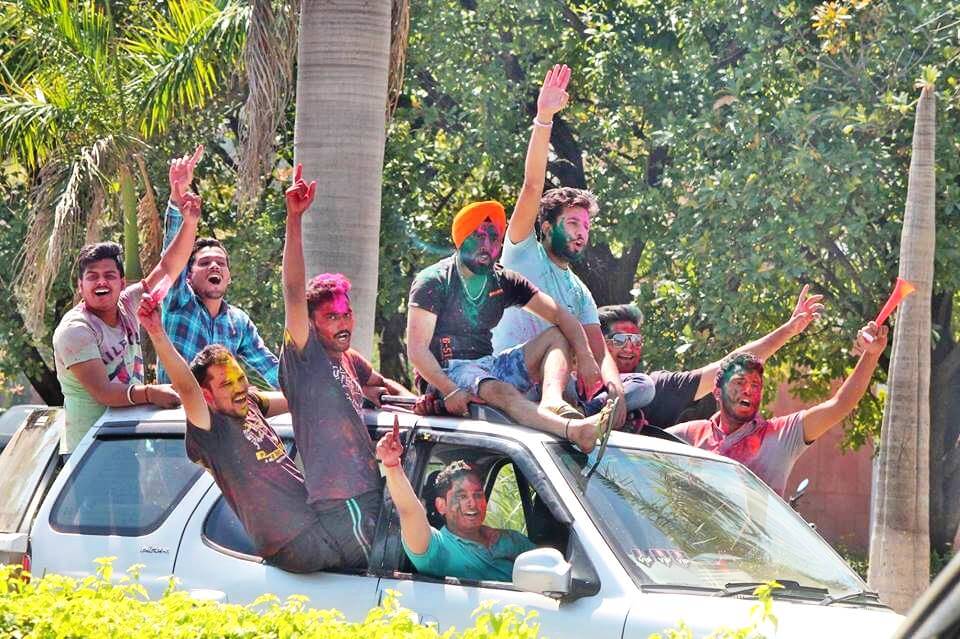 From traditional Holi celebrations to modern ways of getting in the celebratory mood, Holi is celebrated with style in India. We bring you 6 places you must visit for a completely unforgettable Holi experience.
Holi Parties in Chandigarh
The festival of colours offers plenty of options for the Chandigarhians to enjoy a dance party, a special meal, some delicious thandai, a karaoke session, and so much more. In fact, there are so many venues in the Tricity including your relative/friend's house party that it can be a bit overwhelming to decide where to go for Holi celebrations. Worry not, though! We have compiled a list of best places to attend Holi parties in Delhi/NCR to make your work easier. Read ahead. Providing you with the list of Holi Party Places in Chandigarh to make your day a special one. Bang Bang, exciting to celebrate Holi!!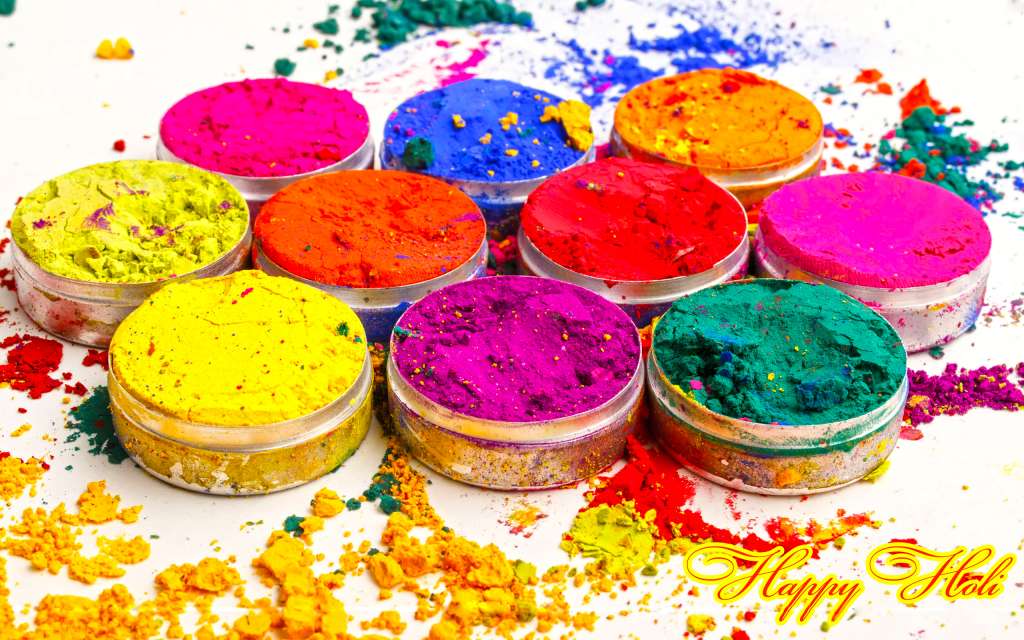 1. HoliRox, Red Radisson Mohali
To begin with, one of the best and grooving Holi parties in Chandigarh is going to be Red Radisson Hotel. Celebrate this festival with famous Punabi singer Mankirt Aulakh at Hotel Radisson Red. Besides, enjoy Live Music and Live Dj Performance by Tri City's best Dj R Nation, Dj V Sky, Dj Avox. Also, your favorite food and drinks, rain dance setup, kids zone are available. Be the part of the most colorful party of the year!
Address: Plot No 1, Phase, 9, Industrial Area, Sec 66, Mohali, 160062
Timings : 10 am onwards
Ticket Price : 1,399/- onwards
Contact No. : 0172 412 1111
Get directions
Grab your passes now!
2. Holi Crazy Fest, Forest Hill Resort Chandigarh
This Holi, be ready bring the festival of Holi in the most amazing way by witnessing an absolutely unforgettable musical performance by the Queen of rap Raja Kumari. Along with this, the super melodious Gurnazar Chattha at the Holi Crazy Fest happening at the super-premium & serene Forest Hill Resort.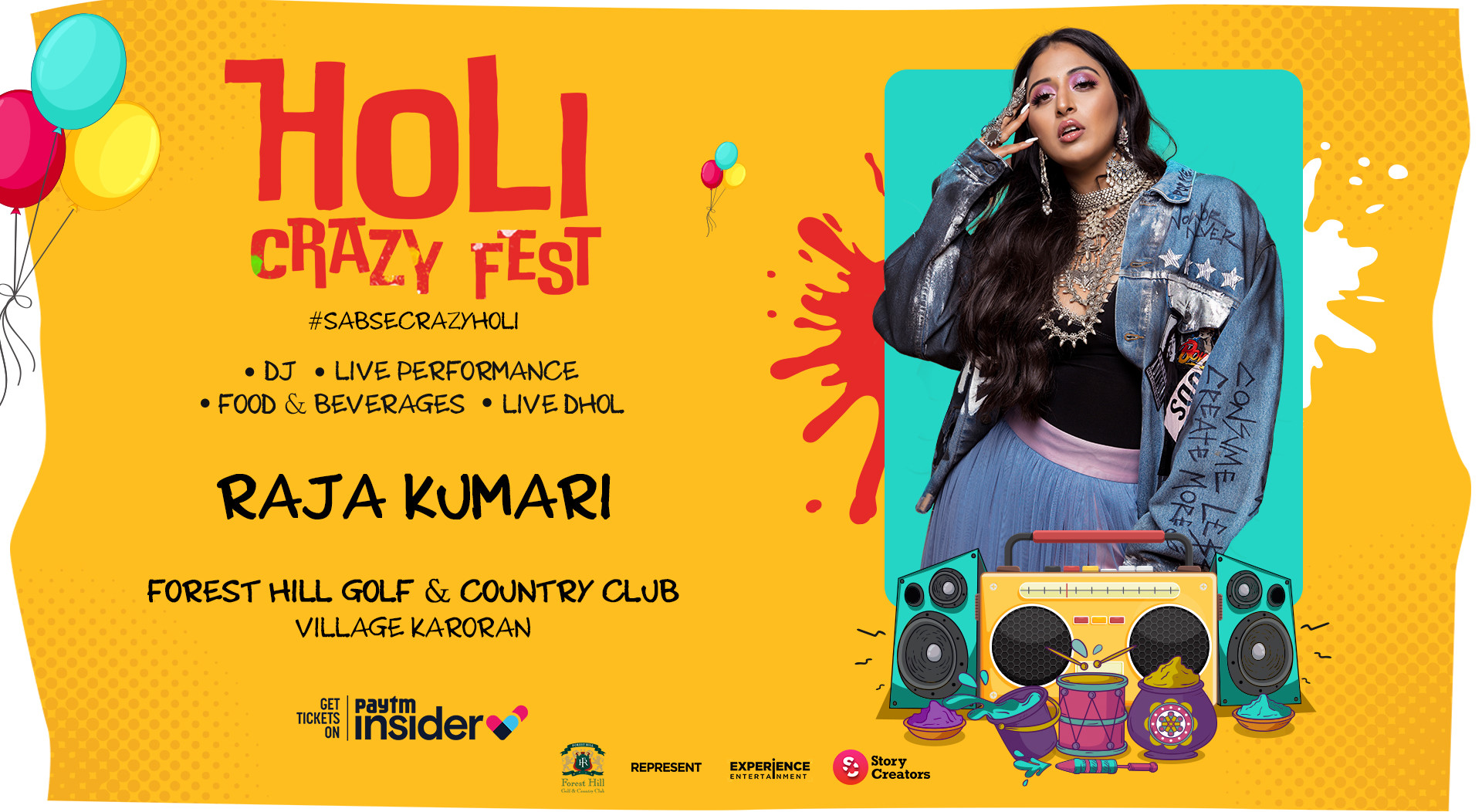 Other major attraction points include live performances by celebrity artists, dj, live dhol, food & drinks, separate area for Kids and many more crazy things.
Address: Village Karoran, Near Punjab Engineering College, Mohali, 160103
Timings : 10 am onwards
Ticket Price : 699/- onwards
Contact No. : 0172 523 1111
Get directions
So, grab your tickets right away & don't miss this most colorful Holi Party of the city!
3. Rang Barsey, Coco Cafe and Lounge Panchkula
This Holi bash that many people in Tricity is something you can look forward to this year.Holi is the utmost delightful festival of the year. Let us celebrate it with DJ Serena, DJ Simran, DJ Vik and DJ Antic. Enjoy all the fun-filled events at this colourful gala. This place could be your dream for Holi. So, don't wait and just grab your tickets to create vibrant, musical and lovely memories of Holi Celebrations.
And don't forget to sing on tap your feet on "Rang Barsey bheege chunar vali Rang barse"!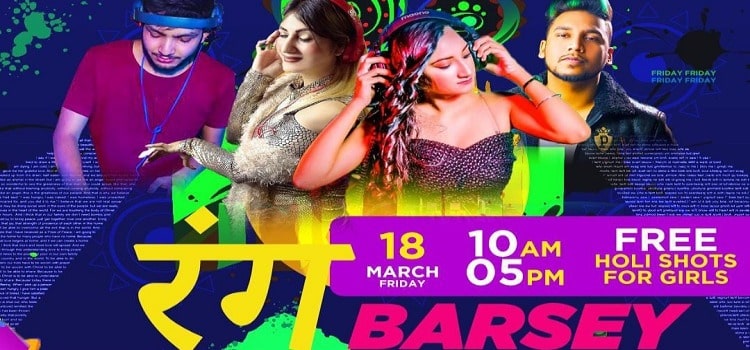 Address: SCO 53, Sector 11, (Backside McDonalds, Haryana 134109
Timings : 10 am onwards
Ticket Price : 1000/- onwards
Contact No. : 098882 22821, 098882 22871
Get directions
Related: Holi dishes
4. Sunburn Holi, Piccadilia, The theater Cafe Chandigarh
Imagine the magnitude of a Holi party hosted by none other than Sunburn! And that too happening in your own city, there's no need to go far. Imagine you telling your friends about you showing your presence at this festival and they'll be like "Wooooww" !! Moreover, it will have all the elements to make the festival a memorable affair. There will be a large stage setup, music, water activities and some super crazy stuff. Highlight of the event is a very popular Russian Dj Julia Bliss. In addition, Dj Faq, Armero and Lazex will be there to make it more crazy.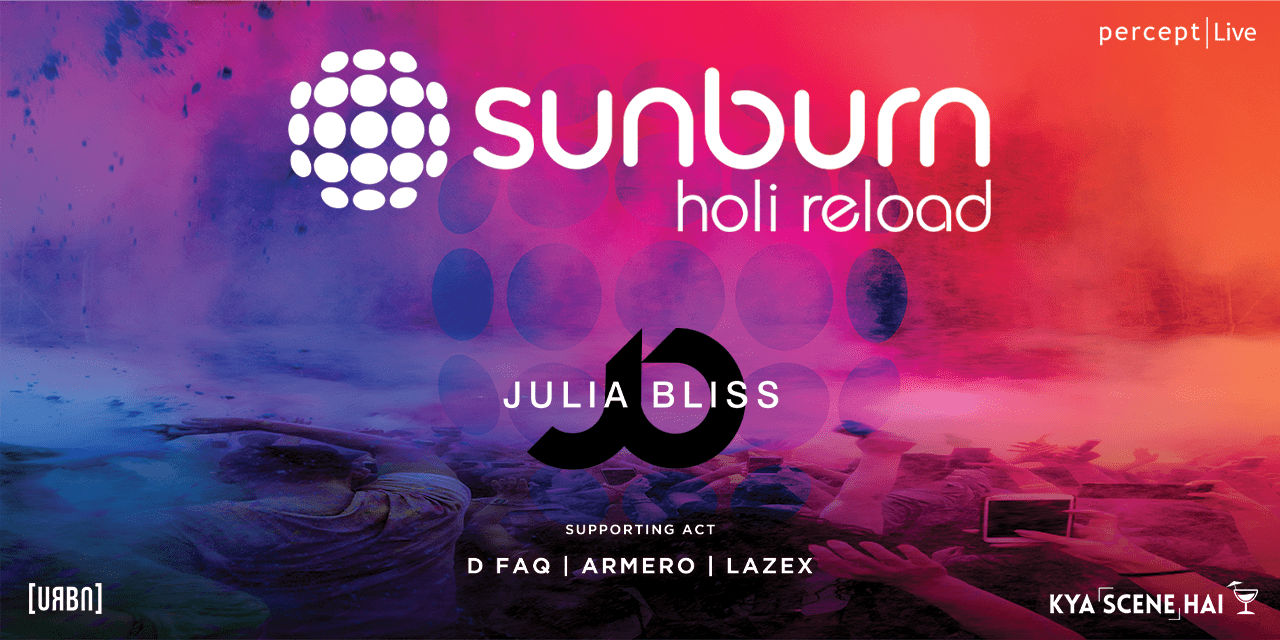 Come together with your friends, family to toast your Holi Celebrations here.
Address: The Palm, Manohar Infrastructure & Constructions Pvt. Ltd Mullanpur Garibdas, Sector 3, New Chandigarh, Punjab 140901
Timings : 10 am onwards
Ticket Price : 1249/- onwards
Contact No. : 8699199828, 6392614650, 9041658545
Get directions
5. Holi Pool Party 2.0, Holiday Inn Zirakpur
Undoubtedly, this will be among the most happening Holi parties in Chandigarh. They are arranging one amazing pool party on Holi in Chandigarh. Dance by the poolside as the DJs will play some Crazy Dance Numbers. Along with the electronic stage, smoke guns, unlimited colors, rain dance, delicious food, water guns, electronic fireworks, the Holi celebration at the stadium is the biggest Holi bash. What more do you want? this is a full-on party mode feel.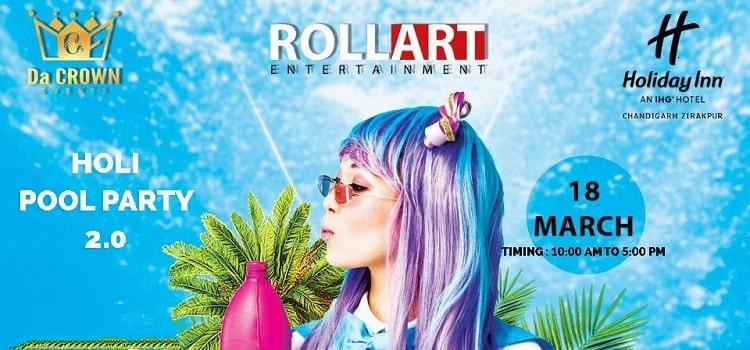 Address: Raksha Business Centre, Ambala Chandigarh Expy, Zirakpur, Punjab 140603
Timings : 10am-5pm
Ticket Price : Male stag entry- 2000/, Female stag entry- 600/, Couple entry- 1500/-
Contact No. : 01762 470 000
Get directions
6. Lets Play Holi, JW Marriot Chandigarh
JW Marriot is going to host another, one of the exceptional Holi parties in Chandigarh. Be there with your gang if you want to celebrate Holi like never before! Everything would be truly magical and enticing. From rocking music to the over enthusiastic crowd, from cheers in the air to the food in the menu – nothing is going to be less than fabulous in this party.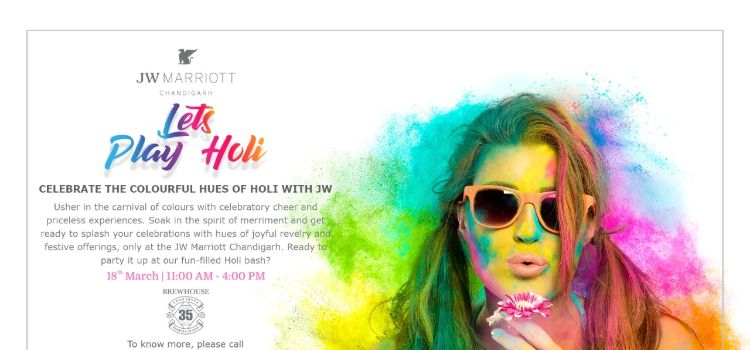 Address: Plot No: 6, Dakshin Marg, 35B, Sector 35, Chandigarh, 160035
Timings : 11 am onwards
Ticket Price : Stag entry- 3000/, Couple entry- 6000/-, Kids entry( Below 5-12 year)- 1500/
Contact No. : 0172 455 5555
Get directions
7. Holi Fest, Kalagram
Enjoy at the vibrant Holi party at Kalagram and have an experience of culture, food, colors, music and what not. Featuring The Landers Live performance along with Dj Anne Bhaitak. The best part? You don't have to bring your own Holi colors, they will be available free of cost. Also, sponsored drinks will be free. Satisfy your food cravings at various food stalls available there.
Address: Chandigarh Haveli Complex, Kalagram, Sector 13, 160101
Timings : 11 am – 4pm
Ticket Price : Female stag- 599/, Male stag- 799/-, Couple entry- 1199/-, Male entry with full cover- 1000/-, Couple entry with full cover- 2499/-
Contact No. : 0172 273 5462
Get directions
8. Rangleela Holi, Aura Vaseela Resort Mohali
Celebrate this Holi at Aura Vaseela, featuring plenty of interesting activities which will help you shed all your shyness and celebrate to the full. Prepare to embrace Holi with a whole unique form! Groove and dance on the ultimate music played by famous Djs like Dj Bell, Dj Pro, Dj Aaron, Dj Shank, Dj Hell. In addition, there will be live dhol, food stalls, organic colors, pool, water guns and customize t-shirts.
Address: Aura Vaseela Resort, Village Nadiali, Mohali, 140306
Timings : 10 am onwards
Ticket Price : Couple Entry 500/- , Male stag entry1000/-, Couple entry with Cover 1500/-, Cover entry will full cover- 2000/-, Stag entry with cover- 2000/-, Stag entry will full cover- 1000/-, female stag entry with full cover- 1000/-
Contact No. : 9992965678, 9356121250, 9814054895, 7717356680, 8872290376
Get directions
9. Punjab De Rang, Fun City Chandigarh
Fun city, Chandigarh is back with their another biggest Holi Bash. Grab this opportunity to see outstanding performance by Russian belly dancers and events. Considering their prior Holi parties, they will again ensure a colorful bonanza that will keep your feet bouncing the whole day.
Address: Chandigarh-Nada Sahib Gurudwara Barwala Road, Ramgarh, 140201
Timings : 11 am onwards
Ticket Price :
Contact No. 099144 06505
Get directions
10. Hill Top Holi, Cops Canopy, Chandigarh
Ready to engulf yourself and your dear ones in one of the greatest Holi parties in Chandigarh, at Cops Canopy, which is situated on the outskirts of Chandigarh. Featuring Baba Bass, this Holi party offers you a realm of boundless enjoyment and the chance to dine on exquisite meals and drinks.
Address: RR4J+4VV, Karoran, Punjab 133301
Timings : 10 am onwards
Ticket Price : Couples – 3000/-, Females- 1500/-
Contact No. 9803332211 ( For table booking)
Get directions
11. Gabbar ki Holi, Golden Tulip, Panchkula
Make this colorful festival a fabulous blend of utmost joy and enthusiasm. Golden Tulip presents Gabbar ki Holi with well-known djs such as Dj aka Avneet, Live Band aka Veeru, Basanti aka Belly dancer & Club vip aka Gabbar.
Address: Morni Rd, Panchkula, Haryana 134109
Timings : 10 am onwards
Ticket Price : Couples – 3000/-, Females- 1500/-
Contact No. 099144 06505
Get directions
12. Holi Fest, Altius Hotel Chandigarh
Last but not the least, if you are looking to have a blast in a rain dance party and dance to some different tunes this Holi, then this event is for you. Presenting city's favorite Djs like Dj Nitish, Dj Felix, Dj Harry, Mass Jams & Mad Music.
With finger licking food, color blast, rain showers and much more- this event will surely be a grand Holi attraction.
Address: 25/9, Chandigarh Rd, Industrial Area Phase II, Chandigarh, 160002
Timings : 11am- 5pm
Ticket Price : 3000/- ( Couple cover charge valid for 2 persons)
Contact No. 9592556666, 9055383838, 8908000099
Get directions
Tips to Remember While You Celebrate Holi in Chandigarh
Protect your eyes from colors.
Don't drink and drive.
Apply oil in your hair so that the colour can come out easily after one wash.
Don't use eggs to celebrate. This is a festival of colors, so throwing eggs while playing doesn't make sense.
keep your mobiles either in a waterproof kit or just don't carry.
Try and use only organic colors.
It would be better to avoid translucent clothing.
Chandigarh get ready to party this coming Friday!! These were the Holi Party Places in Chandigarh you to enjoy this week. Do choose your preferences from these amazing and happening events and celebrate the festival of colours and music in the most astounding way! Additionally, Holi has given you all a bonus, Holi being on Friday can be one of the great long weekends if you take an off from your office. How does it sound???!!!! So, don't think and just start planning your clothing for the Holi Bash!
For more information and updates, do follow us on ChandigarhBytes.