People of Chandigarh love fitness. And Yoga, of late, is re-establishing itself as the prime path to a fit mind, soul and body. However, we still only search for the right guidance and coaching to embark on this journey of fitness. Due to the shortage of Yoga experts and lack of facility, prices of Yoga Classes have soured, driving it away from the budgets of many. Calm! Things are changing now and Yoga is set to become more accessible and widespread for the residents of the tricity. Thanks, to the Chandigarh Administration.
After Chandigarh played host to the 2nd International Day of Yoga celebrations last year, the administration is being pro-active in promoting and inculcating Yoga as an integral part of the fitness regime of the tricity.
In that direction, the U.T. administration has now launched "Free Yoga Classes in Chandigarh".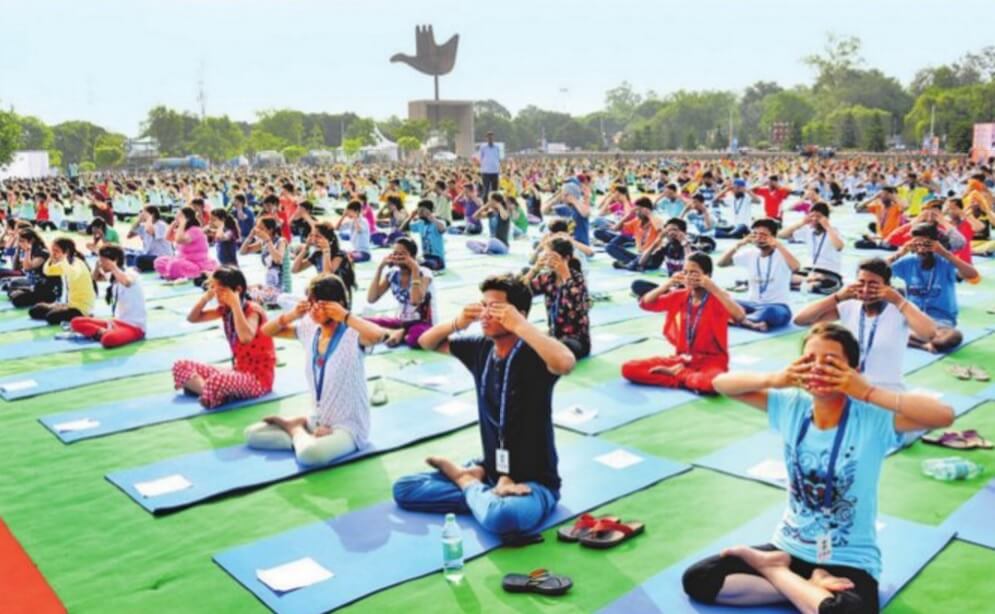 Salient Features of the "Free Yoga Classes" in Chandigarh
The classes will be organised in 38 different govt. schools of Chandigarh.
Timings will be 6:00 to 7:30 in the morning, daily.
Anyone from the tricity can join in the classes at any of the 38 locations.
The classes will be absolutely free of cost for the residents.
The plan is to expand the classes to 100 more locations in the second phase.
Launching the initiative, U.T. Administrator V P Badnore said that yoga is the epitome of Indian legacy, and it is the very essence of our culture. He also added that the administration is committed to the expansion and advancement of Yoga in the tricity, and many more plans are on cards. Free Yoga Classes in Chandigarh is just one of the many steps.
Well, this is indeed a great initiative and will benefit hundreds of tricity residents, while influencing the health and fitness regime of the city. All for the good! Kudos, U.T. Administration!
Visit the newly launched website of the Department of Ayush for more information.
Website of Department of Ayush: http://www.ayushchandigarh.org
Follow the link to view the complete list of "Free Yoga Classes in Chandigarh" (locations).
List of Free Yoga Classes: http://www.ayushchandigarh.org/wp-content/uploads/2017/03/Yoga_Registration_Form.pdf
Download the Registration form for Free Yoga Classes.
Registration Form: http://www.ayushchandigarh.org/wp-content/uploads/2017/03/Yoga_Registration_Form.pdf