Temperature is rising and people eat different thinks that soothe them in this hot weather. Nowadays in Chandigarh, you will be able to see many vendors who sell cut fruits like watermelon, papaya, and mix fruits. Many people and children love to buy such stuff, that will help them to tolerate this overheating.  But they have no idea about the grave health hazard from eating these cut fruits. Places where you can easily find these vendors are sector 17 market, near inter –state bus terminus and busy markets of UT.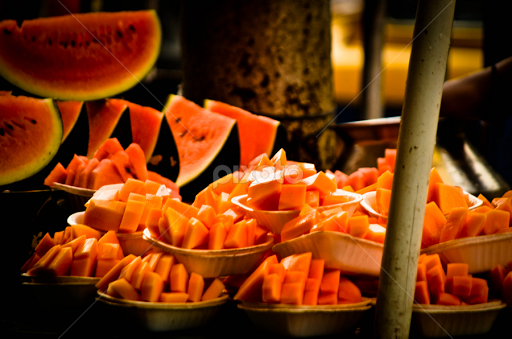 Why action against vendors:
According to the  medical officers these cut fruits are very hazardous to the health of people because exposed cut fruits on roadside can cause gastric infection.
These fruits contain artificial colors and sweeteners that are not good for health and they cause many health problems.
During a visit to the Sector 22 market, it was observed that a majority of the vendors were selling overripe fruits, that are not at all good for health.
Vendors in the Sector 29 market were selling cut fruits that are oversize and generally used chemicals in their growth.
Ban on selling cut fruits in Mohali
The Mohali administration concerned about  the health of the residents, so they has put a ban on selling over-ripened, cut fruits and vegetables in the city. Mohali Deputy Commissioner Gurpreet Kaur Sapra issued the ban orders under the Family Health and Welfare notification. If any vendor is selling uncovered sweets, cake, bread and selling other edible items any summer drinks improperly then strict action would be taken because it is banned till December. Sellers of ice cream, candies, soda have to get their water, being used for making these items, tested. Samples in this regard have to be tested and passed by the bacteriologist, Punjab.