After fees hike strike in Punjab University, it is again in limelight because of a fire broke out at the Accounts Branch Of administrative block and this fire has destroyed records of account department including salary section, service books, payment grants, and a major part of the budget section.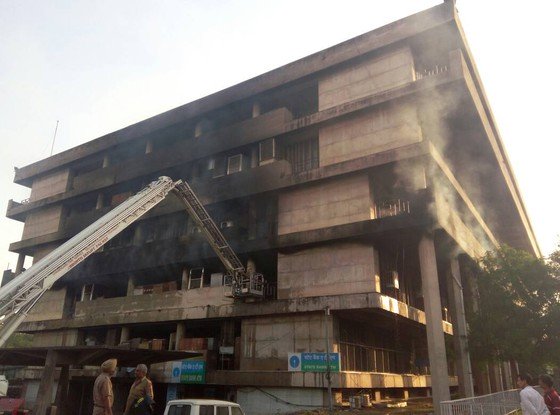 How The Accounts Branch Gutted By Fire
The authorities and the Fire Department are yet to ascertain the exact cause of the fire. Authorities of Punjab University said there was severe power fluctuation and also there was a power outage at around 4 pm. At around 4:30 pm, the employees left their respective offices as there was no power. Some appliances may thus have been left switched on, which caused a short-circuit at night, so officials said that short circuit in electric wires could be the reason of fire.
How The Situation Got Under Control:
This fire broke out at around  2:45 AM and unfortunately fire alarms were not working. But some students noticed that smoke is coming out from the first floor and without wasting a minute they informed security about the fire. Officials said that hydraulic system installed in the building only functioned for 10 minutes because there was no power back system in the place. When Chief Security Officer got the information he called  Fire Station and around 3.15 am in the morning fire engines sent to the spot. It took eight fire engines three hours to put out the fire. However, the fire engines stayed on till 1 pm and kept sprinkling water on the burning debris.
Wake Up Call For Administration:
According to the officials, they were not ready for such situation and their preparation to control such situation was not proper. They were not conducting the periodical checks and that was the reason that they were unaware that the fire alarms were not working. But now officials said that this is the wake-up call and to avoid any big incident because of the lack preparation they need to assess every building and they will also prepare them to tackle such situation.