Considering a hike in the Covid-19 cases, the Chandigarh administration announced fresh set of COVID Guidelines. As per the new guidelines, hotels, bars, restaurants, public places in Chandigarh will only allow Fully-Vaccinated to enter. Besides this, there will be a limit on the number of people entering, thereby allowing 50% capacity will be allowed to enter any building. Most importantly, owners and operators will be fined with Rs 5,000 if they violate these rules.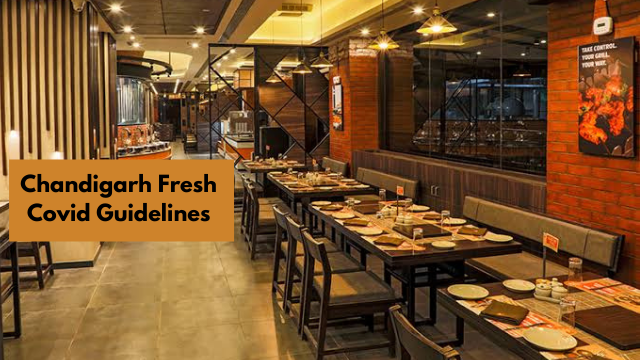 Chandigarh New Covid Guidelines
Furthermore, according to the Chandigarh New Covid Guidelines, the administration announced a cap on wedding guests as the Omicron variant brought a fresh surge of COVID cases in the country.
The orders were earlier proposed on Friday by the UT administration in its meeting led by Adviser Dharam Pal. However, they will be implemented from today, January 1. Additionally, the Admin issued guidelines regarding people wearing masks, maintaining social distancing and limiting gatherings.
Further, Sukhna Lake will remain closed on every Sunday as per the new Covid Guidelines. All the activities including Boating will be closed except from 5:00 Am to 9:00 Am and from 6:00 Pm to 8:00 Pm from Monday to Saturday, with effect from 3rd January, 2022.
In the latest order issued by the State Disaster Management Authority, UT Chandigarh. It says that "Restaurants, hotels, cafes, eateries, marriage palaces and banquet halls in Chandigarh will now open with 50% capacity".
"Only people who have been vaccinated with both the doses will be allowed to enter in the public places," the order stated.
Also, Covid Vaccination for Children is starting from today, January 1. Read about its guidelines and eligibility.
In a nutshell, a fresh set of COVID guidelines were announced for Chandigarh. It states that the restaurants, hotels, coffee shops, eateries have been allowed to operate with 50 per cent capacity. Also, only those having both the Covid Vaccination Shots will be allowed to enter there. And, Sukhna Lake will also be closed on every Sunday.
For more updates and details, do follows us on ChandigarhBytes.