The 'City Beautiful' is bestowed with immense greenery and finest organized structure. Designed by the famous French architect, Le Corbusier, Chandigarh, a city in North India is one of the best planned cities in northern India. Additionally, it has some of the major iconic attractions to explore such as Sukhna lake, Zakir Hussain Rose Garden, Rock Garden, scenic gardens and much more. These sites are scattered all around the city, and it is very much feasible to cover all in a day. The Chandigarh hop-on-hop-off-bus tour comes for you to explore this amazing city. So, go on to witness all the prime locations whenever it suits you in a convenient and hassle-free way.
Public transport in Chandigarh is pretty efficient as the connectivity is very smooth and convenient. This tourist bus service is a another wonder which has been added by the city's tourism department.
Chandigarh Hop-On-Hop-Off Tourist Bus
Gifted by the UT tourism department to CITCO authorities, the Hop-On Hop-Off tourist bus had been introduced in order to attract more tourists from India as well as abroad. Chandigarh hop-on-hop-off-bus is a particular sightseeing bus service in Chandigarh. Run and managed by Chandigarh Transport Undertaking(CTU) provides hassle-free guided tour experiences. The bus service offers a day-long trip that includes all of the city's major attractions. It is one of the most convenient ways to tour the city, whether you are a resident of Chandigarh looking to rediscover your lovely city or a guest who wants to capture the essence of the city.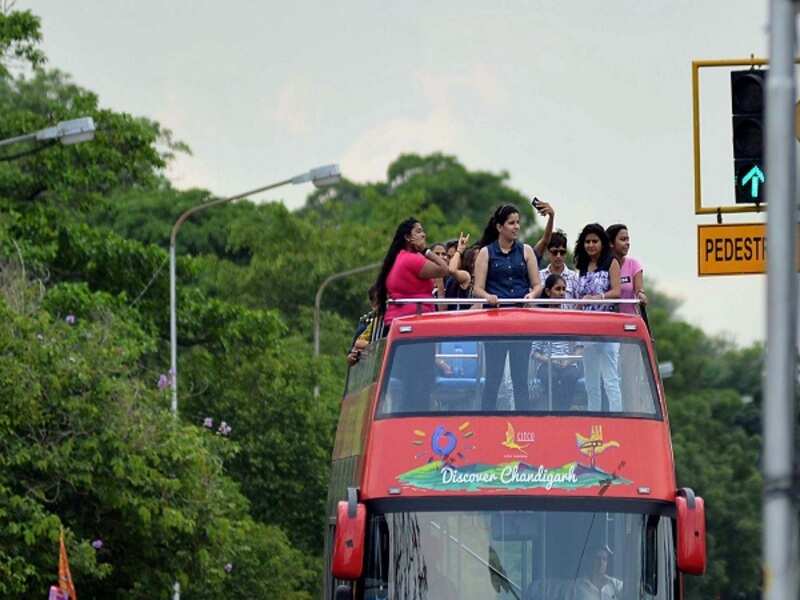 Chandigarh hop-on-hop-off-bus tour covers Chandigarh's top attractions ranging from historical monuments and museums, political buildings and shopping centres.
Chandigarh hop-on-hop-off-bus Tour Route
1. Sukhna Lake
Firstly, located at the foothills of Himalayas, created in 1958, is this serene lake where you can enjoy boating, cool breeze, delicious food and the picturesque views offcourse.
Secondly, named after India's third President, Zakir Hussain, the beautiful Rose garden came into existence in 1967 is believed to be the largest rose garden in Asia.
3. Shivalik Hotel Chandigarh
Having been established in the year 1989, is right in the heart of the city. Its a contemporary business hotel complementing the modern life style of the ' City Beautiful".
4. Govt. Museum and Art Gallery(sec-10)
Further, opened in 1968, its one of the premier museums of North India. It has collections of Gandharan sculptures, sculptures from ancient and medieval India, Pahari and Rajasthani miniature paintings.
5. War Memorial(sec-3)
The memorial is the largest post-Independence war memorial of the country, was inaugurated by Dr. A. P. J. Abdul Kalam in 2006.
6. Bougainvillea Garden
Set up in 1976, is a garden inhibiting varieties of distinctive varieties of bougainvillea shrubs. A nice place to visit where you can experience nature, relax and feel refreshed.
7. Capitol Complex
In addition, Capitol Complex is one of 17 of his buildings to be added by UNESCO to the World Heritage list. It was designed by the famous architect Le Corbusier in 1958.
8. Rock Garden Chandigarh
Started in 1957 by Nek Chand, it displays sculptures made from urban, industrial wastes and discarded items.
9. Sukhna Lake
Chandigarh Hop-On-Hop-Off Bus Timings
Weekday Timings
There are 2 slots for weekdays:
12:00 PM & 3:00
Weekend Timings
There are 4 slots for weekends:
11:00 AM, 12:00 PM, 2:00 PM & 3:00 PM
Duration of the Tour
The entire duration of the tour will be approximately 45 minutes.
Pick up, Drop-off Point of Chandigarh hop-on-hop-off-bus
Sukhna Lake, Sector 1, Chandigarh
Ticket Price
The ticket fair for the Chandigarh Hop-On-Hop-Off Bus is:
75/- for full-day trip.
50/- for half-day trip
10/- for point-to-point trip.
Where to Buy
The tickets will be provided in the bus only.
Key Note
This tourist bus has been able to attract more tourists and the very purpose of bringing this bus is to promote the city's heritage spots. It takes the hurry out of typical guided tours, and given the cheerful air-conditioned interiors of the buses, would make for an ideal day outing plan.
For more information and updates, do follow us on ChandigarhBytes.