The Association of British Scholars along with Panjab University, Chandigarh organised an interactive session with British Deputy High Commissioner on the topic- Higher Education in the UK, Post Brexit at the PU auditorium on January 25.
The keynote speaker for the event was Mr David Lelliot, the British Deputy High Commissioner to Chandigarh. His address was followed by an interaction session where the students asked their higher education related queries to Mr Lelliot. The event began with renditions of the Indian and the British national anthems followed by the University Anthem.
Mr David appreciated the Indian-UK ties and said he hoped that more students will apply to the UK Universities. He also informed the students that the number of international students in the UK is growing despite a fall in the number of students from India to the UK. He reiterated that the British courses offer top of the shelf knowledge to the students in the shorter amount of time. The students graduating from their Universities also posted the highest entry level salary in the world. To aid the students in their financial needs, Mr Lelliot talked about the plethora of scholarships available to international students especially Indian students. He assured the students that the Brexit will in no way negatively impact their higher education aspirations in the UK. The timeline for the Brexit as set in March will continue to remain the same.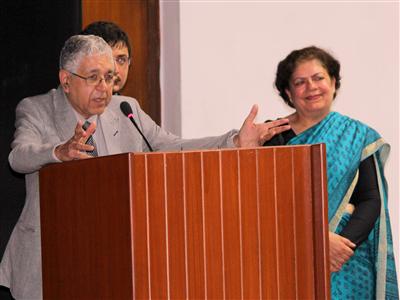 The welcome address was given by Prof. Deepti Gupta, Dean International Students followed by the introduction of the theme by Prof. B.S. Ghuman, President of the Association of British Scholars, Chandigarh and the speaker introduction by the Master of ceremonies, Dr Shruti Bedi of UILS.
The University Vice Chancellor, Prof. Arun K. Grover, the Dean Student Welfare, Prof. Emanuel Nahar and the Dean Student Welfare (Women), Prof. Neena Kaplish all graced the occasion and also thanked Mr. Lelliot for delivering such an informative session and thereby clearing the doubts of the students related to Higher Education in the UK in the aftermath of Brexit.