City beautiful gears up to show the love for dogs. Chandigarh hosts a Dog Show by Chandigarh Kennel Club- 64th &65th Championship Dog Show. The world's most adorable, well groomed dogs are here to compete for the title.
The Dog Show will be judged by Mr. Alex Zee from Taiwan and Mr. Zuar Agabeyli from Azerbaijan. Dogs of various breeds are expected to participate in the biggest dog event at Leisure valley.
The breeds will be judges upon various parameters and will be awarded accordingly. Every breed has its own standard, and the dogs participate and compete with each other based on their breed standards. It is time for man's best friend to wag their tail and show its potential in The Doggy Dog World.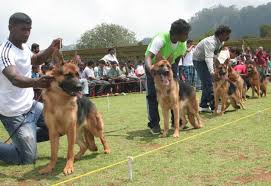 Dog Lovers the day has finally come to showcase your handsome dogs. Be there at Leisure valley with your dogs to enjoy the event.
Other Information: Dog Show Chandigarh
Date
29th January 2017
Venue
Leisure valley, Sector 10 Chandigarh
Contact
Club Secretary: Mr.H.S.Aulakh, Hony Secretary, No.3387, Sector 23D, Chandigarh – 150023
Phone Number: 9888881939, 9815611557
  #Dog Show# Leisure Valley # Chandigarh #