In our life, we make many friends but there are rare people who stand by the side of their friends at their tough time. But today we are going to share a story of young Chandigarh girl who is selling her poems at the cost of Rs. 200-500 for her friend who is suffering from the Leukemia. Anam 21-year-old boy, BSc student at DAV College, Chandigarh, needs bone-marrow transplant according to the Christian Medical College and Hospital in Ludhiana. His parents only raised around Rs. 3.6 lakh, but for the bone marrow transplant, they need around Rs 25-30 lakh that is a large amount for the person who is working in private firm.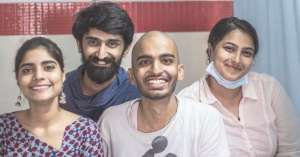 But Amy Singh who is poet wants to use her poems for the collection of an amount that can help her Anam Narula. She is writing poems day and night for Anam who is suffering from Leukemia.
Amy's Poems Would Be His Life Saviour
According to Amy, she wanted to do something for her friend but she was not getting the way. She did not have enough savings then she thought that if she would write poems and charge money then she can help her friend. She had lost her mother because of cancer and this is the reason she really wants to help Anam in this battle.
Amy Singh decided to seek help on Facebook and posted: "Anam is a beautiful human and a poet. A lot of us would have heard him recite his poems in many open mics. Anam is diagnosed with cancer and of course, it's sad beyond telling, for me to break this news… It is possible for us to help him! I lost my mom to cancer and I know how this battle is." She asked people to get in touch with her: "I'm quite helpless on my own."
After reading this message many people came forward to help her like some renowned poets and Crowdfunding website Milaap have joined her for this noble cause.
Amount She Generated Till Now:
when she started this campaign she was not sure that she will be able to raise enough amount to help Anam and she was thinking that collection would be only 10,000 to 15,000. But she is surprised that this campaign reached to many generous people and till now she is able to generate around Rs 14 lakh for the surgery of Anam and hoping that soon she will collect all the rest amount. She is going to start "Run Of Hope" campaign and she believes that she will surely raise rest of the funds. Anam and his family are very happy and thankful for Amy's initiative. We hope that Anam will get well soon.