We all understand and recognise the importance of internships in career progression. Internships give us exposure, professional experience and open new avenues for us to explore. But how often do we get the opportunity to land an internship? The opportunity is here this weekend. The Entrepreneurship Development Cell of Panjab University is organising an Intern Fair as an integral part of the National Entrepreneurship Summit Udyami'17.
The Intern Fair at Panjab University is going to witness at least 15 companies and startups from the tricity, offering more than 300 internships in diverse job profiles, both technical and non-technical. The participants will get the opportunity to interview with professional HR's from these companies. The recruitment process will include Resume review, followed by personal interviews.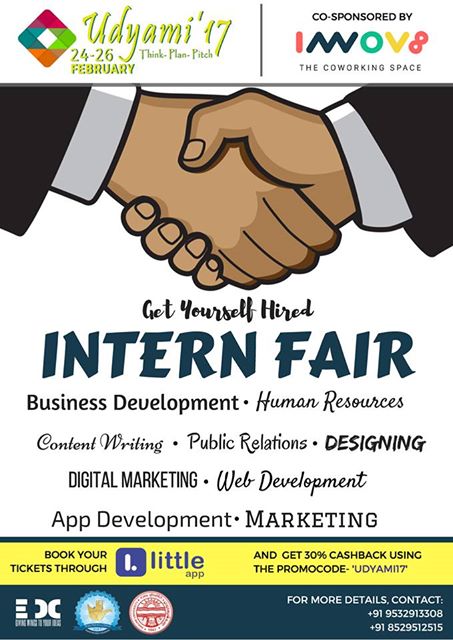 Companies Recruiting at Intern Fair'17
Chandigarh Metro Pvt. Ltd.
XenonStack
Ariel Software Solutions
Outsourcing Technologies
Spine Software Systems Pvt. Ltd.
ToXSL Technologies Pvt. Ltd.
FriendMiles Software
Aneja's Training & Placement Services
Neonex Technologies
RoboChamps
Northern Tech
CodeQuotient
and many more…..
Profiles Being offered at Intern Fair'17
Marketing
Public Relations
Web Development
App Development
Programming
Digital and Social Media
Human Resource
and many more……
Event Details
Date:26 Feb. 2017
Day: Sunday
Timings: 9:00 am onwards
Registration: STEP-1 Online Registration: https://littleapp.in/–mc-o0200925 OR Register using "Little App". Use promo code "UDYAMI 17" and get 30% cashback. Step- 2 Fill the form-cum-resume: https://internfair17.typeform.com/to/MBmLwF
(ticket price: 250)
Students from the tricity, this is your opportunity! Gather all the 'Professional Experience' they ask for in the placement interviews. KEEP CALM AND DO AN INTERNSHIP!!