if I have it, I flaunt it, this is the sole mantra of Punjabis lifestyle that they live by spending freely and extravagantly. Punjabis have a great love of big cars and that is the reason every brand is coming here. But nowadays craze is not cars. Want to know what well off Punjabis are splurging on these days? AK47! these type of VIP numbers in Mohali are making them crazy and they are ready to pay high amounts to get these numbers. AK47 is a gas-operated rifle made in Russia and number plate having AK47 is the talk of the town because of its prize.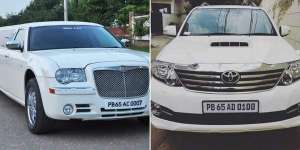 Craze Of Fancy Numbers In Mohali:
The craze for "AK47" among Punjab residents is known worldwide and this was also shown in the auction of vehicle registration in SAS Nagar. This news will surely shock middle-class families who can be able to buy a new car in this amount that a Punjabi person paid for just a number plate. The vehicle registration series in SAS Nagar with alpha-numeric "AK 47" -PB 65 AK 0047- was auctioned for Rs 7.38 lakh. The number was auctioned at a high price which generally goes for the single-digit numbers. The second highest bid of Rs 5.05 lakh went for registration number PB 65 AK 0001.
About The Person Who Picked This Series:
The name of that great-hearted person who spent such a large amount for number plate having the 'AK 47' series is Randeep Singh and hailed from SAS Nagar. He paid around Rs 7.38 lakh during the auction conducted by SAS Nagar district transport office. The single digit numbers such as 0009, 0005 and 0007 went for Rs 3.49 lakh, Rs 2.45 lakh and Rs 1.12 lakh, respectively. The '0786' number considered lucky by Muslims fetched less than Rs 1 lakh.
Punjabis love to flaunt and no one can match their Swag.