Unemployment in Chandigarh is among the addressing issues and problems because it is increasing and people with degrees are applying for the sweeper's posts in the city. Most of the people with degree think that this degree is a just useless piece of paper because they are unemployed. Around 40000 people applied for the 532 sweeper posts in Chandigarh MC and among these applicants 20 percent are graduates. Degree holder people are unable to get a job and because of unemployment, they are ready to do jobs that are not meant for them. There are many unemployed educated people according to them there is no shame in cleaning gutters or roads. At least they will get a salary at the end of the month and it will save them to being ridiculed for being jobless. The administration should take some steps to decline the Problems related to unemployment in Chandigarh.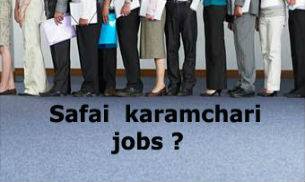 Qualification required for the post:

Required qualification for the Chandigarh MC Sweeper post was middle school pass, but officials said that we have got around 40000 applicants for this post and there are many of graduate applicants.Among the total number of posts, 207 are for general category, 96 are for SC, 144 from the OBC and 16 posts have been kept for disabled as well. 69 posts have been kept for ex-servicemen too. Senior officials of Medical Officer of Health wing of the corporation they were scrutinizing the applications.
The process of recruitment:
In the recruitment process of safai karamchari with the MC, every applicant has to undergo two tests:
Preparation of broom test:
This test will be for 35 minutes and they will judge that how you prepare and maintain the broom that sweepers use in sweeping.
Sweeping test:
after clearing first round you have to clear sweeping test. In this test, your skills for sweeping would be judged. Final selection would be on the basis of your medical test.Due to the shortness of manpower MC started recruitment because there are many posts that vacant and they need more workers for the cleanliness of the city.