Jeeveshu Ahluwalia is known as THE SALMAN KHAN OF THE FAT WORLD. Jeeveshu Ahluwalia in Chandigarh will rock the show making everybody laugh with his satire.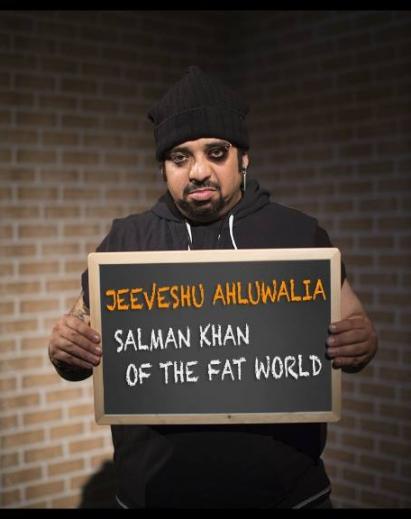 Who is Jeeveshu Ahluwalia?
Jeeveshu is known as tall, dark and handsome… Oops – Short, fair and cute in the comedy world. His comedy career began as an extension to his antics at a mundane desk job. His humor style is derived from witnessing everyday conversations, quirky monologues, peculiar situations and some eccentric friends.
He quit his teenage (16-yearo-old) job and walked away to do Stand-Up. Three years later, he is happier bringing roaring laughter to thousands than lecturing a corporate smartass. Jeeveshu Ahluwalia is coming to Chandigarh to tickle your laughter out next month.
His fascination with comedy normally sways between a fat guy's amusing life and failed attempts to please his over optimistic mother whose only dream is to get him married. And thinner. And taller. And younger…
Jeeveshu has risen notably from a novice to an audience favorite across all ages. Ahluwalia repeatedly appears on NDTV Prime in "The Rising Stars of Comedy". He is frequently seen in comedy shows and appears in events at auditoriums, clubs, colleges and corporate functions throughout the country. Jeeveshu was also one of the top 10 candidates for Comedy Circus Ke Ajoobe on Sony. He made his Bollywood debut with "Tamasha" starring Ranbir Kapoor and Deepika Padukone directed by Imitaz Ali.
Details of Jeeveshu Ahluwalia in Chandigarh
Date
17th March 2017
Venue
Punjab Arts Council
Rose Garden, Sector 16-B, Chandigarh, India
Timings
07:30 PM
Passes
Cost: Rs. 499/-
Website: https://in.bookmyshow.com/events/punchliners-standup-comedy-show-feat-jeeveshu-ahluwalia-in-chandigarh/ET00053611
Hurry and book your passes online to be on the show to laugh your asses out with Jeeveshu Ahluwalia in Chandigarh. Come together with your family to set the Evening on Laughter. Book the date i.e. 17th March at 7:30 PM for the comedy show with Jeeveshu Ahluwalia in Chandigarh.