In Chandigarh vehicle thefts and snatching incidents are increasing day by day. Now, in recent reports, it is found that snatchers are using stolen vehicles for committing snatching. According to the recent reports of Vehicle theft and Snatching Incidents In Chandigarh around 235 two-wheelers have been stolen in last five months and some of them used in 22 snatching incidents in City Beautiful.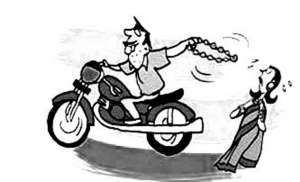 Using Stolen Vehicles: Snatching Incidents In Chandigarh
According to the reports, there is surely a relationship between the lifting of vehicles and snatching cases because around 18 stolen two-wheelers have been found involved in 22 snatching incidents. In a recent case on June 13, a motorcyclist snatched a woman's purse at Raipur Khurd village and after this, he left his motorcycle and escaped from there.
After this when cop investigated they found that this is the stolen vehicle that he was using in snatching. This two-wheeler was in addition to the 18 motorcycles stolen from different places in Chandigarh. This is helping them to not get caught by Police because of these stolen vehicles. Police have caught some snatchers and from them, they came to know that they preferred to park the stolen motorcycles after committing snatchings in different parking lots.
The Number Of Vehicles Stolen From Chandigarh:
According to the reports of last five months around, 270 vehicles were stolen and in these vehicles 235 are two-wheelers, 33 four-wheelers and two autos were there. But Police have been able to trace some of them and around 194 vehicles are yet to be traced by the Chandigarh Police. Chandigarh Police said that have recovered 76 vehicles till now and in them, 66 two-wheelers and 10 four-wheelers. The stolen two-wheelers and four-wheelers include:
Bullet motorcycles
Pulsar
Activa
Fortuner
Bolero
Swift
i10
i20
Maruti
In the list of stolen vehicles autos is also included. Two autos were stolen from Dadumajra in Sector 38 and from Sector 45. Police officials are doing lots of efforts to trace the vehicles because people are using these vehicles for the snatching. Police are seeking the help of neighbouring states to catch these thieves and they also uploaded the details of all the stolen vehicles on the website of the National Crime Records Bureau (NCRB).