The UT administration has decided to develop Hyde Park In Chandigarh in Sector 17, on the pattern of London's Hyde Park. For this UT Government is deciding the company and after this, they will hand over the work to that company for the development of the park in Sector 17 in Chandigarh.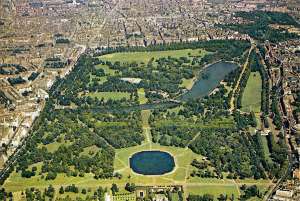 Hyde Park is the largest of the four royal parks in London and is divided by serpentine and the Long water.
Hyde Park In London:
Hyde Park is a major park in Central London.The park is divided by the Serpentine and the Long Water.It became a popular place for concerts in the 1890s, featuring up to three every week. Hyde Park contains several sporting facilities, including several football pitches and a Tennis centre.
What Will Include In The Project:
This idea of the development of the park is going to implemented soon and this will surely attract the residents in the sector 17. In this park, they can enjoy lots of things. After the development, people could enjoy recreational activities there. Things that will be included in the park are followed:
Food courts with landscaping,
Cycle tracks, parking,
Parking,
LED light
Games for children
A walking track inside
The original architecture will be conserved.
Cost And Location Decided For The Park:
Chandigarh based Hyde Park will also be developed as similar to the London's Hyde Park. Location decided for the development of the park is near to the football ground of Sector 17 and this will be spread over 9 acres empty land. The cost decided for the park development will be Rs. 9 crores. After deciding the company work will soon start and according to the reports work of the Urban park in Sector 17, Chandigarh will begin by the last week of May.
UT is developing this park because of decreasing footfalls in sector 17 because of other places in Chandigarh. Hope, development of this new park on the pattern of Hyde park of London will able to attract more people in sector 17.