Circle Series Comedy Festival in association with Indian Comedy Club is going to give you the fun and laughter dose. This will surely help you to refresh and remove your stress. Comedy Club Pvt. Ltd. is the company that is organized comedy nights in any state of India. This time you will enjoy comedy nights in Chandigarh.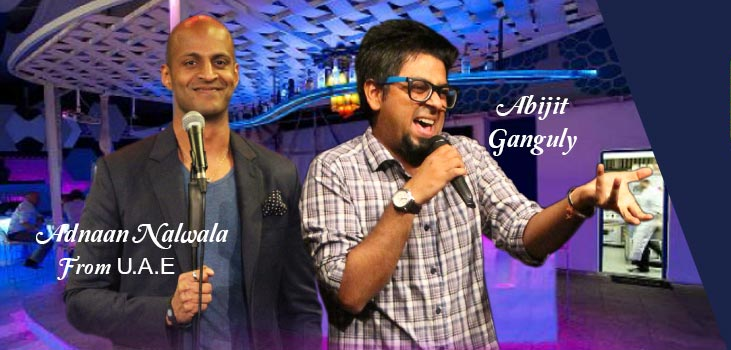 Comedy nights in Chandigarh details:
if you got bored with your daily routine and you have not shared a laugh with your family from many days just plan to go to a comedy night in Chandigarh. Details of comedy nights:
Date: Saturday, 22 Apr 2017
Time: 8:00 PM
Location: Black Lotus, Chandigarh, Sector 17
Registration fees: Rs 999
Time to laugh with Adnan Nalwala and Abijit Ganguly
Now its time to watch Adnan Nalwala and Abijit Ganguly in comedy nights that are going to happen on Saturday, 22 april 2017 in black lotus, taj in 9th block of sector 17.
Adnan Nalwala:

Adnan nalwala  launched his comedian career 7 years ago. He also worked in many short movies with writer and director Samar Shaikh who has given around 10 block busters in Bollywood. He has been a part of Khabi Habibi , Racy Desi, Get set laugh and Funbasdors. He is known as "Oman's jokey boy" and is currently ranked as the second best standup comedian in Oman.
Abijit Ganguly:
Abijit Ganguly is stand- up comedians in our country and He is a Bengali boy, born in Bangalore, raised in Delhi. he is comfortable in both English and Hindi that includes him into one of the few bi-lingual stand-up comedians in our country. His Delhi upbringing makes sure that his content resonates with the masses. He has done brand work for Woo, Sprite, Culture Machine, OYO Rooms, etc.
Sharing a good laugh with your friends and family is very rare in this fast moving world where people don't have time to even breath. They are so busy with their work and making money. They forgot to laugh and their faces are without a beautiful grin that can make them healthy and full of life. just for one day forget your work, tensions and do fun.