Swine flu cases have increased in Chandigarh to four and people should be alert because anyone can be affected by this deadly virus H1N1. According to the health officials, the fresh guideline has been issued for the hospitals after the detection of the disease. All the people need caution and seek medical help if they are suffering from high fever and cold during summer. Otherwise, this deadly virus can be fatal. People need to take care about the cleanliness and always they should wash their hands to stay away from this virus this summer.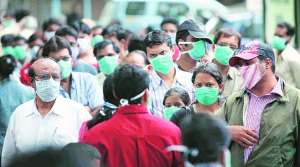 According to the health officials, two fresh cases are observed in the city and also issued new guidelines after the detection of these cases.  A person was admitted to the GMSH-Sector 16  and doctors did not find any travel history of the patient. After getting reports positive for H1N1 he has admitted to hospital for further treatment. The victim runs a tea stall and is a resident of Sector 32. Another victim who found positive for this disease a six-month-old girl of Sector 35 has been admitted to a private hospital and investigation revealed that the baby's mother had a travel history.
Last month Chandigarh go the first swine flu case of the season and in this case, a one-and-a-half-year-old girl tested positive at GMCH. Doctors said if cold, cough and high fever persists for more than 48 hours, then a diagnosis for swine flu must be carried out and immediate treatment started.