If you are in Chandigarh and looking to spend time without the crowds and traffic, then take a look at the open-air theaters in Chandigarh. Whether it be small events or musical events and some social gatherings then open-air theaters in chandigarh are the place to visit.
Chandigarh is full of auditoriums, exhibition halls, art galleries, and theatres. Chandigarh has always given preference to art and culture. This opened many opportunities for fresh talents for Chandigarians. Due to this reason, chandigarh has many auditoriums. When talking about theaters, there are many open-air theaters in chandigarh.
We have compiled a list of outdoor open-air theaters for you.
Open-Air Theaters in Chandigarh
Tagore theater is one of the most famous theaters in chandigarh that we all have heard about. Here is a post about all the open-air theaters in chandigarh that should be included in your travel diaries.
Rock Garden
The rock garden is located in sector-1 chandigarh. It has two open-air theaters. Nek Chand a self-made artist was the man behind the construction of this beautiful garden The Rock Garden. This garden is spread over 40 acres of land. This garden was built with raw materials that he used to barge from industries and home wastes.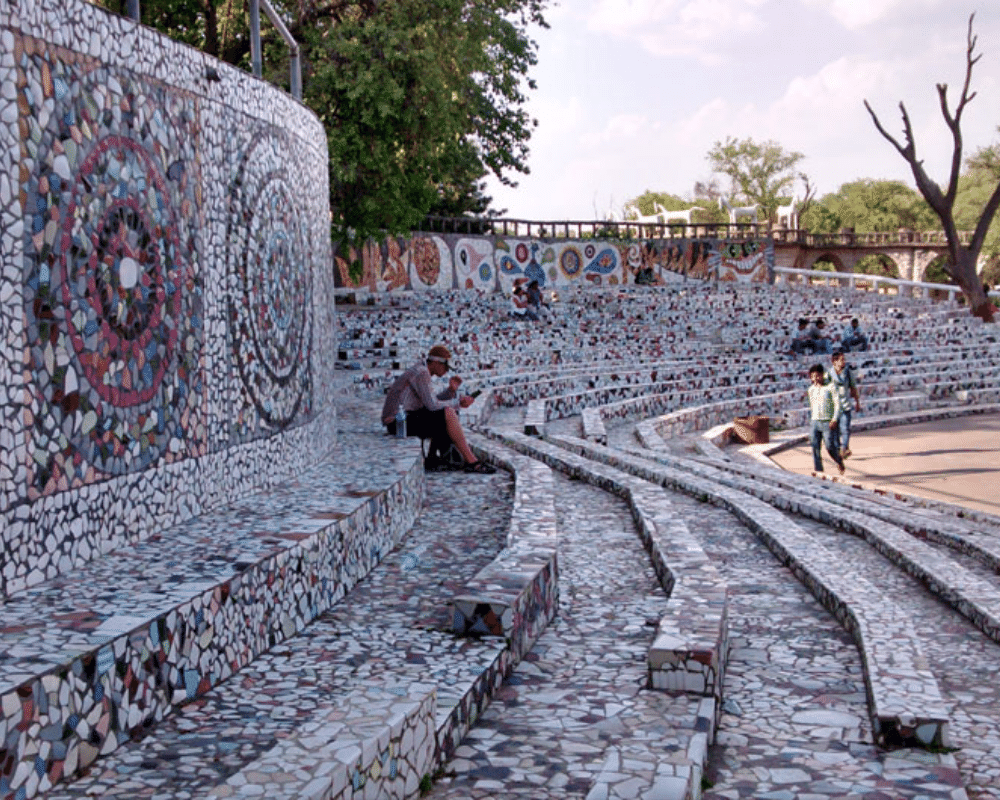 The Rock Garden is often used for hosting events, fairs, and functions. Well, there are two theaters in there. One is a small theater that has a capacity of 100 people. The other theater has 300 capable of accommodating people. It is the number 1 destination for top open-air theaters in chandigarh.
Address: Rock Garden, Sector 1, Chandigarh.
Timings: Open all seven days a week.
Winter Timings: 9 am to 6 pm.
Summer Timings: 9 am to 7 pm
Open-Hand Capitol Complex
The "Open Hand Monument in Chandigarh" is a symbolic structure that was designed at hand by the French Architect Le Corbusier. He was the One who designed and planned our beautiful city and Open Hand Monument.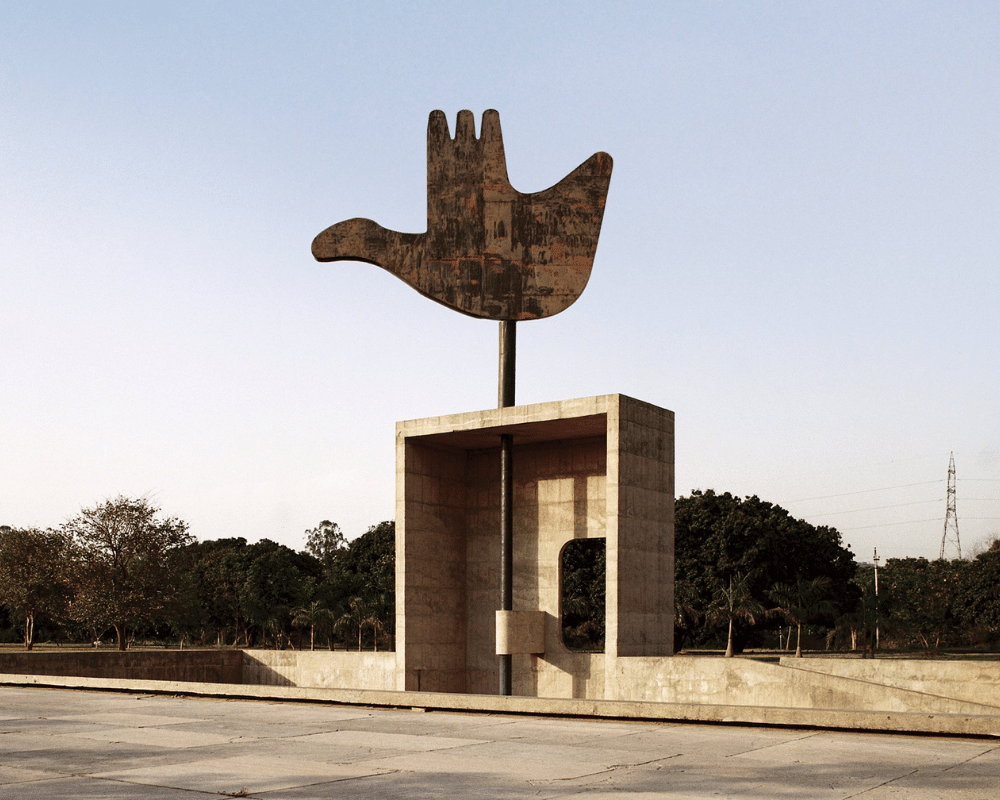 The open hand monument symbolizes "hand to give and hand to take", peace, prosperity, and unity of mankind.
This place is top open-air theaters in chandigarh. It organizes large gatherings and events. Did you know, An Open Hand Monument is mounted on a ball bearing.
Address: Capitol Complex, Sector 1, Chandigarh.
Timings: Mon-Sat 10 am to 4 am (Sunday Closed)
Kalagram Complex
It is popularly known as a craft village. It is located on the streets of chandigarh and Panchkula. It holds the record of hosting the largest craft festivals every year. It has the best open-air theater in Chandigarh to attract visitors.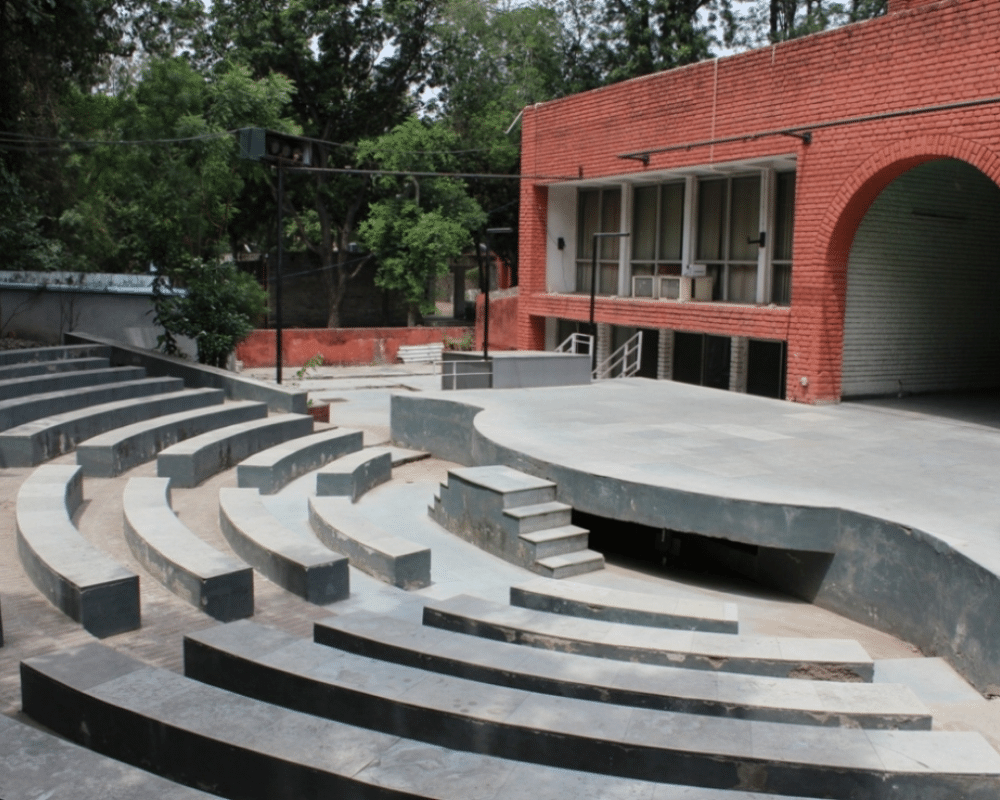 This place is also famous for other things which include artists, artisans, and exhibitors who want to showcase their talents and even get new opportunities every year. It has been counted in the list of top open-air theaters in chandigarh.
Address: Madhya Marg, Manimajra, Chandigarh.
Timings: Mon- Fri 8 am to 6 pm.
Bal Bhawan
Bal Bhawan is one of the oldest buildings in Chandigarh. It was first established in the year 1982. It falls under the top open-air theaters in chandigarh. The Tagore theater management in chandigarh has been governing it for years.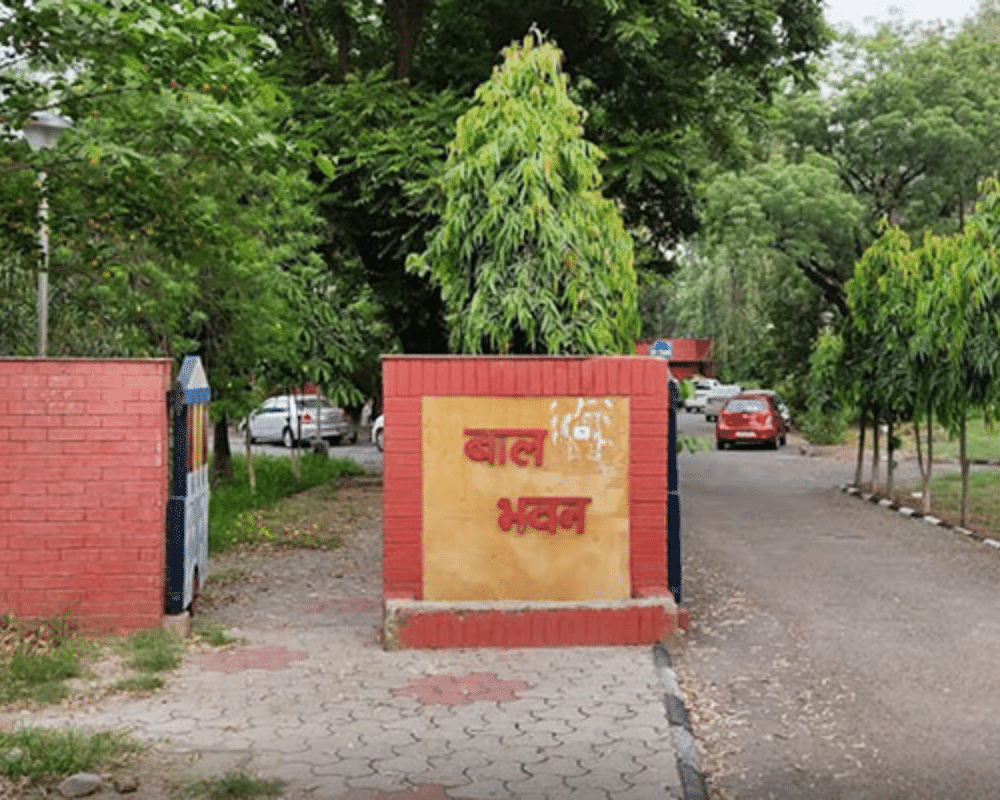 This theater is basically used to host many events. Bal Bhawan theater is affordable so that everyone can use it for events. This is known to be the best alternative for Tagore theater in Chandigarh.
Address: On Jan Marg, Sector 23-B, Chandigarh.
Timings: Mon-Sat 10 am to 5 pm (Sunday closed)
War Memorial
The memorial is the largest post-Independence war memorial of the country with nearly 8459 names of deceased soldiers, since 1947 from the Army Air Force and Navy. This Place was designed to pay homage to Jawans located in Bougainvillea garden.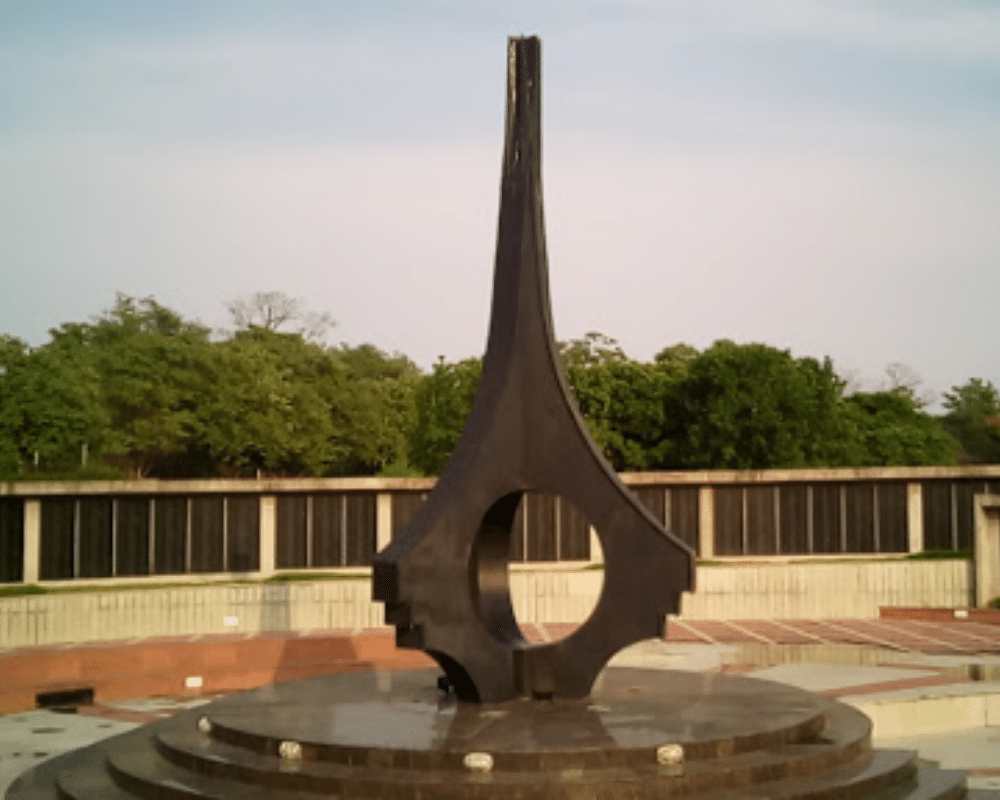 Did you know, It was inaugurated by the Late APJ Abdul Kalam in 2006. A fun fact about this place is, the walls of the memorial are made from Pink Sandstone.
This place can be used to organize many events like cultural events and social gatherings.
Address: Bougainvillea Garden, Sector 3, Chandigarh.
Timings: Mon-Sat 9 am to 5 pm(Sunday closed)
Punjab Kala Bhawan
It is known for its best-known Art Galleries in Chandigarh. This well-known establishment acts as a one-stop destination servicing customers both locally and from other parts of Chandigarh. It was Established in the year 1982. Popularly known as Punjab Arts Council.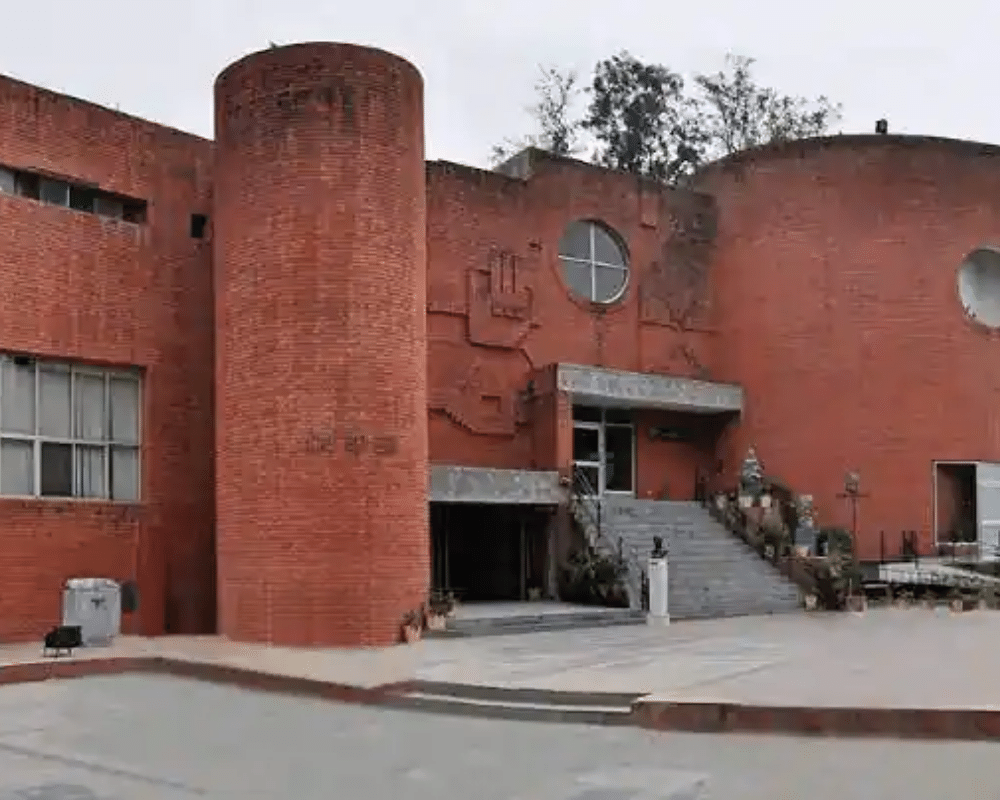 This theatre has a seating capacity of 300 people. Punjab Kala Bhawan is easily available for theatrical performances, seminars, musical performances, conferences, and meetings. Interestingly at the rate of Rs.1500/- plus service tax for 3 hours.
Address: Rose Garden, Sector 16-B, Chandigarh.
Timings: Mon-Sat 10 am to 5 pm(Sunday closed)
Garden of Silence
At a distance of 7 km from Chandigarh Bus Station, Garden of Silence is a meditative place located at the end of Sukhna Lake in Chandigarh. This place is one of the must-visit sites in Chandigarh. The garden features Buddha amidst concentric circular stairs. The garden is set up by the Ministry of Tourism, Government of India, and developed by Chandigarh Administration.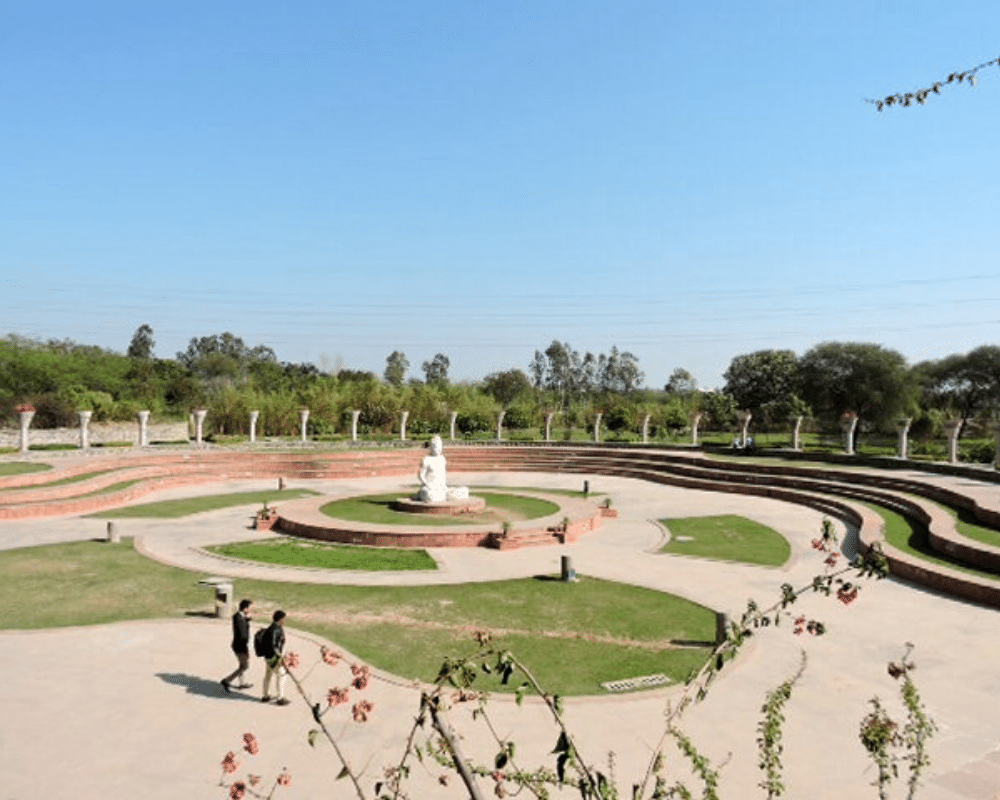 It is one of the most famous tourist attractions when in Chandigarh. The specialty of this garden is that it is basically used for meditation purposes. The areas surrounding this place are very peaceful. It is filled with greenery which makes this place perfect for meditation.
This place is best known for open-air theaters in chandigarh as it can be used for meditation sessions, yoga, or laser light shows for a huge number of people.
This place has been featured in many movie scenes.
Address: 5, Lake Walking Way, Kishangarh, Chandigarh, Punjab 160101
Timings: 6 am to 10 pm (Monday to Sunday)
Wrapping Thoughts
Open-air theaters in Chandigarh have opened new paths for fresh talent for people residing in this city. With time these theaters have been acting as a new way to communicate thoughts. Be it cultural events or some social gatherings these theaters have never failed to bring a smile to artists' faces and people residing in chandigarh. Go and explore some amazing places in chandigarh if you are a travel junkie. We are sure you gonna love these places.
Also read our other articles at : chandigarhbytes.com