A Hot steamy cup in hand and some fuzzy socks! Isn't this the best winter combination? As we, Chandigarhians lay in the laps of the outer Himalayan mountain range, we get to feel the vibe of sunny sun and the frosty winter, at the same time. If you had spent a December in Chandigarh, you know what I am talking about!
You can easily spot some grandma enjoying the winter tan on the Manjha (Khaat) outside their homes; Men sleeping on the warm grass under the shade of a tree in the day. And at the night, even the three layers of clothing won't protect you from getting cold. "Aisa hai Hamara, Chandigarh"
As it begins to chill down outside, and the temperatures dropping with each passing day, the lust for the fancy and warm winter food and beverages begins to shoot up the sky. Gajar ka halwa, Panjiri, Desi ghee ki Peeni, these names come fluttering inside our brains when it comes to winter food, but nothing can make the list of winter beverages except Chai Or Coffee. 
We bring you the list of some easy to whip, Classic Indian winter beverages! Sober-Style. We will bring a compilation of boozy beverages soon! Till then, We hope you will enjoy the winter weather with these warm winter drinks.
1. Kashmiri Kahwa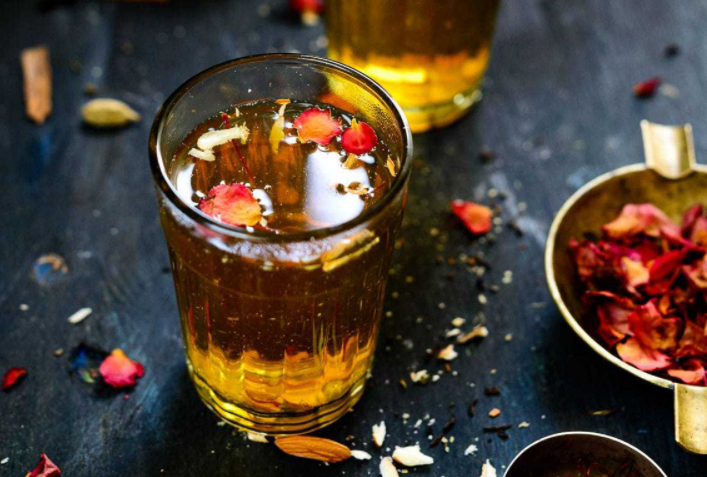 This beverage has earned its position at the top of the list. Officially Kahwa might have Kashmir as his home, but this drink never leaves the hearts of the people who try this authentic recipe. My first cup of Kahwa was inside a hut of the shepherd family in the valley of Gulmarg near Srinagar. The recipe has been one of my go-to ever since for all those warm, romantic winter nights.
Kashmiri Kahwa is a tropical mix of Kashmiri green tea leaves poached in water with whole spices, Almonds, dried fruits, and saffron. This aromatic drink is the perfect pause to all your early morning winter woes. It has been a part of Kashmiri cuisine for centuries. Apart from fighting the winter crisp, this beverage is also packed with a load of health benefits which include improving digestion, weight loss, enhancing immunity, and many more.
2. Kanji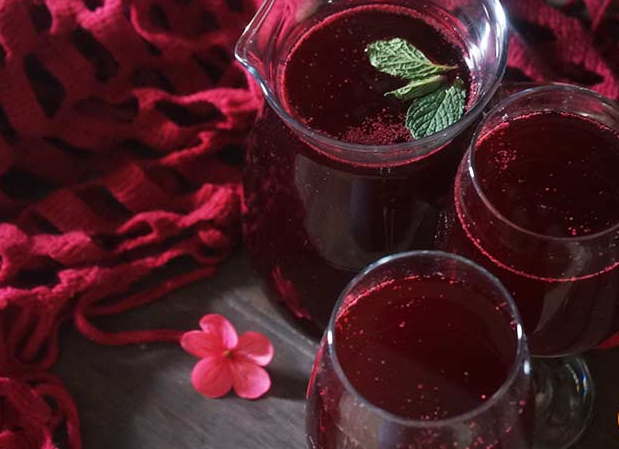 Kanji is one not so warm beverage that made this list. Although it is a classic and is mostly available in winters. Think of Kanji as Indian Kombucha. Rich in antioxidants, dietary fibers, Vitamin K, vitamin C, Potassiums, and the list goes on. We made a point that kanji has numerous health benefits. It is made from the Kaali Gajar (Deep Maroonish colored carrots) which are a delicacy of winter. It's a fermentative drink, hence has to be made in a glass jar or ceramic. The aluminum, brass, copper would inhibit the fermentative process and will give the bitter taste. The beverage can be stored in a glass pitcher for up to 15 days if kept outside, and up to a month if stored in a refrigerator.
The beetroot, Mustard powder, asafoetida, red chili powder, and salt are added to them to make this drink yummy-licious.
3. Rajasthani Bajre Ki Raab (Pearl Millet Drink)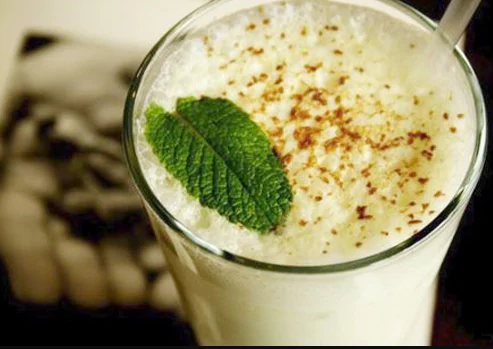 This Beverage has two versions- Both Salty and Sweet. This beverage is quite famous in the state of Rajasthan. It is made from Pearl millet flour a.k.a. Bajra. The sweet version has Jaggery and is served as dessert. Bajre ki raab with sometimes is commonly called Rabdi as well, made it is slightly different from the one we savor will jalebi.
The Salty version has Cumin, Ajwain, and of course Salt! Both are made from yogurt rather than milk.
Bajre ki raab is known to be very nutritious and delicious. In the desert regions during summers when the vegetables are in short supply, people make raab like a soup with dried vegetables like Ker Sangri to dip the Rotlas.
4. Dhoodh Kesari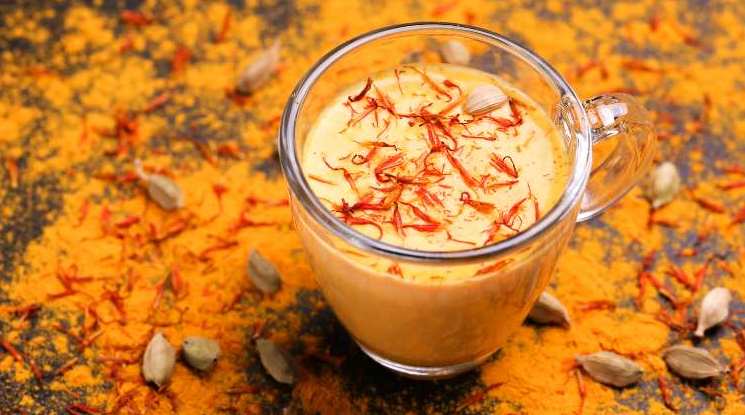 At least once in your childhood, your mum has tricked you into drinking Kesar value Dhoodh saying "Beta, Superman Bhi Yahi Peeta hai"
Well, Clark kent might not have been drinking this beverage in his time on the earth, but most Indian pehlwan's have. This beverage is loaded with health and nutritional benefits.
The Warm milk infused with the richness of saffron and cardamom, topped with shredded almonds and pistachios is North India's winter favorite drink. This should be declared as an Offical drink of winter. When was the last time, you had Kesar Milk? Let us know in the comments down below.
5. Noon Chai or Gulabi chai (Kashmiri Pink Chai)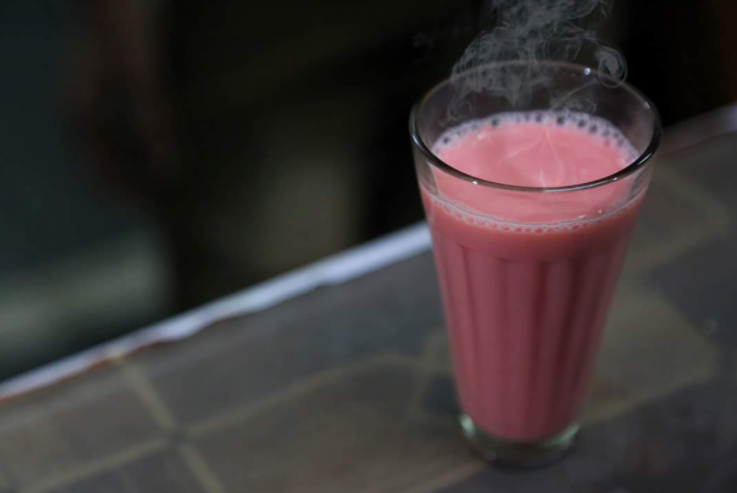 Another tea hailing from the sierra of Kashmir. The recipe might be a little tricky, but the end product you get is worth the wait. The Kashmiri Pink tea s made from special Kashmiri tea leaves called Gun powder leaves. (No! it's not the Plant from where Barood comes from!)
The gives a natural pink color, but let's be honest, you won't get the color at the first trial. I got the right color, on my third try. Third times a charm! The pink color comes from the reaction of the chlorophyll released and for that, you have to cook this beverage intensively. Further sea salt, very little milk, and nuts are added to this beautiful Gulabi chai. One sip of this tea will make your heart sing "Vaidh gulabi, chai Bhi gulabi, Dawa Bhi gulabi, hai gulabi yeh asar"
Which of these will become your favorite DIY winter drink? Did we miss out on some other classic Indian winter beverages? Let us know in the comments below!