The fee hike in  PU caused tensed situation among the students. Earlier, the protesting students boycotted classes but this protest got out of control when agitators clashed with police and then to stop them police used water cannons and did lathi charge on them. To retaliate students pelted stones on the police. Many students, police, and journalists were injured during this protest. Students should know that violence can never give solutions and that why NGO, 'I AM STILL HUMAN' has taken initiative to give some solutions to generate some revenue in PU without hiking the fees. This NGO believes that students are future of the country and their active participation in any matter can generate some positive ideas.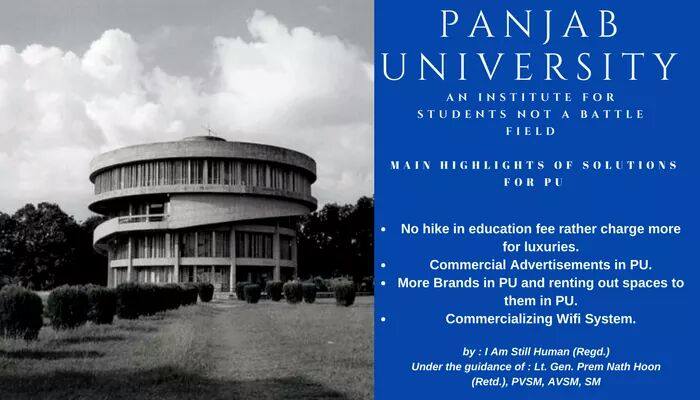 With this article, we are going to bring your kind attention towards where PU is lacking and what it can do to generate revenue without hiking fees and troubling students, as the problem is related to the crunch of revenue because the center government has stopped paying grants to PU three years ago.
Where is Panjab University lacking?
It is the duty of higher authorities to share or try to remove the problems that are related to students but rather than to help students, authorities are increasing fees and this time unprecedented hike is observed in the fees. If the university is facing any financial crunch, there is no need to put the students in trouble who come from weaker sections.
No productive talks:
Negotiation and discussions will help us to get some productive results rather than to not attending students who want to share their problem. All the students who are showing their anger through protest should have used their energy to give solutions to them and use it for some beneficial results. Due to this protest, only students have to face the losses like teaching was affected in all departments in Panjab University.
"Negotiation and discussions are the greatest weapons we have for promoting peace and development", By 

Nelson Mandela
Lack of planning:
Center government has stopped granting funds to University before 3 years ago but the university did nothing to face upcoming situations related to financial crunch. They should have planned something productive that can help them to generate some revenues.
No business sustainability model:
If you are teaching business in your university then why don't you implement it to generate some revenue? University only spending more money rather than to remove wastage of money.
Solutions for solving PU's financial crunch
There are some solutions proposed by the NGO, 'I AM STILL HUMAN' for solving the financial crunch of Panjab University:
Charge more for luxuries, not for education: 

There should be no hike in the education fees because students come here for affordable studies. But if fees will increase 6 times it will be tough for the weaker section to get a good education. so change more for luxuries, not for education.

Commercial Advertisements in Panjab University:  Colleges and universities are turning towards the alternative ways of generating revenues and commercial advertisements in Panjab University can generate revenues.The advertisers must provide a service to the students and/or generate some income to the university.
Commercializing WiFi System: They can generate revenues by commercializing WiFi system.
Generate more cost-savings ideas: Invite staff, faculty, and students to come up with revenue-generating and money-saving ideas for your institution. Negotiation and discussion are the musts.
PU is a big marketplace in its own: PU is a big marketplace in its own and university can make a good business model to generate money like by hosting some revenue generating events.
Don't make PU a battlefield and try to solve this problem with some good solutions. Violence can never be a solution for any problem. Only cost saving ideas can help PU in this situation.