Lager n Barrel Festival is a rock n roll beer festival to celebrate beer, music and the love of a good time! Chandigarh's first beer festival ranging from late afternoon through the night, offering a diversity of beers available for tasting and purchase intends to ensure that the festival-goers experience full flavor of life through enriching music acts, lovable activities, delicious food, and endless beer.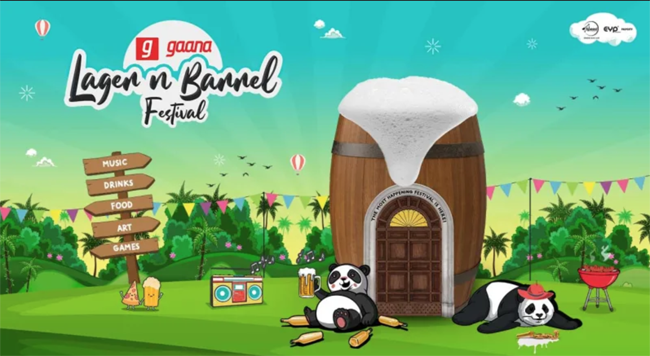 The schedule and set up of the entire festival is strategically planned to ensure full enjoyment of the flavors of life. Being holistically a beer fest, the amount of beer-related things at the festival are endless. With interactive and enjoyable games, there is also a reintroduction of an older western era trend, The Beer Garden wherein the mood is wild and the only ceiling, the open evening sky. For what it is, Lager n Barrel is poised to turn into a summer playground for beer lovers.
Highlights of the Festival:
Over 10000 empty beer bottles dedicated to Art! 
Art is a form of expression, and a silent but effective way of communication, Lager n Barrel has been communicating its vibe, through live size installations, conveying happiness and relatability, using over ten thousand beer bottles to give the festival a jolly beer vibe also to enhance the festive decor, celebrating art by interactive installations.
Beer Garden 
Lager n Barrel Festival offers a reintroduction of an older western era trend, The Beer Garden wherein the mood is wild and the only ceiling is the open evening sky.
Food Bazaar 
Lager and Barrel has just the right amount of food you need with copious amounts of beer. That's right, INFINITE! Ranging from the sweetest to the sourest, mildest to spiciest, the event has every type of food a human brain can come up with even with the vastest of vocabularies. Get ready to get hella stuffed!
Taking out the inner child in you at the Gaming Arena! 
Catering a beer festival that not just stops at beer but looks after all the other sphere from games to food covering everything, that doesn't stop families from coming to the festival, offering a safe and a fun festival where you find something for everyone. Families grooving to the rich music and enjoying every bit of it with your loved ones.
Flea Market 
A flea fair where you find a match for the hippie inside you, quirky, cool stuff offering a great market place for the ones wild at heart. Leaving no stone unturned to bring fancy and quirky merchandise, you would love to get your hands on.
Artist Lineup 2019 
Inviting most awaited artists for the very first time in the region, bringing to the audience a line up that they have dreamt of, and further not stopping at one, but a set of artists to set the stage and the vibe at the festival.
Vibing and Chilling 
Catering a carefree and chill aura where no one is judged, creating new boundaries for freedom. A free soul is the most productive and we at are festival believe in raw emotions and we work our best to offer a free vibe, so you can spread your wings and enjoy to your best, laying on the grass and enjoying a beer with good music and chilling is what we aspire.
A Multigenre Festival
A festival offering a platter of genres, mixed and matched together to give your ears a perfect treat, from Pop to Metal and from Punk to Indie, Lager N Barrel has it all, having Papon, Local train, Raghu Dixit and Project and an endless list of artists, to give you a total roller costar experience with its four additions it has never failed to surprise its dear beer lovers.
Artist Lineup Announcing Soon!
Venue & Timings 
Date: September 21 & 22 |
Timings: 3 PM to 10 PM
Venue: The Village, Chandigarh
Zirakpur Entry Point,
Pabhat Road, Zirakpur
Opp Open Hand Monument,
Chandigarh, Punjab 140603
Buy Tickets: bit.ly/cBLagerBarrel