To save around 135-crore kW power annually scheme for affordable electrical appliances launched in Mohali by Irrigation and Power Minister Rana Gurjit Singh yesterday. He said after this scheme people will get energy saving electrical appliances on subsidized rates. Presently, the scheme, which will be run jointly by Punjab State Power Corporation Limited and Energy Efficiency Services Limited (EESL), has been started in Mohali only.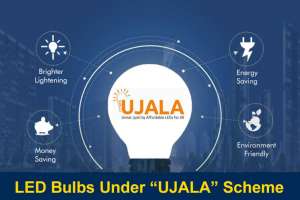 Benefits From This Scheme To Mohali:
This scheme will be very much beneficial in Mohali and also give benefits to the state after implemented in the entire state. People in Mohali will be given more than one crore LED bulbs, 10 lakh LED tube lights, one lakh fans and other energy-saving electrical equipment on subsidized rates under the Unnat Jyoti Affordable LEDs for All (Ujala) Scheme.
The scheme, when launched in the entire state, will help save 135-crore kW power annually. Earlier, addressing the function, Rana Gurjit said more than 60 lakh consumers would be benefited by the scheme. The use of energy efficient appliances will also result in 282 MW less demand besides a reduction in carbon dioxide (CO2) by 11 lakh tonnes," said the minister.
Unnat Jyoti Affordable LEDs for All (Ujala) Scheme:
This scheme started to promote the efficient lighting and to enhance awareness on using efficient equipment which will help to reduces electricity bills and helps preserve the environment.
Benefits of UJALA Scheme
Savings Electricity
Load Reduction
Bill will be less
Brighter Lightening
Reduction in the emission of Greenhouse gases
Implementing Agency:
A PSU Electricity Distribution Company and Energy Efficiency Services Limited (EESL)
Targeted Group For Supply Of LED Bulbs:
Every Domestic or Industry or every grid- connected consumer that having a metered connection from their respective Electricity Distribution Company can get the LED bulbs. This LED per piece will cost around 80-85 Rs that is about 40% of the market price under the UJALA Scheme. There is also the option of paying for the LEDs in equated monthly installment. Consumers will get a minimum of 2 to a maximum of 10 LED bulbs and this will depend on the region.