Last year in September municipal cooperation of Chandigarh got an award from prime minister for achieving 100% open defecation free(ODF) status and make the city proud. But after 6 months reality is something else because people started open defecation again.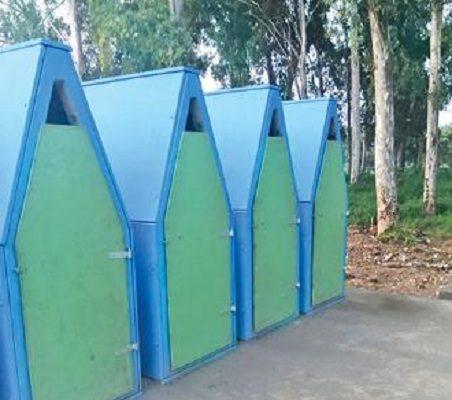 Why people started going out in open:
The municipal corporation has provided 418 re-locatable toilets at various colonies and villages. This facility is provided to the people to stop open defecation. But after 6 months condition of these toilets are very pathetic and people again started going out in open. This is the serious issue and if people will go out and will not use these toilets then the purpose of ODF is defeated.
Money spent on these toilets:
These toilets are established to fulfill the purpose of ODF and around Rs. 1.55 crore had spent on these 418 toilets. In this scheme colonies and villages are targetred to provide the facilities and around 2 lakh population is covered in this scheme.
Filthy Conditions of  toilets:
According to the HT team report the condition of these toilets are very bad and they were looking filthy.
Relocatable toilets for women were broken and were stinking .
No water was available in the toilets
There was no light and only streetlights are there to light the area. But these street lights are also not functioning.
Hired person to clean the toilets left the job because of the sallery issue.
All the toilets were stinking and unhygienic conditions prevail in the area, forcing the residents not to use it.
The only option is to go out in open:
According to the people they are not using these toilets since past 2 months because the conditions of toilets are filthy and they are unable to use it because of unhygienic and stinking conditions of the toilets. These toilets can turn to the cause of some serious diseases because whole area is stinking due to the flowing sewer water. This problem is serious and can be managed soon.